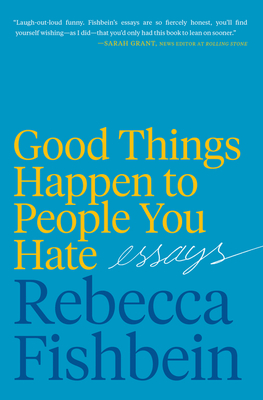 Good Things Happen to People You Hate
Essays
Hardcover

* Individual store prices may vary.
Description
For lovers of Sloane Crosley and Samantha Irby, this hilarious and raw essay collection paints a recognizable and relatable portrait of life in the early aughts.
Former Senior Editor for Gothamist Rebecca Fishbein's adult life has been a dramatic reflection of New York media itself—constantly evolving in unexpected ways and seemingly always on the edge of disaster. In short, Rebecca has seen it all—from 3 bedbug infestations, to being fired, to being yelled at while working at American Apparel, to losing all her stuff in a freak fire, to being bullied online by angry Taylor Swift fans.
But the real humor and meat of the collection come from Rebecca's unwavering honesty and unflinching examination of her struggles with alcohol, anxiety, depression, compulsive lying, female beauty standards, and a slew of failed cowoker/roommate/friend semi-relationships are dark, insightful, and hilarious.  
As Jia Tolentino commented, the era of the personal essay ended with the election—this is not your grandmother's millennial essay collection. Rebecca's writing is relatable without being preachy and conveys a message of resilience by example, not by moral. Readers will recognize the world they themselves see—a disastrous president and a scary socioeconomic landscape—in Becca's writing and find comfort in her humor and a snarky but incisive friend in her writing.
Praise For Good Things Happen to People You Hate: Essays…
"Laugh-out-loud funny. Fishbein's essays are so fiercely honest, you'll find yourself wishing –– as I did –– that I'd only had this book to lean on sooner. Fishbein writes for the Jane Austen-obsessed soul, the virginal college wallflower, the drunk person waiting for a subway at 2 a.m., and so many more."
— Sarah Grant, Rolling Stone

"In this incredibly titled essay collection, former Gothamist  editor Rebecca Fishbein chronicles the ups and downs of living in New York, working in media, and getting by. With a funny but not cynical tone, Fishbein's collection is the ideal companion for millennials making their way through a world that often seems poised for disaster, while trying to remain optimistic."
— Refinery 29

"An essay collection that will definitely be discussed in your group chat, Good Things Happen to People You Hate is a relatable, conversational examination of all the things that make young adulthood suck so much — bad jobs, bad friends, bad partners, bad apartments, bad mental health — and an exploration of the societal harms that have made it so terrible." 
— Bustle

"In the tradition of Samantha Irby and Sloane Crosley, this collection is a humorous look at life's unfairness. Fishbein writes about trouble with jobs, bedbugs, fires, and cyber bullying. She covers struggles with alcohol, depression, anxiety, and failed relationships. She is honest and hilarious both, wittily capturing experiences shared by many."
— Book Riot

"Good Things Happen to People You Hate  explores the messiest of life circumstances -- sex, lust, anxiety, death, media layoffs, structure fires -- with precise, self-aware, mordantly funny prose. Fishbein resists the tidy conclusions and bland reassurances that so many outlets demand of young women writers, and what she arrives at is by turns darker, more exhilarating, and profoundly more interesting for it."
— Anna Merlan, author of Republic of Lies  

"Rebecca Fishbein has taken a scene rife with egotism, abuse, and narcissistic absurdities—that is, millennial New York media in the twenty-teens—and depicted it with knowingness, humor and a dogged compassion. Satirical, surprising, and sympathetic, Good Things Happen to People You Hate breathes new life into the personal essay. God, I love this book."
— Moira Donegan, The Guardian

"Good Things Happen To People You Hate is a masterful and hilarious exploration of what it means to spend your 20s in NYC. Fishbein is able to describe universally painful human experiences - rejection, career turmoil, losing a home, losing a loved one - with humor and honesty.  Reading it feels like catching up with a close friend who, despite having just suffered a bedbug infestation, is still able to make you laugh."
— Ginny Hogan, author of Toxic Femininity in the Workplace

"Good Things Happen to People You Hate is like the friend you need for emergency drinks after a rough day. Rebecca's take on the millennial experience, pop culture, and the heartbreak we walk straight into are insightful and so relatable they'll make you worry she found your old Gchat logs."
— Audrey Murray, author of Open Mic Night in Moscow
William Morrow, 9780062889980, 224pp.
Publication Date: October 15, 2019
About the Author
Rebecca Fishbein is a former senior editor at Gothamist and current writer/prolific Tweeter/television addict. She was born and raised in Manhattan where, at the tender age of two, she ate her first H&H bagel. It's all been downhill from there. She graduated from the Johns Hopkins University's Writing Seminars program, and has been published in Baltimore City Paper, Time Out New York, Jezebel, Vice, Splinter, and Adweek, The Cut, Lifehacker, and Curbed NY, among other outlets. She will talk to you endlessly about the HBO show Girls, even though she hates it. She lives in Brooklyn, New York.