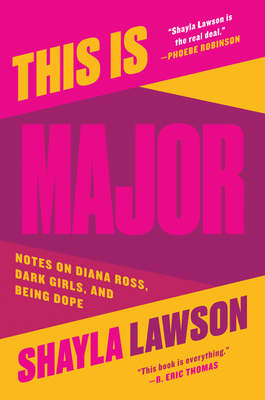 This Is Major
Notes on Diana Ross, Dark Girls, and Being Dope
Paperback

* Individual store prices may vary.
Other Editions of This Title:
Digital Audiobook (6/29/2020)
MP3 CD (6/30/2020)
Compact Disc (6/30/2020)
Description
A National Book Critics Circle Finalist in Autobiography * Finalist for a Lambda Literary Award * Named one of the most anticipated books of the year by USA Today, Bitch Magazine, Parade, Salon and Ms. Magazine
From a fierce and humorous new voice comes a relevant, insightful, and riveting collection of personal essays on the richness and resilience of black girl culture—for readers of Samantha Irby, Roxane Gay, Morgan Jerkins, and Lindy West. 
Shayla Lawson is major. You don't know who she is. Yet. But that's okay. She is on a mission to move black girls like herself from best supporting actress to a starring role in the major narrative. Whether she's taking on workplace microaggressions or upending racist stereotypes about her home state of Kentucky, she looks for the side of the story that isn't always told, the places where the voices of black girls haven't been heard.

The essays in This is Major ask questions like: Why are black women invisible to AI? What is "black girl magic"? Or: Am I one viral tweet away from becoming Twitter famous? And: How much magic does it take to land a Tinder date?
With a unique mix of personal stories, pop culture observations, and insights into politics and history, Lawson sheds light on these questions, as well as the many ways black women and girls have influenced mainstream culture—from their style, to their language, and even their art—and how "major" they really are.
Timely, enlightening, and wickedly sharp, This Is Major places black women at the center—no longer silenced, no longer the minority. 
Praise For This Is Major: Notes on Diana Ross, Dark Girls, and Being Dope…
"Whip-smart." — People
"[A] pitch-perfect blend of wit and keen observation and analysis. A book that makes you laugh and think at the same time." — Shondaland, "15 Hot Books for Summer"
This is Major sets the tone for how black women can manifest greatness in all aspects of life. Using the perfect combination of pop-culture, personal stories, politics and history, Lawson empowers black women and girls to show the world just how "major" they really are. — Parade
"With this collection, Shayla Lawson delivers the goods on patriarchy, white supremacy and contemporary culture with wit, candor and clarity. Part memoir, part criticism, part history, this volume is brave, fresh and reflective." — Ms. Magazine
"Her tone culminates in beautiful poetry, and her writing is drenched in wit and humor. Lawson's skill for storytelling gleams. . . . Lawson's journalistic research is flawless. This book is an accurate account of surviving discrimination that also envelops universal themes like coming-of-age, self-exploration, and resilience. It is Lawson's love letter to herself and every other Black woman who may have felt invisible or misunderstood. In one of the rare times in print, the totality and the essence of Black women are front and center here." — Booklist (starred review)
"A hilarious, heartbreaking, and endlessly entertaining homage to black women's resilience and excellence." — Kirkus Reviews (starred review)
"An introspective collection, both enlightening and humorous, that is highly recommended for readers interested in creative approaches to memoir and storytelling."

— Library Journal (starred review)
"An insightful collection. . . .With sharp insight, Lawson elevates the discussion of race in America." — Publishers Weekly
"A kaleidoscope of wit, humor, sorrow and deeply felt thinking and questioning of modern life. With a poet's precision and with a brand of candor and urgency known to us only as Lawson-eque, these essays mark a pivotal expansion in a poet's bold breach of new ground. And what fertile ground it is." — Ocean Vuong
"Shayla Lawson is the real deal. There's no way around it. Whip smart, singular, and endlessly fascinating, THIS IS MAJOR is the kind of calling card even author dreams of writing, but not many are able to achieve. I cannot wait to see what she does next!"  — Phoebe Robinson, New York Times bestselling author of You Can't Touch My Hair and Everything's Trash, But It's Okay
"Shayla Lawson's This is Major is part cultural criticism, part pop music history, part memoir, part ethnography, and all conscious humor.What I love most about this book is that for all its mastery of various subjects and genres, it is always searingly honest:"I have always been a woman on the verge of a gun. My anger is quiet. Reserved...I grip a pen instead…I do not consider this strategy for assassination a passive action."This is a brilliant book by a black woman aware that, from Phillis Wheatley to Nina Simone, there is a long history of her special brand of genius." — Jericho Brown
"In Shayla Lawson's engaging new collection ,the essays are not the only thing that is major. Lawson's voice is honest and authentic--that is major. She does not tear through slices of black contemporary womanhood so much as she meanders through them, stopping to smell Black girls' roses and to catalog our thorns. It is a careful yet carefree collection." — Tressie McMillan Cottom, National Book Award-nominated author of Thick and Lower Ed
"Written as a prose love poem in essays to black girlhood, black womanhood, and black femmehood, Shayla Lawson's fourth book is required reading for all, but especially for black women and girls trying to hold space for their whole selves, the whole of their blackness. Lawson lunges into full-bodied critique and historicization of the hurt of white patriarchal supremacy and the white gaze with cunning wit and a fresh scalpel." — Nafissa Thompson-Spires, author of Heads of the Colored People
"In This Is Major Shayla Lawson skillfully illuminates the unparalleled influence black women and girls have had on mainstream culture. I learned so much from reading this book, while also relishing the humor and fearlessness of Lawson's inspiring voice. It's a must-read for anyone interested in pop culture, history, or politics."     — Camille Perri, author of The Assistants and When Katie Met Cassidy
"This Is Major is so vital, so full of life, I started it again as soon as I finished it. Shayla Lawson writes like you're having a conversation with your smartest, wisest, funniest friend and you don't want it to end. This book is bursting with pop culture references, hard-earned life lessons, and soul-deep wisdom. It more than lives up to its title: it is major; this book is everything." — R. Eric Thomas, author of Here for It, or How to Save Your Soul in America
Harper Perennial, 9780062890597, 336pp.
Publication Date: June 30, 2020
About the Author
Shayla Lawson grew up in Lexington, Kentucky. She is a professor at Amherst College and lives in Brooklyn, New York.