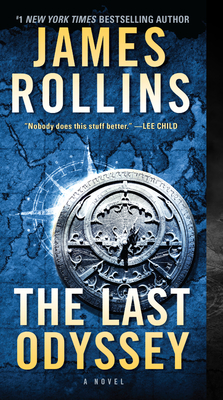 The Last Odyssey
A Novel (Sigma Force Novels #15)
Mass Market

* Individual store prices may vary.
Other Editions of This Title:
Digital Audiobook (3/23/2020)
Hardcover (3/24/2020)
Paperback, Large Print (3/24/2020)
Description
"One of the world's best storytellers."
—Huffington Post
For eons, the city of Troy—whose legendary fall was detailed in Homer's Iliad—was believed to be myth, until archaeologists in the nineteenth century uncovered its ancient walls buried beneath the sands. If Troy was real, how much of Homer's twin tales of gods and monsters, curses and miracles—The Iliad and The Odyssey—could also be true and awaiting discovery?
In the frozen tundra of Greenland, a group of modern-day researchers stumble on a shocking find: a medieval ship buried a half-mile below the ice. The ship's hold contains a collection of artifacts—tools of war—dating back to the Bronze Age. Inside the captain's cabin is a clockwork gold map imbedded with an intricate silver astrolabe. Once activated, the moving map traces the path of Odysseus's famous ship as it sailed away from Troy. But the route detours as the map opens to reveal a fiery river leading to a hidden realm underneath the Mediterranean Sea—the subterranean world of Tartarus, the Greek name for Hell.
When word of Tartarus spreads, the phantasmagoric horrors found in Homer's tales are all too real—and whoever possesses them can use their awesome power to control the future of humanity.
Now, Sigma Force must prevent a tyrant from igniting a global war and cross the very gates of Hell.
"[Rollins] is what you might end up with if you tossed Michael Crichton and Dan Brown into a particle accelerator together."
—New York Times Book Review
Praise For The Last Odyssey: A Novel (Sigma Force Novels #15)…
"Rollins spins an entertaining thriller"

— Kirkus Reviews on THE LAST ODYSSEY

"Bone-chilling."
— Publishers Weekly (starred review)

"Nobody does this stuff better."
— Lee Child

"Fascinating research, beautifully told ... a riveting read."
— Wilbur Smith

"As with his previous novels, Crucible is a top notch 'science fiction' thriller which will take the reader on a terrific and terrifying ride."
— Iron Mountain Daily News

"Rollins' latest Sigma Force novel is one of the best in the series....The mix of science, history, and high-concept adventure is always first-rate in a Rollins novel....Devotees of Clive Cussler and Steve Berry are no doubt reading Rollins already, but if they're not, what's keeping them?"
— Booklist (starred review) on The Demon Crown

"Impossible to put down and impossible to separate the well-researched facts from the masterfully written fiction. The Bone Labyrinth will remind you why you fell in love with reading. This book is that good!"
— Brad Thor
William Morrow, 9780062892928, 624pp.
Publication Date: August 18, 2020
About the Author
James Rollins is the author of international thrillers that have been translated into more than forty languages. His Sigma series has been lauded as one of the "top crowd pleasers" (New York Times) and one of the "hottest summer reads" (People magazine). In each novel, acclaimed for its originality, Rollins unveils unseen worlds, scientific breakthroughs, and historical secrets--and he does it all at breakneck speed and with stunning insight. He lives in the Sierra Nevada mountains.