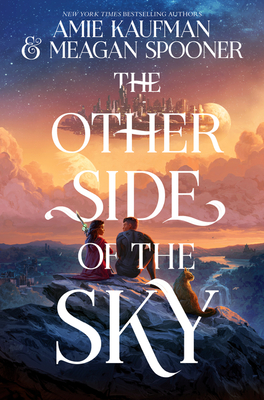 The Other Side of the Sky (Hardcover)
HarperTeen, 9780062893338, 480pp.
Publication Date: September 8, 2020
* Individual store prices may vary.
About the Author
Amie Kaufman is a
New York Times
and internationally bestselling author of young adult fiction, including the Elementals series, 
Unearthed,
and the Starbound trilogy, coauthored with Meagan Spooner; and the Illuminae Files trilogy, coauthored with Jay Kristoff. Her multi-award-winning work has been described as "a game-changer" (
Shelf Awareness
) and "out-of-this-world awesome" (
Kirkus Reviews
). Raised in Australia and Ireland, Amie has degrees in history, literature, law, and conflict resolution. She took howling lessons from a wolf expert while preparing to write this book. She lives in Melbourne with her husband, their rescue dog, and an extremely large personal library. Read more at www.amiekaufman.com.
New York Times bestselling author Meagan Spooner grew up reading and writing every spare moment of the day while dreaming about life as an archaeologist, a marine biologist, or an astronaut. She graduated from Hamilton College in New York State with a degree in playwriting. She's traveled all over the world, to places such as Egypt, Australia, South Africa, the Arctic, Greece, Antarctica, and the Galápagos Islands, and there's a bit of every trip in every story she writes. She currently lives and writes in Asheville, North Carolina, but the siren call of travel is hard to resist, and there's no telling how long she'll stay there. She's the coauthor of the award-winning Starbound Trilogy (These Broken Stars, This Shattered World, Their Fractured Light) and the Skylark Trilogy (Skylark, Shadowlark, Lark Ascending) as well as this "Beauty and the Beast" retelling. In her spare time she plays guitar, plays video games, plays with her cat, and reads. www.meaganspooner.com
Praise For The Other Side of the Sky…
Praise for Amie Kaufman and Meagan Spooner's STARBOUND series: "Absolutely brilliant. This is the sci fi I've been waiting for!" 
—  Beth Revis, New York Times bestselling author of Across the Universe

"One of the most intense, thrilling, and achingly beautiful stories I've ever read. Kaufman and Spooner will break your heart with skilled aplomb, and you'll thank them for it. Absolutely incredible! If I have to, I will come to your house and shove this book into your hands."
— Marie Lu, New York Times best-selling author of the Legend trilogy

"With rich, complex characters and a dynamic—and dangerous—new world, THESE BROKEN STARS completely transported me." 
— Jodi Meadows, author of the Incarnate series

"These Broken Stars is at its heart a love story. Voiced in alternate chapters, Lilac and Tarver are characters of depth, complexity, and strength, young people who alternately elicit the reader's admiration, frustration, and sympathy. While the book is the first of a promised trilogy, it stands on its own as a testament to love, loyalty, courage, and the power of good over dystopian greed and perversity." 
— ALA Booklist (starred review)

"Kaufman and Spooner couple an epic romance with dazzling science fiction in a tale that will appeal to lovers of both genres. This is a must-read." 5Q (Quality rating of 5/5), Best Science Fiction, Fantasy & Horror List, 2013.
— Voice of Youth Advocates (VOYA)

"First-time author Kaufman and coauthor Spooner begin their science-fiction romance in familiar territory and then chart a course that goes to new heights … a wonderful tale that should appeal to both teen and adult readers."
— School Library Journal

"Strange visions and apparitions give the story a chilling edge, and a late revelation elevates these developments into entirely new territory. In a collaboration that, at times, evokes Lost, Titanic, and Romancing the Stone, Spooner (Skylark) and newcomer Kaufman do an excellent job of keeping their story from falling into clichéd romantic territory … the external conflicts and underlying mysteries will keep readers guessing (and turning the pages)."
— Publishers Weekly