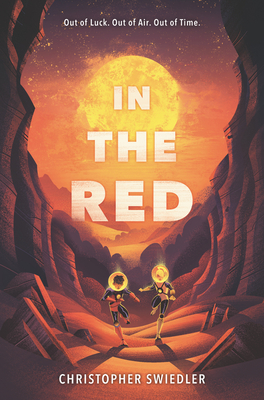 In the Red (Hardcover)
HarperCollins, 9780062894410, 288pp.
Publication Date: March 24, 2020
Other Editions of This Title:
Digital Audiobook (3/23/2020)
MP3 CD (3/24/2020)
Compact Disc (3/24/2020)
* Individual store prices may vary.
Description
A harrowing, pulse-pounding race for survival that New York Times bestselling author D. J. MacHale says "will leave you breathless."
Michael Prasad knows he shouldn't go out on the Mars surface alone. It's dangerous. His parents have forbidden it. And the anxiety he feels almost every time he puts on a spacesuit makes it nearly impossible for him to leave the safety of the colony.
But when his best friend, Lilith, suggests they sneak out one night, he can't resist the chance to prove everyone—including himself—wrong.
As the two ride along the Mars surface in a stolen rover, miles from the colony, a massive solar flare hits the planet, knocking out power, communication, and navigation systems, and the magnetic field that protects the planet from the sun's deadly radiation.
Stranded hours from home with an already limited supply of food, water, and air, Michael and Lilith must risk everything if they're to get back to the colony alive.
About the Author
Christopher Swiedler is an author and software engineer who lives with his wife and three children in California, where they're under constant threat from earthquakes, tsunamis, and the occasional Martian dust storm. His goal in life is to win the Newbery Honor (not the medal itself) because he believes being a runner-up builds good character. This is his debut novel. You can visit him at https://christopherswiedler.com.
Praise For In the Red…
"Hang on to your helmets. Christopher Swiedler takes you on a nail-biting, sci-fi adventure where every page holds unexpected peril for his bold heroes. He makes the impossible seem plausible in a universe where strolling on Mars can be normal, wondrous and at times, terrifying. It will leave you breathless."
— D.J. MacHale, New York Times bestselling author

"In The Red is a thrilling combination of wide-eyed imagination and gritty real science, starring courageous young heroes using their smarts to battle impossible odds. A non-stop, pulse-pounding adventure!"
— Kevin Emerson, author of Last Day on Mars

"Swiedler offers a fresh take on heroism through an honest portrayal of the emotional struggle of overcoming anxiety. The friendship between Michael and Lilith feels real and grounded. Readers will be left breathless by stunning descriptions and harrowing feats of survival."
— Booklist

"Michael and Lilith are well-written characters. Their teamwork and ingenuity in the face of danger are admirable. This is a wonderful adventure novel filled with many twists and turns. The story manages to invoke a real sense of danger. The writing is reminiscent of Gary Paulsen's Hatchet and Andy Weir's The Martian—it maintains a skillful blend of science and survivalism to keep readers engaged and invested in the outcome."
— School Library Journal