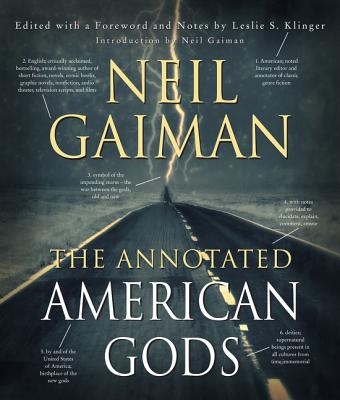 The Annotated American Gods
Hardcover

* Individual store prices may vary.
Description
Destined to be a treasure for the millions of fans who made American Gods an internationally bestselling phenomenon, this beautifully designed and illustrated collectible edition of Neil Gaiman's revered masterpiece features enlightening and incisive notes throughout by award-winning annotator and editor Leslie S. Klinger.
A perennial favorite of readers worldwide, American Gods tells the story of ex-con Shadow Moon, who emerges from prison and is recruited to be bodyguard, driver, and errand boy for the enigmatic Mr. Wednesday. So begins a dark and strange road trip full of fantastical adventures and a host of eccentric characters. For, beneath the placid surface of everyday life, a storm is brewing—an epic war for the very soul of America—and Shadow is standing squarely in its path.
This annotated volume of the Author's Preferred Text features analysis from Leslie S. Klinger. His trenchant commentary identifies gods and supernatural beings, elucidates key phrases, and shows how Gaiman built his award-winning novel, giving readers unparalleled insight into the story and into Gaiman's creative process and authorial decisions. Carefully chosen illustrations complement and illuminate the narrative.
Praise For The Annotated American Gods…
"American Gods manages to reinvent, and reassert, the enduring importance of fantastic literature itself in this late age of the world. Dark fun, and nourishing to the soul." — Michael Chabon
"Provocative yet fun . . . Gaiman has applied his vast breadth of knowledge about all things mythological to a truly high concept." — Entertainment Weekly
"Gaiman returns to the fertile killing ground that nourished The Sandman: that peculiarly American crossroads where pop culture intersects with religion, violence and death." — Village Voice Literary Supplement
"Immensely rewarding . . . . Suffused with . . . powerful imagery and deftly painted characters . . . . A finely crafted novel of weight and significance [with] poetic descriptions, sharp-eyed criticism, and first-rate storytelling. There is much to enjoy, to admire, and to ponder in this unforgettable tale." — Cleveland Plain Dealer
"Pointed, occasionally comic, often scary, consistently moving and provocative . . . . American Gods is strewn with secrets and magical visions." — USA Today
"Mystery, satire, sex, horror, poetic prose-American Gods uses all these to keep the reader turning the pages." — Washington Post
"Original, engrossing, and endlessly inventive." — George R. R. Martin
American Gods is sexy, thrilling, dark, funny and poetic." — Teller, of Penn & Teller
"American Gods is like a fast run downhill through a maze -- both exhilarating and twisted." — Jane Lindskold, author of Changer and
William Morrow, 9780062896261, 656pp.
Publication Date: April 14, 2020
About the Author
Neil Gaiman is a #1 New York Times bestselling author of books for children and adults whose award-winning titles include Norse Mythology, American Gods, The Graveyard Book, Good Omens (with Terry Pratchett), Coraline, and The Sandman graphic novels. Neil Gaiman is a Goodwill Ambassador for UNHCR and Professor in the Arts at Bard College.