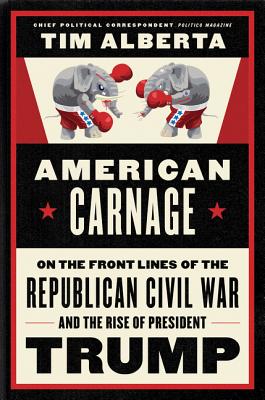 American Carnage
On the Front Lines of the Republican Civil War and the Rise of President Trump
Hardcover

* Individual store prices may vary.
Other Editions of This Title:
Digital Audiobook (7/15/2019)
Paperback (3/24/2020)
MP3 CD (7/16/2019)
Compact Disc (7/16/2019)
Compact Disc (7/16/2019)
Description
New York Times' Top Books of 2019
New York Times Bestseller
Politico Magazine's chief political correspondent provides a rollicking insider's look at the making of the modern Republican Party—how a decade of cultural upheaval, populist outrage, and ideological warfare made the GOP vulnerable to a hostile takeover from the unlikeliest of insurgents: Donald J. Trump.

The 2016 election was a watershed for the United States. But, as Tim Alberta explains in American Carnage, to understand Trump's victory is to view him not as the creator of this era of polarization and bruising partisanship, but rather as its most manifest consequence.
American Carnage is the story of a president's rise based on a country's evolution and a party's collapse. As George W. Bush left office with record-low approval ratings and Barack Obama led a Democratic takeover of Washington, Republicans faced a moment of reckoning: They had no vision, no generation of new leaders, and no energy in the party's base. Yet Obama's forceful pursuit of his progressive agenda, coupled with the nation's rapidly changing societal and demographic identity, lit a fire under the right, returning Republicans to power and inviting a bloody struggle for the party's identity in the post-Bush era. The factions that emerged—one led by absolutists like Jim Jordan and Ted Cruz, the other led by pragmatists like John Boehner and Mitch McConnell—engaged in a series of devastating internecine clashes and attempted coups for control. With the GOP's internal fissures rendering it legislatively impotent, and that impotence fueling a growing resentment toward the political class and its institutions, the stage was set for an outsider to crash the party. When Trump descended a gilded escalator to announce his run in the summer of 2015, the candidate had met the moment.
Only by viewing Trump as the culmination of a decade-long civil war inside the GOP—and of the parallel sense of cultural, socioeconomic, and technological disruption during that period—can we appreciate how he won the White House and consider the fundamental questions at the center of America's current turmoil. How did a party once obsessed with national insolvency come to champion trillion-dollar deficits? How did the party of compassionate conservatism become the party of Muslim bans and family separation? How did the party of family values elect a thrice-married philanderer? And, most important, how long can such a party survive?
Loaded with explosive original reporting and based off hundreds of exclusive interviews—including with key players such as President Trump, Paul Ryan, Ted Cruz, John Boehner, Mitch McConnell, Jim DeMint, and Reince Priebus, among many others—American Carnage takes us behind the scenes of this tumultuous period as we've never seen it before and establishes Tim Alberta as the premier chronicler of this political era.
Praise For American Carnage: On the Front Lines of the Republican Civil War and the Rise of President Trump…
"American Carnage is not a conventional Trump-era book. It is less about the daily mayhem in the White House than about the unprecedented capitulation of a political party. This book will endure for helping us understand not what is happening but why it happened….[an] indispensable work." — Carlos Lozada, Washington Post
"A masterful must-read. Alberta has written a compelling, alarming and scoop-heavy history of the fall of the party of Lincoln. American Carnage is filled with scoop. It is an exercise in a pulling back the curtain, not breathlessness." — The Guardian
"A fascinating look at a Republican Party that initially scoffed at the incursion of a philandering reality-TV star with zero political experience and now readily accommodates him. [Alberta] brings more than a decade of reporting and a real understanding of the conservative movement to American Carnage." — New York Times Book Review
"Alberta offers something more ambitious than a tale of palace intrigue.... The abiding theme of the book is that almost every influential figure in the Party has come to accept or submit to the President. Although Alberta is clearly not an admirer of the President, he is not unsympathetic to the voters who have embraced him and their feelings of resentment toward what they see as an increasingly liberal culture." — The New Yorker
"One of the deepest and most fascinating reads about the transformation of the Republican Party over the last 15 or so years." — Politico
"Mandatory reading for anyone who genuinely desires to know how we got to this point. It's not a shooting civil war within the GOP or within the country at large. It's not even 1968 or remotely close to the divisions that cleaved the nation during the Vietnam War and Watergate. But it is a serious divide." — Washington Post
"Alberta argues that Trump won the presidency by channeling anxious Americans' indignation and darker impulses. Trump's challenge now, Alberta writes, is to turn a "freakish if not fluky" victory into a transformational redefinition of the GOP." — Axios
"Now comes Tim Alberta, one of the best political reporters we have, especially on the internecine bloodletting on the political right, with a new book that details not only how the president stomped to the Republican nomination, but also the sordid calculations that allowed the GOP to make its peace with him." — Esquire
"American Carnage isn't an all-about-Trump book. It's a book that reaches into the depths of the Republican Party and their relationship with the president." — USA Today
"In this new book, American Carnage, by Tim Alberta, we are reminded about how so many who staked their reputation on principle caved to political convenience in this administration." — CNN
"An eyes-wide-open analysis of right-wing populism." — New York Times Book Review, Editors' Choice
"A deeply reported account of internal Republican deliberations over the past decade. Alberta is admirably merciless as he shows his subjects abandoning their putative principles and falling in line behind Trump. (And the reporting is truly impressive — the scenes he reconstructs are both far more numerous and far more interesting than those in almost any "behind-the-scenes" reported political book I can recall.)" — New York
"An excellent book where Alberta uses the depth of his reporting to really bring the receipts and show the extent to which, until [Trump] beat Hillary Clinton, many of the people who are now his most loyal allies were deeply skeptical of his fitness for office." — Vox
"Drawing on extensive interviews with politicians and pundits, Alberta's engrossing narrative is full of sharp intrigues and vivid personalities....Incorporating trenchant analysis and a wealth of detail in stylish prose, Alberta highlights the broad currents beneath the chaos of recent politics." — Publishers Weekly (starred review)
"Alberta brings the receipts, and if nothing else, it's a helluva portrait of how principles are traded for power." — The Ezra Klein Show, Vox
"In American Carnage, his fascinating and exhaustive account of the path of the Republican Party in the past decade, Tim Alberta of Politico explains how the party's leadership got so out of touch with its voters at the end of George W. Bush's administration and in the early years of Barack Obama's." — Wall Street Journal
Harper, 9780062896445, 688pp.
Publication Date: July 16, 2019
About the Author
Tim Alberta is chief political correspondent for Politico Magazine, and has reported for National Review, National Journal, The Hotline, and the Wall Street Journal. His work has been featured in dozens of major publications, including Sports Illustrated and The Atlantic, and he frequently appears as a commentator on political television programs. He lives with his wife and three sons in Falls Church, Virginia.
or
Not Currently Available for Direct Purchase