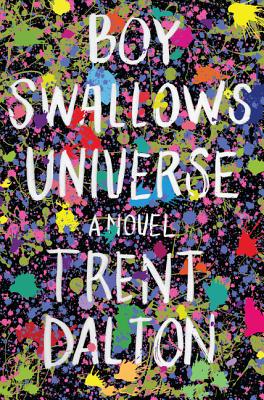 Boy Swallows Universe
A Novel
Hardcover

* Individual store prices may vary.
Other Editions of This Title:
Digital Audiobook (4/1/2019)
Paperback (4/7/2020)
Library Binding, Large Print (8/7/2019)
Paperback, Chinese (8/28/2019)
Paperback, Korean (1/22/2021)
Paperback (8/27/2019)
Description
"The best book I read this decade." —Sharon Van Etten in Rolling Stone
"Boy Swallows Universe hypnotizes you with wonder, and then hammers you with heartbreak. . . . Eli's remarkably poetic voice and his astonishingly open heart take the day. They enable him to carve out the best of what's possible from the worst of what is, which is the miracle that makes this novel marvelous." —Washington Post
A "thrilling" (New York Times Book Review) novel of love, crime, magic, fate and a boy's coming of age in 1980s Australia, named one of the best literary fiction titles of 2019 by Library Journal. 
Eli Bell's life is complicated. His father is lost, his mother is in jail, and his stepdad is a heroin dealer. The most steadfast adult in Eli's life is Slim—a notorious felon and national record-holder for successful prison escapes—who watches over Eli and August, his silent genius of an older brother.
Exiled far from the rest of the world in Darra, a neglected suburb populated by Polish and Vietnamese refugees, this twelve-year-old boy with an old soul and an adult mind is just trying to follow his heart, learn what it takes to be a good man, and train for a glamorous career in journalism. Life, however, insists on throwing obstacles in Eli's path—most notably Tytus Broz, Brisbane's legendary drug dealer.
But the real trouble lies ahead. Eli is about to fall in love, face off against truly bad guys, and fight to save his mother from a certain doom—all before starting high school.
A story of brotherhood, true love, family, and the most unlikely of friendships, Boy Swallows Universe is the tale of an adolescent boy on the cusp of discovering the man he will be. Powerful and kinetic, Trent Dalton's debut is sure to be one of the most heartbreaking, joyous and exhilarating novels you will experience.
Praise For Boy Swallows Universe: A Novel…
"This thrilling novel takes you along for the ride." — New York Times Book Review
"Boy Swallows Universe hypnotizes you with wonder, and then hammers you with heartbreak. . . . Eli's remarkably poetic voice and his astonishingly open heart take the day. They enable him to carve out the best of what's possible from the worst of what is, which is the miracle that makes this novel marvelous." — Washington Post
"A splashy, profane, and witty debut." — USA Today
"Extraordinary and beautiful storytelling." — The Guardian
"This novel about a pair of brilliant and sensitive young brothers in Brisbane in the 1980s trying to survive a swirling, dangerous world of drug dealers, damaged parents, inexplicable supernatural occurrences, true love, mysterious ex-convict babysitters and murderous tyrants is a dazzlingly good . . . . I absolutely loved it." — Elizabeth Gilbert
"At times Boy Swallows Universe will grip your attention and then break your heart. It is a story of love, crime, and hope. It is written with love and told with joy. Trent Dalton is a powerful new voice in fiction." — Washington Book Review
"Dalton's splashy, stellar debut makes the typical coming-of-age novel look bland by comparison…In less adept hands, these antics might descend into whimsy, but Dalton's broadly observant eye, ability to temper pathos with humor, and thorough understanding of the mechanics of plot prevent the novel from breaking into sparkling pieces…This is an outstanding debut." — Publishers Weekly (starred review)
"A marvelously plot-rich novel, which…is filled with beautifully lyric prose….Exceptional." — Booklist (starred review)
"An electric novel. . . . a lively, funny affirmation of the human instinct for survival." — The Times (London)
"A captivating and quirky life story that leads the reader on an intense and rewarding journey; highly recommended." — Library Journal (starred review)
"An insightful coming-of-age novel." — Book Riot
"Joyous. Simply joyous. I hugged myself as I read it. My heart raced, swelled, burst; my eyes leaked tears; my stomach ached from laughter. Boy Swallows Universe is—I can't think of a word more apt—magical. This vibrant, vital, altogether miraculous coming-of-age novel marks the debut of an exquisitely gifted storyteller. . . and what's more, it's transformative: After reading Trent Dalton's book, you won't be the same as you were before." — A.J. Finn, author of The Woman in the Window
"Welcome to the weird and wonderful universe of Trent Dalton, whose first work of fiction is, without exaggeration, the best Australian novel I have read in more than a decade. . . . The last 100 pages of Boy Swallows Universe propel you like an express train to a conclusion that is profound and complex and unashamedly commercial. . . . The book is jam-packed with such witty and profound insights into what's wrong and what's right with Australia and the world. . . . A rollicking ride, rich in philosophy, wit, truth and pathos." — Sydney Morning Herald
"A wonderful surprise: sharp as a drawer full of knives in terms of subject matter; unrepentantly joyous in its child's-eye view of the world; the best literary debut in a month of Sundays." — The Weekend Australian
"It is such a pleasant shock to encounter a new Australian novel in which joy is shamelessly deployed. . . . It is a story in thrall to the potential the world holds for lightness, laughter, beauty, forgiveness, redemption, and love. . . . [Dalton] invests this unlikely cast and milieu with considerable energy, wit and charm. He delights in the play of language and imagination that a child can summon: the sense in which the clear moral eye of youth can critique and adore simultaneously without judgment or adult moral finessing." — The Australian
Harper, 9780062898104, 464pp.
Publication Date: April 2, 2019
About the Author
Trent Dalton is an award-winning journalist at The Weekend Australian Magazine. His writing includes several short and feature-length film screenplays. He was nominated for a 2010 AFI Best Short Fiction screenplay award for his latest film, Glenn Owen Dodds, which also won the prestigious International Prix Canal award at the world's largest short film festival, the Clermont-Ferrand International Short Film Festival. Dalton's debut feature film screenplay, In the Silence, is currently in production.
Book Videos