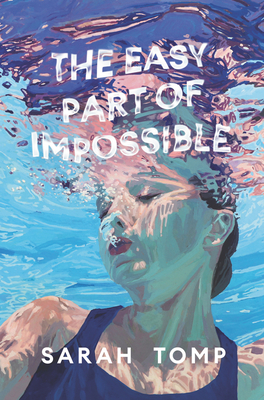 The Easy Part of Impossible
Hardcover

* Individual store prices may vary.
Other Editions of This Title:
Digital Audiobook (4/20/2020)
Paperback (7/27/2021)
Description
After an injury forces Ria off the diving team, an unexpected friendship with Cotton, a guy on the autism spectrum, helps her come to terms with the abusive relationship she's been in with her former coach.
Ria Williams was an elite diver on track for the Olympics. As someone who struggled in school, largely due to her ADHD, diving was the one place Ria could shine.
But while her parents were focused on the trophies, no one noticed how Coach Benny's strict rules and punishments controlled every aspect of Ria's life. The harder he was on her, the sharper her focus. The bigger the bruise, the better the dive.
Until a freak accident at a meet changes everything. Just like that, Ria is handed back her life, free of Benny.
To fill her now empty and aimless days, Ria rekindles a friendship with Cotton, a guy she used to know back in elementary school. With Cotton, she's able to open up about what Benny would do to her, and through Cotton's eyes, Ria is able to see it for what it was: abuse.
Then Benny returns, offering Ria a second chance with a life-changing diving opportunity. But it's not hers alone—Benny's coaching comes with it. The thought of being back under his control seems impossible to bear, but so does walking away.
How do you separate the impossible from possible when the one thing you love is so tangled up in the thing you fear most?
Praise For The Easy Part of Impossible…
"Sweet, complicated, painful, and honest. Explores the way victims can become trapped by abusers. Dives into difficult, legitimate issues with great form." — Kirkus Reviews
"Tomp's novel is compulsively readable and skillfully conveys the thoughts and feelings of neurodivergent characters." — School Library Journal
"Tomp handles her characters with delicacy and care. An introspective look at human connection." — Booklist Online
HarperTeen, 9780062898289, 352pp.
Publication Date: April 21, 2020
About the Author
Sarah Tomp has an MFA in writing for children and young adults from Vermont College of Fine Arts. She works in public schools and teaches creative writing classes for the University of California Extension. She lives in San Diego with her family where she loves walking her dog on the beach and in the canyons. Learn more at www.sarahtomp.com.