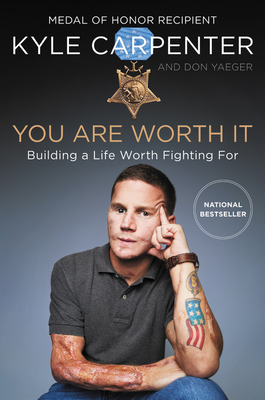 You Are Worth It
Building a Life Worth Fighting For
Paperback

* Individual store prices may vary.
Other Editions of This Title:
Digital Audiobook (10/14/2019)
Hardcover (10/15/2019)
Paperback, Large Print (10/15/2019)
Description
The youngest living Medal of Honor recipient delivers an unforgettable memoir that "will inspire every reader" (Jim Mattis)
NATIONAL BESTSELLER | A Marine Commandant's Reading List selection
On November 21, 2010, U.S. Marine Lance Corporal Kyle Carpenter was posted atop a building in violent Helmand Province, Afghanistan, when an enemy grenade skittered toward Kyle and fellow Marine Nick Eufrazio. Without hesitation, Kyle chose a path of selfless heroism that few can imagine. He jumped on the grenade, saving Nick but sacrificing his own body.  
Kyle Carpenter's heart flatlined three times while being evacuated off the battlefield in Afghanistan. Yet his spirit was unbroken. Severely wounded from head to toe, Kyle lost his right eye as well as most of his jaw. It would take dozens of surgeries and almost three years in and out of the hospital  to reconstruct his body. From there, he began the process of rebuilding his life. What he has accomplished in the last nine years is extraordinary: he's come back a stronger, better, wiser person.
In 2014, Kyle was awarded the nation's highest military decoration, the Medal of Honor, for his "singular act of courage" on that rooftop in Afghanistan, an action which had been reviewed exhaustively by the military. Kyle became the youngest living recipient of the award–and only the second living Marine so honored since Vietnam.
Kyle's remarkable memoir reveals a central truth that will inspire every reader: Life is worth everything we've got. It is the story of how one man became a so-called hero who willingly laid down his life for his brother-in-arms—and equally, it is a story of rebirth, of how Kyle battled back from the gravest challenge to forge a life of joyful purpose.

You Are Worth It is a memoir about the war in Afghanistan and Kyle's heroics, and it is also a manual for living. Organized around the credos that have guided Kyle's life (from "Don't Hide Your Scars" to "Call Your Mom"), the book encourages us to become our best selves in the time we've been given on earth. Above all, it's about finding purpose, regardless of the hurdles that may block our way. Moving and unforgettable, You Are Worth It is an astonishing memoir from one of our most extraordinary young leaders.
Praise For You Are Worth It: Building a Life Worth Fighting For…
"Kyle Carpenter's memoir of gallantry beyond the call of duty provides a vivid reminder that grit and valor remain American hallmarks. A compelling account of life well lived against the toughest odds, one that will inspire and build confidence in every reader." — JIM MATTIS, former U.S. Secretary of Defense
"Kyle displayed a heroism in the blink of an eye that will inspire for generations" — BARACK OBAMA
"Kyle Carpenter is truly amazing! He is definitely an American hero. His memoir deserves to be a huge success. I wish Kyle and his coauthor Don Yaeger the very best with You Are Worth It." — MIKE KRZYZEWSKI, Duke University men's basketball coach
"I think Kyle Carpenter is one of the greatest living Americans, and I'm honored to know him. This book is important. After I read it I wanted to be better. Please share it with the people you love." — ZAC BROWN, Grammy Award-winning musician
"Kyle Carpenter has shown true courage and strength in the face of extraordinary challenges. From the attack in Afghanistan to multiple surgeries and obstacles, he never lost his faith or his will to serve his fellow brothers and sisters. His story inspires us and makes all Americans proud." — NIKKI HALEY, former U.S. Ambassador to the United Nations
"Astonishing. ... Encourages everyone to 'Be part of someone else's miracle.'" — Booklist
"[An] incredible story." — RACHEL HOLLIS
"Kyle Carpenter's courage and sacrifice as a Marine was the true act of servant leadership, and I couldn't be more honored to know him. You won't get a more genuine story of finding purpose or living a life with intention than You Are Worth It." — JOHN C. MAXWELL, author of The 21 Irrefutable Laws of Leadership
"Offers valuable life lessons that speak beyond [Carpenter's] years. ... You Are Worth It is a work of last value. It holds tremendous potential to transform lives by assisting people in rising from their struggles stronger and more capable of loving one another." — The Federalist
"A story of hope, selflessness, faith, and rebirth. ... Gives hope to those who are struggling." — Daily Caller
Custom House, 9780062898531, 320pp.
Publication Date: September 22, 2020
About the Author
Kyle Carpenter was born in Jackson, Mississippi, in 1989. He enlisted in the U.S. Marine Corps in 2009 and served as a Squad Automatic Weapon gunner in Helmand Province, Afghanistan, as part of Operation Enduring Freedom. In June 2014, Carpenter was awarded the Medal of Honor, and in 2017, he graduated from the University of South Carolina with a BA in international studies.
Don Yaeger is an eleven-time New York Times best-selling author, longtime associate editor at Sports Illustrated, and award-winning inspirational speaker. He lives in Tallahassee, Florida, with his wife, son, and daughter.