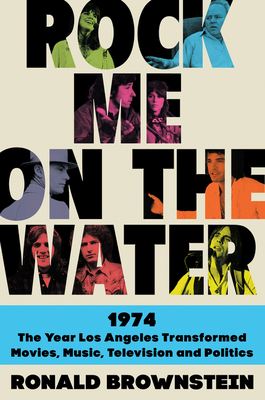 Rock Me on the Water
1974-The Year Los Angeles Transformed Movies, Music, Television, and Politics
Hardcover

* Individual store prices may vary.
Other Editions of This Title:
Digital Audiobook (3/22/2021)
Paperback (3/22/2022)
Compact Disc (3/23/2021)
MP3 CD (3/23/2021)
Description
New York Times Bestseller
Editors' Choice —New York Times Book Review

In this exceptional cultural history, Atlantic Senior Editor Ronald Brownstein—"one of America's best political journalists" (The Economist)—tells the kaleidoscopic story of one monumental year that marked the city of Los Angeles' creative peak, a glittering moment when popular culture was ahead of politics in predicting what America would become. 

Los Angeles in 1974 exerted more influence over popular culture than any other city in America. Los Angeles that year, in fact, dominated popular culture more than it ever had before, or would again. Working in film, recording, and television studios around Sunset Boulevard, living in Brentwood and Beverly Hills or amid the flickering lights of the Hollywood Hills, a cluster of transformative talents produced an explosion in popular culture which reflected the demographic, social, and cultural realities of a changing America. At a time when Richard Nixon won two presidential elections with a message of backlash against the social changes unleashed by the sixties, popular culture was ahead of politics in predicting what America would become. The early 1970s in Los Angeles was the time and the place where conservatives definitively lost the battle to control popular culture.
Rock Me on the Water traces the confluence of movies, music, television, and politics in Los Angeles month by month through that transformative, magical year. Ronald Brownstein reveals how 1974 represented a confrontation between a massive younger generation intent on change, and a political order rooted in the status quo. Today, we are again witnessing a generational cultural divide. Brownstein shows how the voices resistant to change may win the political battle for a time, but they cannot hold back the future.
Praise For Rock Me on the Water: 1974-The Year Los Angeles Transformed Movies, Music, Television, and Politics…
"Rock Me On The Water documents the high-octane storybook world of Los Angeles in 1974 with masterful intimacy and fearless cultural analysis.  His well-rendered portraits of Jackson Browne, Linda Rondstadt, Joni Mitchell, David Geffen and other luminaries of the time are sublime.  This is an extremely kinetic historical document, and a testament to Brownstein's lasting importance as both a fact-driven journalist and elegant prose-stylist.  A must read!" — Douglas Brinkley, author of American Moonshot
"Brownstein's kaleidoscopic account of a historic generational transformation that took place in American culture, American politics, and American life in the crucible of modern Los Angeles during the magical year of 1974. It encapsulates in compelling detail the moment when young people and young ideas were moving in on an older generation, based on the strength of new-found creativity and idealism. It documents the triumphs and failures of that new generation with vividness, humor, and, most of all, deep understanding. Running through every page is the author's deep love for his adopted home. A beautiful ride through an unforgettable time." — Jon Landau
"One of the sharpest analysts of American politics, Ron Brownstein in Rock Me on the Water offers a fresh, vivid and insightful look at how politics and popular culture intertwined to reshape American life at a moment of profound generational transition — LA in the early 1970s. It's an electric story filled with gripping personalities, compelling backstage histories, and a clear message for the divided America of today: the forces that fear change can win for a time, but in America the future always gets the last word. A lyrical recreation of a magical moment." — Jake Tapper
"Engrossing. . . . What Brownstein has done is expertly knit the scenes together, giving the reader a plus-one invite to the heady world of Hollywood parties, jam sessions and pitch meetings, as well as a pointed demonstration of how culture can be made and unmade." — New York Times
"Ron Brownstein has written a truly terrific book! I moved to LA in Jan. 1974 when this story opens but it is about so much more than a city. It is insider scoops of pop culture leading us out of Nixon, as it will lead us out of Trump. I should be working but can't stop reading." — John W. Dean, CNN contributor and former Nixon White House Counsel
"My friend and CNN colleague Ron Brownstein has written a terrific book. Rock Me on The Water tells the amazing story of 1974 and how it changed the U.S. If you're old enough to have lived through 1974, it will bring back memories. If you're too young, you will learn a lot." — Wolf Blitzer, anchor of The Situation Room, CNN
"Sweeping cultural history. . . . Enriched by interviews with the period's luminaries, including Warren Beatty and Linda Ronstadt, this astute and wide-ranging account shows how L.A. led the U.S. into an era when the 1960s counterculture became mainstream." — Publishers Weekly
"An endlessly engaging cultural history that will resonate with anyone alive in 1974." — Kirkus Reviews (starred review)
"Brownstein knits together the threads of history to show that, for the first time in 1974, politics and entertainment were not separate things, that the line between the two was blurred almost to the point of irrelevance. An insightful, expertly written book." — Booklist
"Excellent." — Politico
"More than just summarizing or reviewing what such films and shows were about, the author dives deep into how they were created, financed, promoted and received. His many interviews with actors, writers, directors and executives of that era lend such renderings veracity and energy." — Pittsburgh Post-Gazette
"I'm absolutely loving Rock Me on the Water, Ron Brownstein's riveting new book about L.A., circa '74, when the City of Angels was the hub of an extraordinary revolution in film, music, culture and politics. Really a fun read. Highly recommended!!" — David Axelrod, Senior Political Commentator, CNN
"This is a terrific book about a pivot-point in US cultural history, which led to reshaping our political landscape. Ron Brownstein is a dadgum genius. Highly recommend this book." — Paul Begala, CNN contributor and former counselor to President Clinton
"One of the very best on 1974 — a hinge of cultural history for American TV, movies & music. All in his new book Rock Me on The Water." — Major Garrett, Chief Washington Correspondent, CBS News
"In his brilliant cultural history, Rock Me on the Water, Brownstein drops enough names to fill the once-massive Los Angeles phone book (remember those?), elicits memorable moments from several entertainment industries, and recalls political machinations across decades." — Los Angeles Review of Books
"Brownstein paints Los Angeles in 1974 as a kind of patchouli-scented version of Florence during the Renaissance, bursting with creative energy in television, movies and music. From Joni Mitchell to Archie Bunker, a year of cultural ferment is presented here in all its richness." — New York Times Book Review, Editor's Choice
"Brownstein, a veteran reporter and now a senior editor at the Atlantic, makes all this cultural history memorable by telling much of his story through profiles of figures like Jack Nicholson, Norman Lear, George Lucas, Ms. Ronstadt and Mr. Browne, and the Eagles' Don Henley and Glenn Frey." — Wall Street Journal
"Timely and relevant."  — She Reads
"Convincing. . . . The book truly sparks to life." — PopMatters
"Brownstein's chronological retelling of the intersections of art, politics and pop culture in a stormy year in American history is both nostalgic and entertaining." — Milwaukee Journal Sentinel
Harper, 9780062899217, 448pp.
Publication Date: March 23, 2021
About the Author
Ronald Brownstein, a two-time finalist for the Pulitzer Prize for his coverage of presidential campaigns, is a senior editor at The Atlantic, and a senior political analyst for CNN. He also served as the national political correspondent and national affairs columnist for the Los Angeles Times and covered he White House and national politics for the National Journal. He is the author of six previous books, most recently, The Second Civil War: How Extreme Partisanship Has Paralyzed Washington and Polarized America.