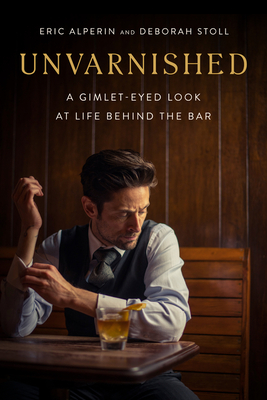 Unvarnished (Hardcover)
A Gimlet-eyed Look at Life Behind the Bar
Harper Wave, 9780062899286, 320pp.
Publication Date: June 23, 2020
Other Editions of This Title:
Compact Disc (6/23/2020)
MP3 CD (6/23/2020)
* Individual store prices may vary.
Description
A Kitchen Confidential for the cocktail profession, Unvarnished is a fly-on-the-wall narrative peek at the joys, pains, and peculiarities of life "behind the stick."

When it opened a decade ago, the acclaimed Los Angeles speakeasy The Varnish—owned, designed, and managed by award-winning cocktail aficionado Eric Alperin—quickly became the stylish standard bearer for modern bars. Unvarnished is a candid, voice-driven, no-holds-barred look at the workings of a bar, and the foundation of The Varnish's success: attention to hospitality and an abiding belief in the nobility of service. 
Alperin and veteran bartender and writer Deborah Stoll push back against the prevailing conceit that working in the service industry is something people do because they failed at another career. They offer fascinating meditations on ice as the bartender's flame; the good, the bad, and the sad parts of vice; one's duty to their community as a local; the obsessive, compulsive deliberations of building a bar (size matters); lessons from Sasha Petraske—Eric's late partner, mentor, and the forefather of the modern day classic cocktail renaissance—and the top ten reasons not to date a bartender. At the book's center are the 100 recipes a young Jedi bartender must know before their first shift at The Varnish, along with examples of building drinks by the round, how to Mr. Potato Head cocktails, and what questions to ask when crafting a Bartender's Choice. 
A sexy, gritty, honest look at the glamour-less work of a glamorous job, written with the intimate honesty of The Tender Bar, the debauched inside view of Kitchen Confidential, and the social commentary of Waiter Rant, Unvarnished will take its place among these classics of the service set.
About the Author
Eric Alperin's first experience behind the stick was at The Screening Room in NYC. He has worked at Mario Batali and Joe Bastianich's Michelin-starred Lupa, and Sasha Petraske's Milk & Honey and Little Branch. In Los Angeles, Eric created and managed Osteria Mozza's liquor and cocktail program before opening The Varnish in 2009. The Varnish received a James Beard nomination for Outstanding Bar Program from 2013 to 2016 and won Best American Cocktail Bar at Tales of the Cocktail in 2012. Eric has been a finalist for Best American Bartender. Eric's bar Half Step in Austin, Texas was nominated for a Spirited Award for Best New American Cocktail Bar. He recently opened The Streamliner at Union Station, in downtown LA.
He is the acting Director of Cocktail Bars for 213 Hospitality, a co-owner of Penny Pound Ice, The Slipper Clutch, and Bar Clacson (a 2017 finalist for a Spirited Award).
Eric has been profiled in the Los Angeles Times, The New York Times, The Wall Street Journal, LA Weekly, Imbibe, and Vogue and has been featured on Anthony Bourdain's Layover, Esquire Network's Best Bars in America, NBC News and in Douglas Tirola's feature film Hey Bartender.
Deborah Stoll is a journalist, lyricist, short story writer, animator and screenwriter. Her essays, and articles have appeared in the LA Times, The Economist, LA Weekly, SF Chronicle, Punch Drink, IAM&CO, Ignite and Weedmaps.
Her short stories can be found in the seminal issue of Slake, in the literary magazine Swivel and on Hillary Carlip's Fresh Yarn. Her former band, Hot As Sun, opened for Foster the People, Gotye and Phantogram and can be been heard on TV shows like Glee, CSI Miami and Pretty Little Liars and in movies like For A Good Time Call.
Deborah's film and TV scripts have been recognized at Sundance, Slamdance, and the Hollywood Screenplay Contest. Long before, during and long after, she worked in dive bars, cocktail bars, tequila bars, after-hours bars, strip clubs, and nightclubs.
Praise For Unvarnished: A Gimlet-eyed Look at Life Behind the Bar…
"The portrayal of cocktail culture in Unvarnished strips away the veneer of cheer that bartenders work so hard to project, revealing the chaos behind the curtain in a vocation where rapturous heights are offset by depraved depths. Cocktail geeks should be grateful that Alperin and Stoll bare as much of The Varnish's ethos as its founder's soul in this cinematic memoir that affirms the virtues of hospitality." 
— Jim Meehan, author of Meehan's Bartender Manual an The PDT Cocktail Book

"In this page-turning gem, Alperin and Stoll bring to fascinating life the ins and outs and ups and downs of building a glamorous, successful speakeasy. Part memoir, part perfectionist's tutorial, this book will make you thirsty as hell for the perfect cocktail and even hungrier to pursue your own glittering dreams." 
— Vu Tran, author of Dragonfish

"Unvarnished is an uplifting story of a man in the relentless pursuit of his dreams, even when he is not sure what that dream is. And that's the beauty of Unvarnished. When he discovers his passion, he, along with the reader, go on a beautiful—and delicious—odyssey to the best bar in Los Angeles." 
— Nancy Silverton, James Beard award-winning chef, owner of Mozza Restaurant Group and founder of La Brea Bakery

"A beautiful, heartbreaking, and triumphant look inside the beating heart of one of the most wonderful bars in the world. Alperin and Stoll have given us a raw, passionate, and hilarious record of exactly what it takes to achieve greatness in this business."
— Jeffrey Morgenthaler, author of Drinking Distilled

"With the turn of every page, Alperin and Stoll have slipped off the underpinnings of our industry and provided us with the best seat in the house—a voyeur's keyhole into the passionate yet gritty world of bar life. Brutally honest and deeply personal, Unvarnished is a cathartic bloodletting for anyone who has ever worked behind the stick. I loved it, I hated it, I couldn't put it down." 
— Audrey Saunders, founder of Pegu Club

"Unvarnished reads like an unwavering, no-shortcuts hug from across the room, filling your soul with the most delicious pour, from the heart."
— Roy Choi, chef and author of L.A. Son

"One of the best cocktail books I have ever read—a true and honest insight into what it's really like to own and run a critically acclaimed bar. Alperin and Stoll chronicle the trials and tribulations of being a bar-owner, bouncing seamlessly between narratives about the grind and temptations of the lifestyle that come with the territory."
— Simon Ford, founder of the 86 Co. and Fords Gin

"Unvarnished is a celebration of Eric's friendship with Sasha Petraske, a man of extraordinary vision and talent who changed the bar world forever. It is also a manual for bartenders around the world of what a modern classic cocktail bar should be." 
— Dale DeGroff, bartender, author, and bon vivant

"his isn't the usual breezy or dutiful as-told-to memoir but rather a deep and meticulous dive into Alperin's personality and experiences. Consequently, sometimes the narrative is spectacularly and absorbingly dorky....Even teetotalers will relish the insights into this arcane world."
— Kirkus Reviews (starred review)