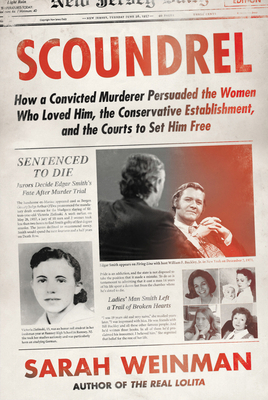 Scoundrel
How a Convicted Murderer Persuaded the Women Who Loved Him, the Conservative Establishment, and the Courts to Set Him Free
Hardcover

* Individual store prices may vary.
Other Editions of This Title:
Digital Audiobook (2/21/2022)
Digital Audiobook (2/21/2022)
Paperback, Large Print (2/22/2022)
Compact Disc (2/22/2022)
Paperback (2/7/2023)
MP3 CD (2/22/2022)
Description
A Recommended Read from: The Los Angeles Times * Town and Country * The Seattle Times * Publishers Weekly * Lit Hub * Crime Reads * Alma
From the author of The Real Lolita and editor of Unspeakable Acts, the astonishing story of a murderer who conned the people around him—including conservative thinker William F. Buckley—into helping set him free
In the 1960s, Edgar Smith, in prison and sentenced to death for the murder of teenager Victoria Zielinski, struck up a correspondence with William F. Buckley, the founder of National Review. Buckley, who refused to believe that a man who supported the neoconservative movement could have committed such a heinous crime, began to advocate not only for Smith's life to be spared but also for his sentence to be overturned.
So begins a bizarre and tragic tale of mid-century America. Sarah Weinman's Scoundrel leads us through the twists of fate and fortune that brought Smith to freedom, book deals, fame, and eventually to attempting murder again. In Smith, Weinman has uncovered a psychopath who slipped his way into public acclaim and acceptance before crashing down to earth once again.
From the people Smith deceived—Buckley, the book editor who published his work, friends from back home, and the women who loved him—to Americans who were willing to buy into his lies, Weinman explores who in our world is accorded innocence, and how the public becomes complicit in the stories we tell one another.
Scoundrel shows, with clear eyes and sympathy for all those who entered Smith's orbit, how and why he was able to manipulate, obfuscate, and make a mockery of both well-meaning people and the American criminal justice system. It tells a forgotten part of American history at the nexus of justice, prison reform, and civil rights, and exposes how one man's ill-conceived plan to set another man free came at the great expense of Edgar Smith's victims.
Praise For Scoundrel: How a Convicted Murderer Persuaded the Women Who Loved Him, the Conservative Establishment, and the Courts to Set Him Free…
"Weinman, rightly acclaimed for 'The Real Lolita," again examines the misogyny inherent in true-crime culture, then and now." — Los Angeles Times
"An in-depth exploration of how outside influence and support can affect the criminal justice system's slow-moving cogs, as well as the narrative of a con artist who managed to hurt a great deal of people." — NPR
"'Scoundrel' is about who receives the benefit of our doubt and the privileges that attend that trust, whether or not it is warranted…. Instead of wondering what will happen, the reader is asked to consider the more important question: how it did…. Her research is meticulous and extensive, allowing us to witness step by shocking step how Buckley and Wilkins chose to believe and then hand a microphone to a murderer." — New York Times Book Review
"With the precision of an atom splicer, Scoundrel probes the psychological fallout for those in Smith's orbit." — Vanity Fair
"Weinman explores how the sociopathic Smith manipulated and abused both the women he harmed and the naive do-gooders, like Buckley, who became his dupes." — New York Post
"Exhaustively reported and compassionately told, Scoundrel shows how the justice system is easily manipulated, and how it often fails vulnerable women. Like The Real Lolita before it, Scoundrel proves once again that Weinman is a modern master of the genre." — Esquire
"Riveting…. Weinman is able to tell the story in vivid detail." — Boston Globe
"[A] tragic and gripping saga…. Weinman tells this lurid tale with all the narrative texture and tempo—and only some of the tawdriness—of a true-crime genre classic…. Scoundrel is an agonizingly intimate depiction of an unlikely epistolary love triangle—the bloody consequences of which would haunt its besotted principals for decades to come."  — New Republic
"Provocative and unsettling. It compels the reader to ponder weighty questions: Did a savage thug exploit smart, decent people? Can altruism sometimes be as lethal as psychopathology? Evil pervades this book, but it makes for a terrific read." — Air Mail
"Meticulously researched, "Scoundrel" paints a portrait of a criminal adept at targeting people like Buckley who he could win over — but whose violent instincts eventually led to his downfall." — Associated Press
"Compelling." — Wall Street Journal
"Weinman does an impeccable job with this wild story of murder, celebrity, politics, and the American ability to put unsavory characters on a pedestal." — Literary Hub
"In this mesmerizing account, Weinman (The Real Lolita) does a masterly job resurrecting a stranger-than-fiction chapter in American criminal justice….  [An] instant classic." — Publishers Weekly (starred review)
"Enthralling…. The book is a must-read for true crime fans, but it will appeal to nonfiction readers across genres for its thrilling blend of crime, media, and politics in mid-century America…. An immediately absorbing story." — Library Journal (starred review)
"Superb…. Weinman paints a complete portrait of Smith in all his complexity, with an unsettling ending that left me breathless. A chilling and deeply satisfying read, Scoundrel injects life into a story nearly forgotten by time." — Bookpage (starred review)
"In the court of public opinion, a woman who devotes herself to freeing an imprisoned murderer, only to regret unleashing a sociopath on society, is often judged a victim of her own desperation as much as a man's manipulation, but what about the eminent public intellectual who uses his platform to do the same thing? Sarah Weinman defies the genre of true crime in this extraordinary book about a cause célèbre gone terribly wrong." — Alexis Coe, New York Times bestselling author of You Never Forget Your First: A Biography of George Washington
"Sarah Weinman has taken a minor footnote in American history—conservative icon William F. Buckley's strange friendship with (and advocacy for) a convicted murderer—and spun a breathtaking narrative about the criminal justice system, betrayal, and our culture of celebrity. Brilliantly reported and immensely readable, Scoundrel is a smart social commentary with all the twisted pleasures of a psychological thriller. I defy you to put it down." — Abbott Kahler, author (as Karen Abbott) of The Ghosts of Eden Park
"Wholly compelling reading." — Kirkus Reviews
"Scoundrel is a thoroughly mesmerizing work of true crime and American history, and Sarah Weinman leaves no stone unturned in this extraordinary story of empathy, betrayal, celebrity, and the criminal justice system."  — Gilbert King, author of the Pulitzer Prize-winning Devil in the Grove
Praise for Unspeakable Acts — ///
"Irresistible."  — People
Praise for The Real Lolita — ///
"The achievement of [Weinman's] impressive literary sleuthing is to bring to life a girl whose story had been lost."  — New York Times Book Review
"Superb. . . . A compelling investigation."  — NPR's Fresh Air
"Riveting. . . . Scrupulously researched. . . . Weinman's dark and compulsively readable book will make readers aware of the absence of a nearly forgotten girl's voice in discussions of one of the great works of American literature."  — Los Angeles Times
Ecco, 9780062899767, 464pp.
Publication Date: February 22, 2022
About the Author
Sarah Weinman is the author of The Real Lolita: A Lost Girl, an Unthinkable Crime, and a Scandalous Masterpiece, and the editor, most recently, of Unspeakable Acts: True Tales of Crime, Murder, Deceit & Obsession. She is a 2020 National Magazine Award finalist for reporting and a Calderwood Journalism Fellow at MacDowell, and her work has appeared most recently in New York magazine, the Wall Street Journal, Vanity Fair, and the Washington Post. Weinman writes the crime column for the New York Times Book Review and lives in New York City.