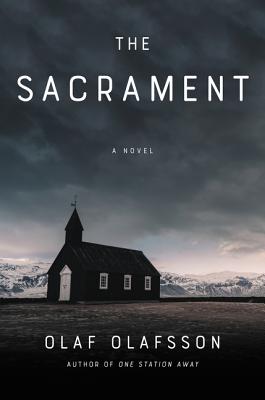 The Sacrament
A Novel
Hardcover

* Individual store prices may vary.
Other Editions of This Title:
Paperback (9/1/2020)
MP3 CD (12/3/2019)
Compact Disc (12/3/2019)
Description
The haunting, vivid story of a nun whose past returns to her in unexpected ways, all while investigating a mysterious death and a series of harrowing abuse claims
A young nun is sent by the Vatican to investigate allegations of misconduct at a Catholic school in Iceland. During her time there, on a gray winter's day, a young student at the school watches the school's headmaster, Father August Franz, fall to his death from the church tower.
Two decades later, the child—now a grown man, haunted by the past—calls the nun back to the scene of the crime. Seeking peace and calm in her twilight years at a convent in France, she has no choice to make a trip to Iceland again, a trip that brings her former visit, as well as her years as a young woman in Paris, powerfully and sometimes painfully to life. In Paris, she met an Icelandic girl who she has not seen since, but whose acquaintance changed her life, a relationship she relives all while reckoning with the mystery of August Franz's death and the abuses of power that may have brought it on.
In The Sacrament, critically acclaimed novelist Olaf Olafsson looks deeply at the complexity of our past lives and selves; the faulty nature of memory; and the indelible mark left by the joys and traumas of youth. Affecting and beautifully observed, The Sacrament is both propulsively told and poignantly written—tinged with the tragedy of life's regrets but also moved by the possibilities of redemption, a new work from a novelist who consistently surprises and challenges.
Praise For The Sacrament: A Novel…
"The novel confounds our expectations, sifting through memory, as it evolves into a low-simmering psychological thriller. Recommended."
— Library Journal

"[A] gripping, masterfully constructed story toward redemption and justice."
— Booklist

"Emotionally gratifying and spiritually challenging—a compelling novel that grabs the reader's psyche and won't let go."
— Kirkus Reviews (starred review)

"A mesmerizing and powerful look at abuse in the Catholic Church…an astounding dénouement, delves into the balance between justice and vengeance, and the power of conviction, absolution, and redemption. This is an incisive novel."
— Publishers Weekly

"It's a rare story that marries the suspense of a mystery with depth of thought, but in The Sacrament, Olaf Olafsson manages this alliance with a scientist's mind and an artist's eye... One reads this novel both eager and wary of knowing its secret fully, like the meaning of a dream."
— Roger Rosenblatt

"The Sacrament is a miraculous novel.  A delicate, literary page-turner, narrated by an unforgettable character whose life the reader will long remember after the last page is turned.  With austere and beautiful prose, Olafsson has written a novel full of love, mystery, and regret.  Fantastic."
— Nickolas Butler, author of Shotgun Lovesongs and Little Faith

"The latest from Olafsson…feels at first like a classic study in Scandi noir, that austere genre of frosty characters and snow-flecked mystery. But something more tender and ephemeral lurks beneath Sacrament's bare outlines … Moving in clean declarative prose between '60s Paris, '80s Iceland, and the modern day, the novel's core temperature sometimes runs too cool; there's real devastation, though, in the revelations of its final chapters, and freedom, too."
— Entertainment Weekly

"Olafsson's sparse, unadorned language intensifies an understanding that this story is indirectly about those who are voiceless... wonderful, empathic...[The Sacrament] had an excoriating effect on me as a reader, but this is to Olafsson's credit rather than fault."
— New York Times Book Review
Ecco, 9780062899873, 304pp.
Publication Date: December 3, 2019
About the Author
Olaf Olafsson was born in Reykjavik, Iceland, in 1962. He studied physics as a Wien scholar at Brandeis University. He is the author of five previous novels, The Journey Home, Absolution, Walking into the Night, Restoration, and One Station Away, and a story collection, Valentines. He is former executive vice president of Time Warner and lives in New York City with his wife and three children.