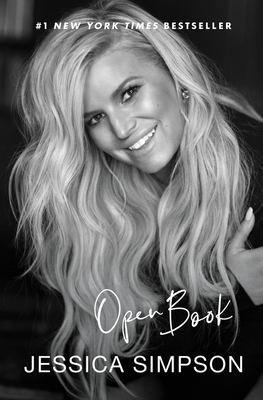 Open Book
Hardcover

* Individual store prices may vary.
Other Editions of This Title:
Digital Audiobook (2/3/2020)
Paperback (3/23/2021)
Compact Disc (2/4/2020)
MP3 CD (2/4/2020)
Description
The #1 New York Times Bestseller
Jessica reveals for the first time her inner monologue and most intimate struggles. Guided by the journals she's kept since age fifteen, and brimming with her unique humor and down-to-earth humanity, Open Book is as inspiring as it is entertaining.
This was supposed to be a very different book. Five years ago, Jessica Simpson was approached to write a motivational guide to living your best life. She walked away from the offer, and nobody understood why. The truth is that she didn't want to lie.
Jessica couldn't be authentic with her readers if she wasn't fully honest with herself first.
Now, America's Sweetheart, preacher's daughter, pop phenomenon, reality tv pioneer, and the billion-dollar fashion mogul invites readers on a remarkable journey, examining a life that blessed her with the compassion to help others but also burdened her with an almost crippling need to please. Open Book is Jessica Simpson using her voice, heart, soul, and humor to share things she's never shared before.
First celebrated for her voice, she became one of the most talked-about women in the world, whether for music and fashion, her relationship struggles, or as a walking blonde joke. But now, instead of being talked about, Jessica is doing the talking. Her book shares the wisdom and inspirations she's learned and shows the real woman behind all the pop-culture cliché's — "chicken or fish," "Daisy Duke," "football jinx," "mom jeans," "sexual napalm…" and more. Open Book is an opportunity to laugh and cry with a close friend, one that will inspire you to live your best, most authentic life, now that she is finally living hers.
Praise For Open Book…
"Achingly honest. . . [Open Book] is a thoughtful and intimate portrait of what it means to be a celebrity, and Simpson is unafraid to share the sometimes harrowing truths that often go undiscussed." — Time magazine
"Mesmerizing. . . In 2017, something awoke in Simpson. She can speak honestly now. Is there anything else she wants to say?" — The New Yorker
Open Book explains what happened. . . It just feels nice that one of the pop stars from our teendom has delivered on the twenty-year-old promise they're just like us." — New York Times
In her honest new memoir, Jessica Simpson strips away the glamour associated with the blond hair, the clothing empire, and the early 2000s radio hits. . . You'll see Jessica Simpson at her most authentic, relatable, and, yes, intelligent. — Glamour
Powerful. — People
 memoir that spares no one, not even herself. . . Simpson breaks open the dam that is her personal history and the gossip surrounding her life, from the sexual abuse she experienced as a child to her alcohol addiction. — Los Angeles Times
You may think you know Jessica Simpson. . . but it turns out there was a whole lot more going on than any of us knew. [Open Book] is a raw look into the lesser-known troubled side of her life, and how she still manages to see the positive side of everything. — Cosmopolitan
I kind of feel like we all owe her an apology. — Ronan Farrow
Captivating. . . In Open Book, Simpson's interior life is accessible and far more complex than her public performance as a relatable pp star. — Jezebel
Her excellent memoir is everything you could want. . . By the end, you marvel at her hard-won wisdom. — Rolling Stone
Written with considerable hindsight. . . so revealing. — Buzzfeed
Jessica Simpson gets very real. — Refinery 29
A no-holds-barred memoir. . . A journey through the thirty-nine-year-old's most challenging moments. — O, the Oprah Magazine
The singer, actress, and entrepreneur reveals struggles her fans never knew about. Simpson shares her truth like never before. — TODAY
[Simpson] makes a point of reflecting on her mistakes but is cognizant of the pressures and expectations that other put on her. — Washington Post
She's honest, genuine, unabashedly vulnerable, and she exhibits the same qualities in her writing. — Hoda Kotb, excerpt from NYT bestseller This Just Speaks to Me
Simpson's memoir contains plenty of personal and professional moments for fans to savor. An eye-opening glimpse into the attempted self-unmaking of one of Hollywood's most recognizable talents. — Kirkus Reviews
Dey Street Books, 9780062899965, 416pp.
Publication Date: February 4, 2020
About the Author
Jessica Simpson is a musician, actress, entrepreneur, philanthropist, producer, and bestselling author. In 2005, she launched the Jessica Simpson Collection, now a billion-dollar global brand and the most successful celebrity licensing brand in history. As Jessica's inaugural book, Open Book debuted at # 1 in three categories of the New York Times bestseller list, became a unanimously critically acclaimed global bestseller, and was included in Time's 100 Must Read Books of 2020 and Rolling Stone's Best Music Books of 2020. She released six original songs on the audiobook and landed at #1 on the audio charts. The book is sold in more than one hundred and twenty countries. In December 2020, Jessica signed a multi-media deal with Amazon, that includes a new unscripted docuseries based on "Open Book," and a new coming-of-age scripted series also inspired by the memoir, as well short form content. Jessica lives with her husband and three children in Los Angeles, California.
Coverage from NPR