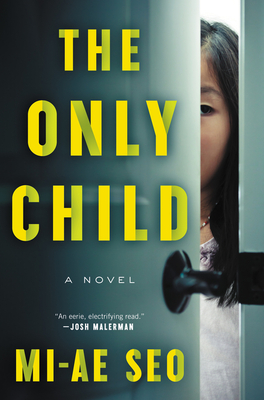 The Only Child
A Novel
Hardcover

* Individual store prices may vary.
Other Editions of This Title:
Digital Audiobook (6/9/2021)
Digital Audiobook (2/10/2020)
Description
An eerie and absorbing novel following a criminal psychologist who has discovered shocking and possibly dangerous connections between a serial killer and her stepdaughter. The book to read for fans of the movie Parasite.
Criminal psychologist Seonkyeong receives an unexpected call one day. Yi Byeongdo, a serial killer whose gruesome murders shook the world, wants to be interviewed. Yi Byeongdo, who has refused to speak to anyone until now, asks specifically for her. Seonkyeong agrees out of curiosity. 
That same day Hayeong, her husband's eleven-year-old daughter from a previous marriage, shows up at their door after her grandparents, with whom she lived after her mother passed away, die in a sudden fire. Seonkyeong wants her to feel at home, but is gradually unnerved as the young girl says very little and acts strangely. 
At work and at home, Seonkyeong starts to unravel the pasts of the two new arrivals in her life and begins to see startling similarities. Hayeong looks at her the same way Yi Byeongdo does when he recounts the abuse he experienced as a child; Hayeong's serene expression masks a temper that she can't control. Plus, the story she tells about her grandparents' death, and her mother's before that, deeply troubles Seonkyeong. So much so that Yi Byeongdo picks up on it and starts giving her advice. 
Written with exquisite precision and persistent creepiness, The Only Child is psychological suspense at its very best.
Praise For The Only Child: A Novel…
"A valuable addition to the growing list of Korean crime fiction available to American audiences."
— Los Angeles Times

"In this twisted web of coincidence, criminal psychologist Seonkyeong untangles the pasts and motivations of two new acquaintances . . . as both become increasingly menacing presences in her life."
— Vanity Fair

"An addictive and shocking psychological thriller. . . . There is a twist here that has to be read to be believed."
— Refinery 29

"A creepy psychological thriller. . . . Seo stealthily spins an ever-tightening narrative web setting up a doubly shocking climax. . . . It's a measure of Seo's skill that she manages to find flashes of humanity in a ruthless murderer."
— Publishers Weekly

  "For fans of Mindhunter, Mi-Ae Seo's novel The Only Child feels like true crime but is a tour de force of twisty fiction with a shocking ending you won't be able to stop thinking about.  Family secrets abound in this fine novel of psychological suspense."
— Alma Katsu, author of The Deep and The Hunger

This is one creepy book. Come for the serial killers, criminal profilers and spooky children, stay for the twisting character studies and insight into domestic trauma. But check all the locks first.
— Thomas Mullen, author of Darktown

"Wholly absorbing, but without any pandering on the author's part, so that the language, the style, and the mood grow about you, as you slip deeper into the story and realize, quite suddenly, you are immersed. An eerie, electrifying read."
— Josh Malerman, New York Times bestselling author of Bird Box

Ecco, 9780062905048, 304pp.
Publication Date: February 11, 2020
About the Author
Mi-Ae Seo is a bestselling thriller writer and screenwriter in Korea.