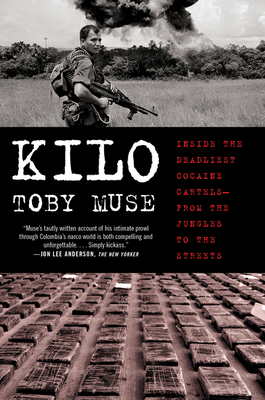 Kilo
Inside the Deadliest Cocaine Cartels—from the Jungles to the Streets
Paperback

* Individual store prices may vary.
Other Editions of This Title:
Digital Audiobook (3/23/2020)
Hardcover (3/24/2020)
MP3 CD (3/24/2020)
Compact Disc (3/24/2020)
Description
For fans of the Netflix show Narcos and readers of true crime, Kilo is a deeply reported account of life inside Colombia's drug cartels, using unprecedented access in the cartels to trace a kilo of cocaine—from the fields where it is farmed, to the hit men who protect it, to the smuggling ships that bring it to American shores.
"Toby Muse's tautly written account of his intimate prowl through Colombia's narco world is both compelling and unforgettable. With Kilo, cocaine now has its own Dispatches. Simply kickass."
— Jon Lee Anderson, The New Yorker and author of Che Guevara: A Revolutionary Life

Cocaine is glamour, sex and murder. From the badlands of Colombia, it stretches across the globe, seducing, corrupting and destroying. A product that must be produced, distributed, and protected, it is both a harbinger of violence and a source of immense wealth. Beginning in the jungles and mountains of Colombia, it filters down to countryside villages and the nightclubs of the cities, attracting money, sex, and death. Each step in the life of a kilo reveals a different criminal underworld with its own players, rules, and dangers, ranging from the bizarre to the diabolical. The killers, the drug-lords, all find themselves seduced by cocaine and trapped in her world.
Seasoned war correspondent Toby Muse has witnessed each level of this underworld, fueled by the appetite for cocaine in America and Europe. In this riveting chronicle, he takes the reader inside Colombia's notorious drug cartels to offer a never before look at the drug trade. Following a kilo of cocaine from its production in a clandestine laboratory to the smugglers who ship it abroad, he reveals the human lives behind the drug's complicated legacy. Reporting on Colombia for the world's most prestigious networks and publications, Muse gained unprecedented access to the extraordinary people who survive on the drug trade—farmers, smugglers, assassins—and the drug lords and their lovers controlling these multi-billion dollar enterprises. Uncovering stories of violence, sex, and money, he shows the allure and the madness of cocaine. And how the War on Drugs has been no match for cocaine.
Piercing this veiled world, Kilo is a gripping portrait of a country struggling to end this deadly trade even as the riches flow. A human portrait of criminals and the shocking details of their lives, Kilo is a chilling, unforgettable story that takes you deep into the belly of the beast.
Kilo includes 16 pages of photographs.
Praise For Kilo: Inside the Deadliest Cocaine Cartels—from the Jungles to the Streets…
"A deeply reported account of drug trafficking that traces a kilo of cocaine from field to smuggler." — USA Today
"Journalist Muse's beautifully written debut takes a deep dive into the Colombian drug trade…At great personal risk, the author interviewed Colombians involved in the trade—dealers, prostitutes, and sicarios (the paid assassins who keep the law of the drug trade); their intimate stories form the heart of the book…This gripping account will linger in the mind of readers." — Publishers Weekly (starred review)
"Like other daring foreign correspondents, Sebastian Junger and Chris Hedges among them, Muse has a talent for recognizing the intrinsic humanity in all his subjects, no matter how monstrously they may behave. . . . An unrelentingly tragic yet indispensable exposé of the never-ending war on drugs."  — Kirkus Reviews
"Kilo is surely the best account of the cocaine trade that will be ever be written, as well as the most incredible work of investigative journalism I've read. It's a high-stakes yarn that shows each step of the drug ladder in vivid detail—from creation to consumption. A superb and important book." — Ben Westhoff, author of Fentanyl, Inc.: How Rogue Chemists Are Creating the Deadliest Wave of the Opioid Epidemic
"In this riveting first-hand account that reads like a documentary, Toby Muse goes beyond stereotypical crutches and achieves an honest and nuanced portrait of Colombia's cancerous cocaine industry, revealing not just the stakes but the human toll behind every line of cocaine. Kilo will prove enlightening even to those who lived firsthand the horrors of the country's civil war." — Juanita Ceballos, Vice News
"Toby Muse's tautly written account of his intimate prowl through Colombia's narco world is both compelling and unforgettable. With Kilo, cocaine now has its own Dispatches. Simply kickass." — Jon Lee Anderson, The New Yorker and author of Che Guevara: A Revolutionary Life
"A hair-raising, stream-of-consciousness ride via the glamor and glory of silicone busts, gold-plated guns, and fast cars to the inevitable wreckage that is cocaine." — Karl Penhaul, former CNN correspondent for Colombia
In Kilo, Toby Muse teleports the reader into the mad bloody tragic world of Colombian cocaine trafficking, so you can feel the beats at the discos packed with drug lords and beauty queens; smell the sweat of laborers toiling in the coca fields for a pittance; hear the dog of the gun slinger barking in the barrio. In doing so, he pens a love letter to one of the most beautiful and bloodiest countries on earth. — Ioan Grillo, author of El Narco and Blood Gun Money
"In fifteen years covering Colombia, this is the best book I've ever read about the cocaine trade. If you want to understand why the drugs are produced here, then how they get to the U.S., there's no better guide." — Matthew Bristow, former Colombia bureau chief, Bloomberg News
"From Venezuelan coca pickers in Colombia's badlands to Ecuadorian sailors plying the Pacific with tons of cocaine, Kilo explores the trenches of the drug trade like few other books. Muse has produced a must-read for those trying to understand Latin America, Washington foreign policy and why decades of bloodshed and billions of dollars haven't won the war on drugs." — Jim Wyss, Miami Herald reporter and Pulitzer Prize winner
"Toby Muse's firsthand dive into the depths of Colombia's coca-filled jungles is as tragic and absurd as the decades-old drug war itself." — Joshua Goodman, Latin America correspondent for the Associated Press
"The result is a staggering work of reportage and social analysis. Muse is an experienced war journalist and for Kilo, he put himself into many dangerous situations to get incredible access to the narco-subcultures so few have witnessed." — CrimeReads
William Morrow Paperbacks, 9780062905307, 320pp.
Publication Date: March 30, 2021
About the Author
Toby Muse is a British-American writer, television reporter, documentary filmmaker and foreign correspondent. He has reported from the front lines of the conflicts in Colombia, Iraq and Syria. He has embedded with soldiers, rebels and drug cartels, producing exclusive reports from cocaine laboratories and guerrilla jungle camps. He lived in Bogota, Colombia for more than fifteen years, reporting across South America and the endless drug war.