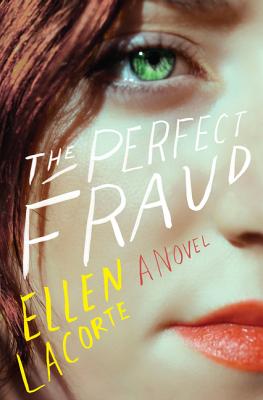 The Perfect Fraud
A Novel
Hardcover

* Individual store prices may vary.
Other Editions of This Title:
Digital Audiobook (6/17/2019)
Paperback, Large Print (6/18/2019)
Paperback (6/23/2020)
Description
In this propulsive debut thriller, two women with deep secrets are thrown together by an unexpected meeting that plunges both their lives into chaos. But it's a sick little girl whose fate hangs in the balance.
Motherhood is tough. But then, so is daughterhood. When we first meet Claire, she's living in Sedona, Arizona with her boyfriend Cal and ducking calls from her mother.  Her mom is a world class psychic on the East Coast and Claire doesn't want her to discover the truth. Claire works in the family business and calls herself a psychic, but she doesn't really have "the gift" and hasn't for a long time. She's a fraud.
Meanwhile, on the other side of the country, Rena, a young mother, has family issues of her own. She's divorced and her four-year-old daughter, Stephanie, suffers from mysterious, seemingly incurable stomach problems. No matter how many specialists Rena drags her to, no matter how many mommy-blog posts she makes about her child's health issues, trying to get help and support from her online community, Stephanie only gets sicker.
When Claire and Rena meet by chance on an airplane, their carefully constructed lives begin to explode.  Can these two women help each other and can they help Stephanie before it's too late? 
Praise For The Perfect Fraud: A Novel…
"Be sure to set aside a full few hours because once you begin, you won't be able to stop. The Perfect Fraud is exactly what a good book should be—a dazzling plot, unforgettable characters, emotional depth—all presented in a fresh new voice that is sure to make Ellen LaCorte a household name."
— Aimee Molloy, New York Times bestselling author of The Perfect Mother

"A slow motion train wreck that won't let you look away, The Perfect Fraud is a canny examination of the lies we tell to others, but more importantly, the lies we tell ourselves."
— Rufi Thorpe, author of The Girls From Corona Del Mar

"The Perfect Fraud is equal parts dark, creepy thriller and compelling character study with a little bit of magic and a little bit of heartbreak thrown in for good measure. Mothers and daughters, hindsight and clairvoyance, sickness and health twist and trade places in a delicious slow simmer and in ways we never see coming, and gluten-free eating finally gets the sendup it so richly deserves."
— Laurie Frankel, author of This Is How It Always Is

"Mysticism and medicine intersect with dramatic results in LaCorte's accomplished page-turning debut . . . Those who like a dash of the supernatural in their thrillers will be well satisfied."
— Publishers Weekly

"This is a dark, dark thriller, and the villain is absolute. But alternating voices allow for a more nuanced building of tension …. LaCorte delves deeply into horrible things that humans do—and, as in life, not all evil is punished—but still offers hope and healing in the end."
— Kirkus Reviews

"LaCorte's debut novel combines a darkly twisted plot with excellent character building, and the eerily realistic setting nicely supports the haunting narrative. This is psychological suspense with a gut-clenching finale, perfect for readers of Gillian Flynn and Brandon Massey."
— Booklist

"What is a beach read exactly? For me, it's a perfect page-turner that adds to the bliss of summer. This one hits all the marks with two women, one a reluctant fourth-generation commitment-phobic faux psychic, the other a brash single mother with a very mysteriously sick child. The tension rises as the women's lives collide in the red rocks of Sedona."
— Publishers Weekly's Best Books of Summer

"The Perfect Fraud makes for the perfect vehicle of pop culture's current obsession with scammers. This mystifying thriller follows the relationship between a young woman named Claire, whose mother is a psychic while she pretends to be, and a woman she meets by chance with a helplessly ill daughter. It's a page turner with the right dose of lies and mystery."
— Thrillist Summer Books Roundup

"LaCorte's debut is the kind of thriller that ratchets up the suspense so slowly you don't realize until somewhere in the middle how skillfully she's plotted the novel...a compelling and well executed thriller."
— Crime Reads
Harper, 9780062906076, 304pp.
Publication Date: June 18, 2019
About the Author
Ellen LaCorte worked for many years in HR. She now writes full time from her home where she lives with her husband in Titusville, New Jersey.  She is the mother of two grown sons.
or
Not Currently Available for Direct Purchase