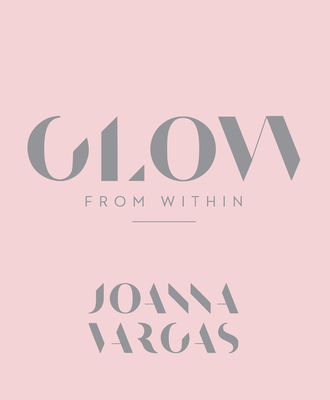 Glow from Within
Hardcover

* Individual store prices may vary.
Description
Celebrity aesthetician Joanna Vargas shares her secrets for the first time in this practical, engaging guide to beautiful, glowing skin for everyone.

Celebrity aesthetician Joanna Vargas is known for her cutting-edge beauty treatments, high-end products, and famous (and seemingly ageless) clients. But her secret to beautiful skin rests on one simple principle: developing and maintaining a good skincare routine.
In Glow from Within, Joanna teaches readers how to create the best routine for their skin type. She explains the science behind the labels of various products and tools—from serums to retinols, dry brushes to sheet masks, vitamin c to hylaluronic acid—then offers instruction on how best to incorporate them into a routine. She also shares fresh insight into how the other self-care routines we don't often connect to our skin—such as nutrition, sleep, and stress management—impact skin appearance and resiliency.
In addition to giving readers the tools to create a customizable routine, Joanna will provide specific product recommendations, DIY recipes, and programs for time-specific goals (one week, one month, six months) as well as emergency troubleshooting for skin issues that pop up overnight. Glow from Within is the ultimate guide to flawless skin from one of the beauty industry's most sought-after insiders.
Praise For Glow from Within…
"Joanna Vargas is a leader in the beauty industry."
— Julianne Moore

"Joanna Vargas has completely changed my skin."
— Mindy Kaling

"Joanna employs an amazing combination of traditional women's wisdom about caring for and honoring ourselves mixed with modern, scientific information. She uses her heart and her mind in her work."
— Maggie Gyllenhaal

"Joanna is fully up-to-date on any new developments and is always on the cutting edge of skincare, but her priority is the person in front of her. Her focus is on how to make your skin reflect how beautiful you are on the inside."
— Elisabeth Moss

"Joanna Vargas has seen my skin at its best and its please-don't-make-me-leave-the-house worst. I can always rely on her to cater to my skin's needs and to make me feel my glowy best."
— Rachel Brosnahan

Joanna is my skin guardian angel. After a lifetime of adult acne and super sensitive skin, I finally have the skin I had always dreamed of having and never believed was possible. Facials with Joanna are equal parts magic and laughter. I won't step onto a red carpet without first using one of Joanna's masks. A girl's gotta glow!
— Debra Messing
Harper Wave, 9780062909138, 288pp.
Publication Date: February 11, 2020
About the Author
Joanna Vargas is an aesthetician with world renowned salons in New York and L.A. She's appeared in The New York Times, The Wall Street Journal, Allure, and elsewhere, with over 700,000 social media followers. She has over 100 top name celebrity clients and 25,000+ who do not grace the covers of magazines.