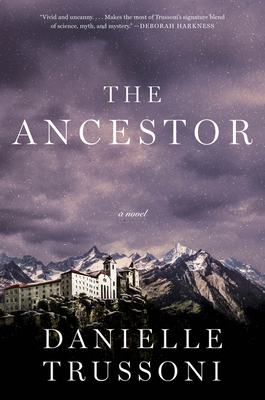 The Ancestor
A Novel
Hardcover

* Individual store prices may vary.
Other Editions of This Title:
Digital Audiobook (4/6/2020)
Compact Disc (4/7/2020)
Paperback (4/13/2021)
MP3 CD (4/7/2020)
Description
"A lushly written, dream-like modern gothic with as many dark turns and twists as the Montebianco family tree has branches. Welcome to the family." – Paul Tremblay, bestselling author of Survivor Song
After a DNA test reveals that Alberta "Bert" Monte is the sole heir of a wealthy noble family in the Italian Alps, she leaves New York to visit the family estate: Montebianco Castle, a centuries-old compound isolated in the mountains. What appeared to be a fairy tale inheritance, however, soon turns into a nightmare as Bert begins to uncover the dark legacy of her family: the truth about the abandoned village at the base of the castle; the whispers of stolen children; and the rumors of a legendary monster in the mountains. As Bert unravels the truth, she learns that her true inheritance lies not in a noble title or ancestral treasures, but in her very genes, and now she must choose between preserving a secret centuries in the keeping or abandoning it forever.
"Vivid and uncanny…makes the most of Trussoni's signature blend of science, myth, and mystery." —Deborah Harkness, bestselling author of A Discovery of Witches
"Inventive and entertaining." — People
"A Gothic Extravaganza." —Kirkus 
Praise For The Ancestor: A Novel…
"Ingenious and entertaining…chilling and inventive…[an] addictive book." — New York Times Book Review
"[A] gripping narrative. Trussoni has created her own distinctive, smart and sly style evident in her rewarding new novel." — National Review
"Inventive and entertaining." — People
"Deliciously creepy...Trussoni plausibly and expertly combines an intense, darkly gothic narrative with elements of mystery, the paranormal, and legendary tales. This odyssey of monsters and family will enrapture readers." — Publishers Weekly
"An opulently romantic horror tale, with a plucky...heroine who discovers she is part of a family whose dark secrets have been sheltered from the world at large....A gothic extravaganza." — Kirkus Reviews
"Danielle Trussoni's vivid and uncanny tale THE ANCESTOR makes the most of her signature blend of science, myth, and mystery. As the pages turn, family secrets come to light against a gothic backdrop that will keep readers following the startling twists and turns all the way to the end." — Deborah Harkness
"Danielle Trussoni's THE ANCESTOR is a lushly written, dream-like modern gothic with as many dark turns and twists as the Montebianco family tree has branches. Welcome to the family." — Paul Tremblay, author of A Head Full of Ghosts and The Cabin at the End of the World  
"A surprise inheritance, remote castle in the Alps, and a cursed family bloodline? Yes, please! The Ancestor is a gloriously modern Gothic novel, blending mythic monsters with modern science in ways that gave me a thrill. Danielle Trussoni has written one hell of a tale." — Victor LaValle, author of The Changeling
"The Ancestor is a wonderful shape-shifter of a novel. One minute you'll suppose you're in a haunted house: think Shirley Jackson. The next, you're transported into the sort of world Mary Shelley might have created for Frankenstein. Danielle Trussoni is an immensely gifted literary descendant of both storytellers — they are among her ancestors — which is one of the many reasons why I savor her work so very much." — Chris Bohjalian, bestselling author of The Flight Attendant and The Red Lotus
"This smart, suspenseful thriller is at once an age-old tale and a fresh, scarily relevant trapdoor into our current genealogical obsession. Danielle Trussoni has written a biological and narrative labyrinth that you will happily get lost in, even as you question everything you think you know about yourself. " — Benjamin Percy, author of Suicide Woods, Thrill Me, The Dark Net, and Red Moon
"Will sweep readers up in awe and wonder, asking us to examine our own complicated ancestry...Pair it with Jennifer Egan's backlist gem, The Keep." — Library Journal
"The intermingling of science, legend, and genealogy make for a truly captivating tale of literary horror." — Booklist
"[A] dazzling story. In the brilliant imagination of Danielle Trussoni, anything seems possible." — Dayton Daily News
"The Ancestor is wildly entertaining and Trussoni is a superb storyteller that pulls elements from many genres and seamlessly weaves together into something that demands to be read." — Mystery Tribune
"If gothic literature is your jam, then you absolutely must pick up Danielle Trussoni's latest novel." — SyFy Wire
"Unputdownable. ... I was expecting a luscious, wine-fueled gothic mystery with plenty of Renaissance-inspired imagery. I got precisely that and far more. ... Trussoni keeps you glued to the page with her vivid descriptions, lyrical prose and inviting mysteries." — Bookreporter.com
"The setting here is a highlight: the remote, mountainous terrain holds great mystery and darkness, and the extreme and endless freeze gives the Montebianco family secrets the kind of dread that keeps the pages turning. This is an entertaining read that will leave a lasting impression." — San Francisco Book Review
William Morrow, 9780062912756, 368pp.
Publication Date: April 7, 2020
About the Author
Danielle Trussoni is the New York Times, USA Today, and Sunday Times Top Ten bestselling author of the supernatural thrillers Angelology and Angelopolis. She currently writers the Horror column for the New York Times Book Review and has recently served as a jurist for the Pulitzer Prize in Fiction. Trussoni holds an MFA in Fiction from the prestigious Iowa Writers' Workshop, where she won the Michener-Copernicus Society of America award. Her books have been translated into over thirty languages. She lives in the Hudson River Valley with her family and her pug Fly.