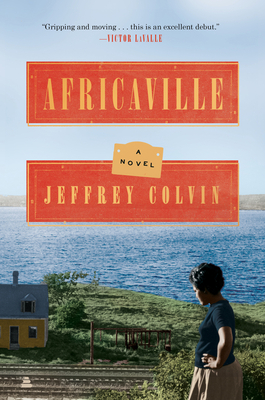 Africaville
A Novel
Paperback

* Individual store prices may vary.
Other Editions of This Title:
Digital Audiobook (12/9/2019)
Hardcover (12/10/2019)
Compact Disc (12/10/2019)
MP3 CD (12/10/2019)
Library Binding, Large Print (2/5/2020)
Description
2020 Hurston/Wright Legacy Award Nominee-Debut Fiction
A ferociously talented writer makes his stunning debut with this richly woven tapestry, set in a small Nova Scotia town settled by former slaves, that depicts several generations of one family bound together and torn apart by blood, faith, time, and fate.

Vogue : Best Books to Read This Winter

Structured as a triptych, Africaville chronicles the lives of three generations of the Sebolt family—Kath Ella, her son Omar/Etienne, and her grandson Warner—whose lives unfold against the tumultuous events of the twentieth century from the Great Depression of the 1930s, through the social protests of the 1960s to the economic upheavals in the 1980s.
A century earlier, Kath Ella's ancestors established a new home in Nova Scotia. Like her ancestors, Kath Ella's life is shaped by hardship—she struggles to conceive and to provide for her family during the long, bitter Canadian winters. She must also contend with the locals' lingering suspicions about the dark-skinned "outsiders" who live in their midst.
Kath Ella's fierce love for her son, Omar, cannot help her overcome the racial prejudices that linger in this remote, tight-knit place. As he grows up, the rebellious Omar refutes the past and decides to break from the family, threatening to upend all that Kath Ella and her people have tried to build. Over the decades, each successive generation drifts further from Africaville, yet they take a piece of this indelible place with them as they make their way to Montreal, Vermont, and beyond, to the deep South of America.
As it explores notions of identity, passing, cross-racial relationships, the importance of place, and the meaning of home, Africaville tells the larger story of the black experience in parts of Canada and the United States. Vibrant and lyrical, filled with colorful details, and told in a powerful, haunting voice, this extraordinary novel—as atmospheric and steeped in history as The Known World, Barracoon, The Underground Railroad, and The Twelve Tribes of Hattie—is a landmark work from a sure-to-be major literary talent.
Praise For Africaville: A Novel…
"Africaville feels epic in scope. Jeffry Colvin's gift for storytelling is on full display in this remarkable debut. From his fresh depictions of a Nova Scotia Black community, to his powerful portrayal of the trials and triumphs of three generations of the Sebolt family, to his authentically rendered landscapes of racial conflict, both inter and intra, Colvin has crafted an immersive read." — Diane McKinney Whetstone, author, Tumbling and Lazaretto
"Africaville turns history into an engaging family story, one that begins in Nova Scotia and then travels across North America. It's a gripping and moving book. Jeffrey Colvin writes with such affection and authority. I thought of the fine work of Esi Edugyan and Edward P. Jones and E.L. Doctorow, too. He deserves to be counted in their number and this is an excellent debut." — Victor LaValle, author of The Changeling
"Colvin's intriguing and memorable debut shines a light on a little-known black experience: the freed slaves from the Caribbean and U.S. who established a community in Canada in the 1800s. [He] expertly weaves in the subject of owning one's heritage… this is a penetrating, fresh look at the indomitable spirit of black pioneers and their descendants." — Publishers Weekly
"A promising debut." — Kirkus Reviews
"Colvin depicts the heartbreaking < neglect and ultimate destruction of Africaville by white Canadian governments while also dramatizing the < resilience that enabled its residents to survive." — Booklist
"In Colvin's carefully constructed family saga, erasure by death, neglect, loss—both intentional and situational—loom from one generation to the next. Despite departure and distance, Africaville ultimately proves to be a tenacious reclamation of story, of place, of belonging."  — Terry Hong, Smithsonian BookDragon
Colvin's absorbing and fluidly written debut novel captures an acute sense of ties loosened and rebound. . .Excellent reading that revives our sense of community while revealing North America's racial complexity in a new light. — Library Journal (starred review)
Amistad, 9780062913715, 384pp.
Publication Date: December 1, 2020
About the Author
JEFFREY COLVIN served in the United States Marine Corps and is a graduate of the United States Naval Academy, Harvard University, and Columbia University, where he received an MFA in fiction. His work has appeared in Narrative, Hot Metal Bridge, Painted Bride Quarterly, Rain Taxi Review of Books, The Millions, the Brooklyn Rail, and elsewhere. He is a member of the National Book Critics Circle and is an assistant editor at Narrative magazine. He lives in New York City.
or
Not Currently Available for Direct Purchase