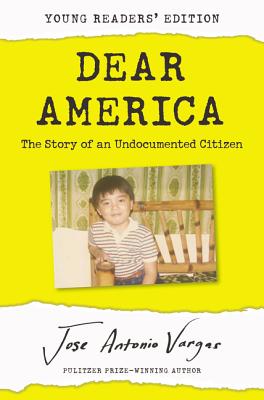 Dear America (Hardcover)
Young Readers' Edition: The Story of an Undocumented Citizen
HarperCollins, 9780062914590, 144pp.
Publication Date: March 5, 2019
* Individual store prices may vary.
Description
In this young readers' adaptation of his adult memoir Dear America, Pulitzer Prize-winning journalist and undocumented immigrant Jose Antonio Vargas tells his story, in light of the 12 million undocumented immigrants currently in the United States.

Jose Antonio Vargas was only twelve years old when he was brought to the United States from the Philippines to live with his grandparents. He didn't know it, but he was sent to the U.S. illegally.
When he applied for a learner's permit, he learned the truth, and he spent the next almost twenty years keeping his immigration status a secret. Hiding in plain sight, he was writing for some of the most prestigious news organizations in the country. Only after publicly admitting his undocumented status—risking his career and personal safety—was Vargas able to live his truth.
This book asks questions including, How do you define who is an American? How do we decide who gets to be a citizen? What happens to those who enter the U.S. without documentation?
By telling his personal story and presenting facts without easy answers, Jose Antonio Vargas sheds light on an issue that couldn't be more relevant.  
About the Author
Jose Antonio Vargas, a journalist and filmmaker, is the founder and CEO of the non-profit Define American. His work has appeared internationally in TIME, as well as in the San Francisco Chronicle, the New Yorker, and the Washington Post, where he won a Pulitzer Prize as part of a reporting team. In 2014, he received the Freedom to Write Award from PEN Center USA. He directed the documentary feature Documented and MTV special White People, which was nominated for an Emmy Award. An elementary school named after him will open in his hometown of Mountain View, California in 2019.