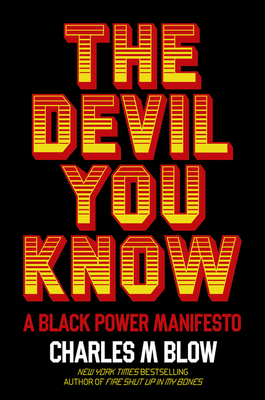 The Devil You Know
A Black Power Manifesto
Hardcover

* Individual store prices may vary.
Other Editions of This Title:
Digital Audiobook (1/25/2021)
Paperback (9/21/2021)
Paperback, Large Print (1/26/2021)
Compact Disc (1/26/2021)
MP3 CD (1/26/2021)
Description
INSTANT NEW YORK TIMES BESTSELLER
A New York Times Editor's Choice | A Kirkus Best Nonfiction Book of the Year
From journalist and New York Times bestselling author Charles Blow comes a powerful manifesto and call to action, "a must-read in the effort to dismantle deep-seated poisons of systemic racism and white supremacy" (San Francisco Chronicle).
Race, as we have come to understand it, is a fiction; but, racism, as we have come to live it, is a fact. The point here is not to impose a new racial hierarchy, but to remove an existing one. After centuries of waiting for white majorities to overturn white supremacy, it seems to me that it has fallen to Black people to do it themselves.
Acclaimed columnist and author Charles Blow never wanted to write a "race book." But as violence against Black people—both physical and psychological—seemed only to increase in recent years, culminating in the historic pandemic and protests of the summer of 2020, he felt compelled to write a new story for Black Americans. He envisioned a succinct, counterintuitive, and impassioned corrective to the myths that have for too long governed our thinking about race and geography in America. Drawing on both political observations and personal experience as a Black son of the South, Charles set out to offer a call to action by which Black people can finally achieve equality, on their own terms.
So what will it take to make lasting change when small steps have so frequently failed? It's going to take an unprecedented shift in power. The Devil You Know is a groundbreaking manifesto, proposing nothing short of the most audacious power play by Black people in the history of this country. This book is a grand exhortation to generations of a people, offering a road map to true and lasting freedom.
Praise For The Devil You Know: A Black Power Manifesto…
"Charles Blow's uncommonly specific and clear remedy for overcoming racial injustice in America is provocative, intriguing, innovative, and insightful. You won't read another contemporary book on race as powerful as this bold work by one of the nation's most compelling writers." — Bryan Stevenson, founder and executive director of the Equal Justice Initiative and author of Just Mercy
"In cogent arguments bound together by his customary incandescent prose, Blow explores how the white backlash towards the Great Migration that never really ended has created a situation where racism in these Northern 'destination cities' of the Great Migration makes life untenable for Black Americans.... [Weaves] together deeply thought out analysis and in-depth sociological and historical research.... 'In a society and system in which white supremacy is ubiquitous and inveterate, Black people need fierce advocates to help restore the balance in the first instance,' writes Blow. Throughout his legendary career in journalism, Charles Blow has long been that voice." — NPR
"Blow is in fact making an argument, not just offering a lament.... The Devil You Know reminds that America's mobility has not always meant progress, that alongside the allure of movement are the tears and disappointments that keep us moving, always seeking a new place where we can and must belong." — Washington Post
"Searing.... A helpful introduction for those seeking to make sense of fractious political debates about race and voting rights in the South, and the broken promises of American democracy."  — New York Times
"A must-read in the effort to dismantle deep-seated poisons of systemic racism and white supremacy." — San Francisco Chronicle
"In his provocative manifesto Charles Blow gives us one of the most thrilling experiences as readers: the challenge of imagining an alternate future. Writing in a long tradition of Black visionaries who've wrestled with the political implications of place and power, he exhorts African Americans to reconsider the possibilities of home against an historical backdrop of past migrations. Blow is one of our most penetrating thinkers and brilliant essayists, and in The Devil You Know he is putting it all on the line." — Henry Louis Gates, Jr., Alphonse Fletcher University Professor, Harvard University
"Renders an unflinching diagnosis of the ravages of white supremacy and a rousing prescription for Black Americans to eliminate its harms…. This is daring work, accessible and easily digested by a wide audience…. There's a sense of urgency to it that resonates. One doesn't often expect a work of nonfiction to be this propulsive and exciting…. Both as polemic and as proposal, The Devil You Know is convincing — powerful and enticing arguments buoyed by accessible and pressing prose." — The Grio
"Daring…. Valuable as a thought experiment alone but also an "actual plan" for effecting lasting political change." — Kirkus, starred review
"A compelling argument on how a second migration back to the South could prove a way forward for Black America." — Library Journal
"Blow's provocative call for action contains much food for thought…. He paints a devastating picture of how white liberals have failed to match rhetorical support for Blacks with action, and buttresses his political arguments with painful personal experiences." — Publishers Weekly
"Blow's powerful writing is always stirring, but perhaps never more than in this timely, often personal call for the building of a better tomorrow." — Town & Country
Harper, 9780062914668, 256pp.
Publication Date: January 26, 2021
About the Author
Charles M. Blow is an acclaimed journalist and op-ed columnist for the New York Times who appears frequently on CNN. He is the author of the New York Times bestselling memoir Fire Shut Up in My Bones. He lives in Atlanta.