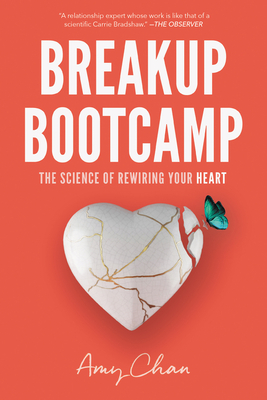 Breakup Bootcamp
The Science of Rewiring Your Heart
Paperback

* Individual store prices may vary.
Other Editions of This Title:
Digital Audiobook (11/30/2020)
MP3 CD (12/1/2020)
Compact Disc (12/1/2020)
Description
"A relationship expert whose work is like that of a scientific Carrie Bradshaw." —THE OBSERVER
A self-affirming, holistic guide for everyone—single or married, divorced or dating—to transforming heartbreak into healing by the founder of the innovative and revolutionary Renew Breakup Bootcamp
Amy Chan hit rock bottom when she discovered that her boyfriend cheated on her. Although she was angry and broken-hearted, Chan soon came to realize that the breakup was the shakeup she needed to redirect her life. Instead of descending into darkness, she used the pain of the breakup as a bridge to self-actualization. She devoted herself to learning various healing modalities from the ancient to the scientific, and dived into the psychology of love. It worked. Fast forward years later, Amy completely transformed her life, her relationships and founded a breakup bootcamp helping countless women heal their hearts.
In Breakup Bootcamp, Amy Chan directs her experience as a relationship columnist and as the creator of Renew Breakup Bootcamp into a practical, thoughtful guide to turning broken hearts into an opportunity to break out of complacency and destructive habits. Dubbed "the Chief Heart Hacker," Amy Chan grounds her practical advice and tried and tested methods rooted in cutting-edge psychology and research, helping first her bootcamp attendees and now her readers most effectively heal and reclaim their self-love.
Breakup Bootcamp comes at the perfect time, when many are feeling the intensity of being in or out of a relationship, lonely or suffocated, and flirting with old toxic relationships they've outgrown. Relatable, life-changing, and backed by sound scientific research, Breakup Bootcamp can help anyone turn their greatest heartbreak into a powerful tool for growth.
Praise For Breakup Bootcamp: The Science of Rewiring Your Heart…
Amy Chan helps readers transform pain from a breakup or divorce into self-love and healing. Between determining your attachment style, client testimonials and practical mood-enhancing exercises, chapters focus on how to live, learn and grow after splitting with a significant other. — The New York Times
Chan, founder of the Renew Breakup Bootcamp retreats, debuts with the inspiring account of how a devastating breakup became a catalyst for her to help others heal. Chan establishes an immediate connection to anyone who has been unlucky in love… Those seeking comfort and proactive ways to overcome heartbreak will relish Chan's upbeat advice. — Publishers Weekly
"Amy Chan's Breakup Bootcamp is a new kind of relationship guide for women. This is a book about how to understand our patterns, our past hurts, and the wiring of our brains better, so that we can develop new habits and build better relationships starting with the most important relationship with ourselves."  — Arianna Huffington, Founder & CEO, Thrive Global
Whether you are reeling from a breakup or just feeling lonely, Amy Chan is deconstructing heartbreak, teaching us how to move through that pain and come out stronger on the other side. — Good Morning America
"The literary equivalent of a hug from a worldly big sister when you are at your lowest ebb." — Sunday Times (London)
"The break is where the light pours in, it's also where we heal the strongest. Amy Chan's book is a must-read for anyone grieving the loss of love and wondering where to go from here." — Kris Carr, New York Times bestselling author
"This is what Chan is passionate about–digging deep into women's wounds and rewiring their hearts and minds for the future." — Marie Claire (Australia)
Dey Street Books, 9780062914743, 336pp.
Publication Date: December 1, 2020
About the Author
Amy Chan is the founder of Renew Breakup Bootcamp, a retreat that takes a scientific and spiritual approach to healing the heart. She is also the editor-in-chief of JustMyType.ca, an online magazine that focuses on the psychology behind love, lust, and desire. Her company has been featured across national media, including Good Morning America, Vogue, Glamour, and Nightline, and on the front page of the New York Times.