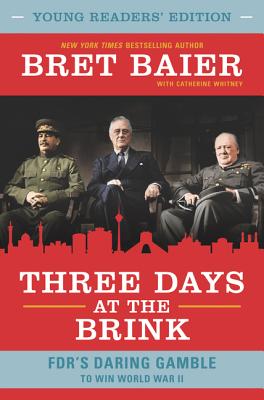 Three Days at the Brink
Young Readers' Edition: FDR's Daring Gamble to Win World War II
Hardcover

* Individual store prices may vary.
Other Editions of This Title:
Compact Disc (10/22/2019)
Compact Disc (10/22/2019)
MP3 CD (10/22/2019)
Description
This young readers' edition from New York Times bestselling author and Fox News anchor Bret Baier dives into the first of the secret World War II meetings between President Franklin Roosevelt, Winston Churchill, and Joseph Stalin, which would shape the world for decades to come.
In the process, it tells the story of the personal and political evolution of Roosevelt, and how he came to be the man who orchestrated the most decisive conference of the war.
Following Germany's invasion of the USSR in June 1941, Prime Minister Winston Churchill offered his support to the Soviets. But by the time the United States entered what had become the second World War in history, it became crucial for the Allied forces to better align themselves against the Axis powers.
This meeting of the minds took place in Tehran, and in attendance were some of the most iconic leaders of the twentieth century: Franklin Delano Roosevelt, Winston Churchill, and Joseph Stalin.
Though America, Britain, and the Soviet Union all had a common enemy, their political goals differed greatly. This young readers' edition will explore how their united stance against Nazi Germany allowed them to mend their differences, paving the way for what eventually became one of the most important victories in world history.
This book, which includes an insert of photographs from that time, tells the inside story of their secret conference.
HarperCollins, 9780062915375, 272pp.
Publication Date: October 22, 2019
About the Author
Bret Baier is the chief political anchor for Fox News Channel and the anchor and executive editor of Special Report with Bret Baier, seen five days a week on Fox News Channel. Before assuming the anchor role, Bret served as Chief White House Correspondent for Fox News Channel between 2006 and 2009. Prior to being named Chief White House Correspondent for Fox News Channel, Bret served as National Security Correspondent based at the Pentagon, reporting on military and national security affairs, as well as on defense, military policy and the intelligence community from 2001 to 2006. He reported from Iraq twelve times and Afghanistan thirteen times. In his career Bret has traveled the world with various administration dignitaries and military officials, reporting from seventy-four countries. He is the author of the New York Times bestsellers Three Days in Moscow: Ronald Reagan and the Fall of the Soviet Empire, Three Days in January: Dwight Eisenhower's Final Mission, and Special Heart: A Journey of Faith, Hope, Courage and Love. He lives with his family in Washington, DC.
ThreeDaysinMoscow.com
BretBaier.com
Catherine Whitney has written or collaborated on more than twenty-five books, including
Framing a Life: A Family Memoir
with Geraldine Ferraro and
Guilty: The Collapse of Criminal Justice
with the late Judge Harold J. Rothwax.