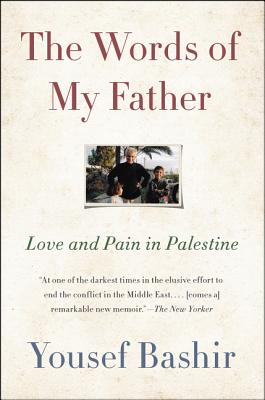 The Words of My Father
Love and Pain in Palestine
Hardcover

* Individual store prices may vary.
Other Editions of This Title:
Digital Audiobook (5/6/2019)
Paperback (5/26/2020)
MP3 CD (5/7/2019)
Compact Disc (5/7/2019)
Compact Disc (5/7/2019)
Description
A Palestinian-American activist recalls his adolescence in Gaza during the Second Intifada, and how he made a strong commitment to peace in the face of devastating brutality in this moving, candid, and transformative memoir that reminds us of the importance of looking beyond prejudice, anger, and fear.
"Captivating."--Robin Wright, The New Yorker
Yousef Bashir's story begins in Gaza, on a verdant ten-acre farm beside an Israeli settlement and military base. When the soccer-mad Yousef was eleven, the Second Intifada exploded. First came the shooting, then the occupation. Ordered to leave their family home, Yousef's father refused, even when the Israeli soldiers moved in, seizing the top two floors. For five long years, three generations of the Bashir family were virtual prisoners in their own home. Despite this, Yousef's father—a respected Palestinian schoolteacher whose belief in coexisting peacefully with his Israeli neighbors was unshakeable—treated the soldiers as honored guests. His commitment to peace was absolute.
Though Yousef's family attracted international media attention, and received letters of support from around the world, Yousef witnessed the destruction of his home, his neighborhood, and the happy life he had known with growing frustration and confusion. For the first time he wondered if his father's belief in peace was justified and whether he was strong enough—or even wanted—to follow his example. At fifteen, that doubt was tested. Standing in his front yard with his father and three United Nations observers, he was shot in the spine by an Israeli soldier, leaving him in a wheelchair, paralyzed from the waist down, for a year.
While an Israeli soldier shot him, it was Israeli doctors who saved Yousef and helped him eventually learn to walk again. In the wake of that experience, Yousef was forced to reckon with the words of his father. And like the generous, empathetic man who raised him, he too became an outspoken activist for peace.
Amid the tragedy of the ongoing Middle Eastern conflict, The Words of My Father is a powerful tale of moral awakening and a fraught, ferocious, and profound relationship between a son and his father. Bashir's story and the ideals of peace and empathy it upholds are a soothing balm for these dangerous and troubled times, and a reminder that love and compassion are a gift—and a choice.
Praise For The Words of My Father: Love and Pain in Palestine…
"At one of the darkest times in the elusive effort to end the conflict in the Middle East…. [comes a] remarkable new memoir.... full of youthful exuberance, unlikely adventures, and raw discovery … captivating." — Robin Wright, The New Yorker
"A work of profound spiritual beauty, one of the great memoirs to emerge from this terrible conflict.... The Words of My Father offers all of us hope that this seemingly intractable conflict can find a solution that is just to both sides." — Yossi Klein Halevi, author of the New York Times bestseller Letters to My Palestinian Neighbor
"To experience love and humanity on many levels, read this story. Beautifully told by a young man whose voice deserves to be heard — even if the world is not yet ready to listen." — Diana Darke, author of My House in Damascus: An Inside View of the Syrian Crisis
"In a year that has seen a relentless focus on life and death in the Gaza Strip, Yousef Bashir's memoir is a moving reminder of the normality of Palestinian aspirations in what has been an abnormal situation for far too long. This book is a remarkable testimony to overcoming hatred and fear." — Ian Black, author of Enemies and Neighbours: Arabs and Jews in Palestine and Israel, 1917-2017
"The Words of my Father is a book about loss—the loss of land and dignity for Palestinians living in the Occupied Territories, the increasing loss of humanity among many of the occupiers, and the loss of the author's beloved father who spent most of his life preaching peace, but tragically died in the midst of increasing polarization between Palestinians and Israelis. By making us feel the plight of the Palestinians from the inside, this poignant and beautifully written book should inspire us all to raise our voices for change." — Robert Greene, New York Times bestselling author of The Laws of Human Nature and The 48 Laws of Power
"An urgent, impassioned call for peace between Palestine and Israel. . . . Eloquent and affecting memoir… An inspiration to peace activists in all theaters of war and struggle and a book that deserves a wide audience." — Kirkus Reviews
"Bashir's childhood in Gaza and his life under occupation meld in this retelling, and his charming earnestness shines through. This moving tribute to Bashir's remarkable father is also a compelling argument for peace." — Library Journal
Harper, 9780062917324, 240pp.
Publication Date: May 7, 2019
About the Author
Yousef Bashir is a Palestinian-American from the Gaza Strip, the son of Khalil Bashir, a highly respected educator. Still suffering the effects of a near catastrophic injury at the hands of an anonymous IDF soldier, Yousef made his way to the United States where he earned a BA in International Affairs from Northeastern University and an MA in Co-existence and Conflict from Brandeis University. Now living in Washington DC, Bashir has worked on Capitol Hill, and served as a member of the Palestinian Diplomatic Delegation to the United States. Yousef is an accomplished author, a vigorous advocate of Israeli-Palestinian peace, and much sought-after public speaker.
Facebook: YousefKhalilBashir
Instagram: yousef_khalil_bashir
or
Not Currently Available for Direct Purchase