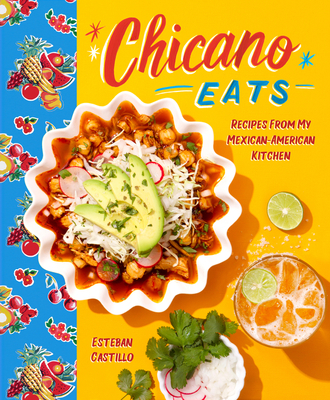 Chicano Eats
Recipes from My Mexican-American Kitchen
Hardcover

* Individual store prices may vary.
Description
The creator of the popular Chicano Eats blog and winner of the Saveur Best New Voice People's Choice Award takes us on a delicious tour through the diverse flavors and foods of Chicano cuisine—Mexican food with an immigrant sensibility that weaves seamlessly between Mexican and American genres and cultures.
Esteban Castillo grew up in Santa Ana, California, where more than three-quarters of the population is Latino. Because Mexican food was the foundation of his childhood, he was surprised to see recipes for dishes on popular food blogs that were anything but the traditional meals he grew up eating. He was inspired to create the blog, Chicano Eats, to showcase his love for design, cooking, and culture and provide a space for authentic Latino voices, recipes, and stories to be heard.
Building on his blog, Chicano Eats is a bicultural cookbook that includes 85 traditional and fusion Mexican recipes as gorgeous to look at as they are sublime to eat. Chicano cuisine is Mexican food made by Chicanos (Mexican Americans) that has been shaped by the communities in the U.S. where they grew up. It is Mexican food that bisects borders and uses a group of traditional ingredients—chiles, beans, tortillas, corn, and tomatillos—and techniques while boldly incorporating many exciting new twists, local ingredients, and influences from other cultures and regions in the United States. Chicano Eats is packed with easy, flavorful recipes such as:
Chicken con Chochoyotes (Chicken and Corn Masa Dumplings)
Mac and Queso Fundido
Birria (Beef Stew with a Guajillo Chile Broth)
Toasted Coconut Horchata
Chorizo-Spiced Squash Tacos
Champurrado Chocolate Birthday Cake (Inspired by the Mexican drink made with milk and chocolate and thickened with corn masa)
Cherry Lime Chia Agua Fresca
Accompanied by more than 100 bright, modern photographs, Chicano Eats is a melting pot of delicious and nostalgic recipes, a literal blending of cultures through food that offer a taste of home for Latinos and introduces familiar flavors and ingredients in a completely different and original way for Americans of all ethnic heritages.
Praise For Chicano Eats: Recipes from My Mexican-American Kitchen…
In Chicano Eats, the Mexican-American food writer Esteban Castillo shares the food of his upbringing. Some of the recipes, like mole, tacos al pastor and churros, are traditional, while others, like carnitas poutine, cilantro-pesto rigatoni and guava cheesecake bars, are mash-ups. Everyone at my table was pleased with the pozole blanco, a traditional pork and hominy stew seasoned with onion, garlic, oregano and thyme. Another standout was the mac and queso fundido, a chorizo- and mushroom-spiked version of the best boxed mac you've ever had. — New York Times
Esteban Castillo, creator of the popular blog, Chicano Eats, has written a cookbook by the same name. This playful and colorful cookbook showcases outstanding recipes that are fundamentally both Mexican and American. — Food & Wine
Beloved blogger Esteban Castillo's cookbook will make anyone homesick. (And very hungry.) Written and photographed by Castillo, Chicano Eats is a beautiful collection of treasured family recipes (his grandma's Tacos de Papa, grandpa's Tacos de Adobada, mom's Frijoles Puercos) as well as his own inventive mash-ups (Mac and Queso Fundido, Michelada Ribs, and a magical Chocoflan Cake, to name a few). — Food52
A new cookbook by Esteban Castillo that's filled with so many just straight-up delicious, traditional Mexican recipes (and some fun variations). Honestly, I'm hungry just looking at the cover. — Buzzfeed
...Its joyful palette and index of cross-cultural recipes make it an aesthetic manifesto for a young, queer Chicano food writer and photographer. — North Coast Journal
When I first came across Chicano Eats, I wondered why everyone wasn't talking about Esteban Castillo. His vibrant photographs were such a tonic to the sterile, muted food media aesthetic. His writing was bursting with pride for his identity as a queer Chicano growing up between two worlds. When I ask myself why his work on Chicano Eats resonates so strongly, I remind myself of all the Americans who look like him and have rarely gotten the opportunity to see themselves reflected in the culture at large. I hope his work reaches even more people for years to come.
— Mayukh Sen, James Beard Award-winning Food Journalist
I've been a reader of Esteban Castillo's Chicano Eats from the start. Though our families are from different countries, our struggles, stories, values, and love for food and family is one and the same. Esteban's fun photography and irreverent humor draw you in. And his recipes keep you coming back! His site has become my go-to for easy Mexican food that tastes legit and is achievable with what I have access to. I'm so excited for a book full of his colorful photos and recipes.
— Adrianna Adarme, Author of The Year of Cozy: 125 Recipes, Crafts and Homemade Adventures and blog, A Cozy Kitchen

Esteban (Chicano Eats) provides a vibrant perspective to Mexican food that few people know, the border town Chicano perspective. His unique style and recipes continue to highlight the vastness of Mexican and what it has become in the border regions. He's yet another Latino breaking ground in the food realm, and can't wait to see what deliciousness his cookbook will offer.
— Claudia Sandoval, Author of Claudia's Cocina: A Taste of Mexico, Winner of MasterChef Season 6 on FOX and Judge on MasterChef Latino on Telemundo
Chicano Eats is an inspirational look at an entirely new cuisine—one that's wholly Mexican and American, and weaves easily between genres and borders. It's also really fun to boot. I can't wait to make some of these creative dishes for my own family. — Lesley Tellez, Author of Eat Mexico: Recipes and Stories from Mexico City's Streets, Markets and Fondas
Harper Design, 9780062917379, 224pp.
Publication Date: June 30, 2020
About the Author
Esteban Castillo is a PR/Digital Marketing professional and the creator of Chicano Eats, a blog that showcases fun and exciting dishes that take influences and ingredients of traditional Mexican food combined with concepts and flavors from his life in California. He is the Reader's Choice winner of the 2017 Saveur Blog Awards for Best New Voice, and Chicano Eats has been featured in Food52, NPR's the Salt, Instagram, Remezcla, and We Are Mitú, among others.
Book Videos