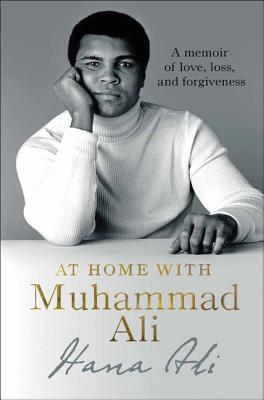 At Home with Muhammad Ali
A Memoir of Love, Loss, and Forgiveness
Hardcover

* Individual store prices may vary.
Other Editions of This Title:
Digital Audiobook (5/6/2019)
MP3 CD (5/7/2019)
Compact Disc (5/7/2019)
Compact Disc (5/7/2019)
Description
Muhammad Ali's daughter captures the legendary heavyweight boxing champion, Olympic Gold medalist, activist, and philanthropist as never before in this candid and intimate family memoir, based on personal recordings he kept throughout his adult life.

Athlete. Activist. Champion. Ambassador. Icon. Father. The greatest, Muhammad Ali, is all of these things. In this candid family memoir, Hana Ali illuminates this momentous figure as only a daughter can. As Ali approached the end of his astonishing boxing career, he embraced a new purpose and role, turning his focus to his family and friends. In that role, he took center stage as an ambassador for peace and friendship.
Dedicated to preserving his family's unique history, Ali began recording a series of audio diaries in the 1970s, which his daughter later inherited. Through these private tapes, as well as personal journals, love letters, cherished memories, and many never-before-seen photographs, she reveals a complex man devoted to keeping all nine of his children united, and to helping others. Hana gives us a privileged glimpse inside the Ali home, sharing the everyday adventures her family experienced—all so "normal," with visitors such as Clint Eastwood and John Travolta dropping by. She shares the joy and laughter, the hardship and pain, and, most importantly, the dedication and love that has bonded them.
"It's been said that my father is one of the most written-about people in the world," Hana writes. "As the chronicles continue to grow, the deepest and most essential essence of his spirit is still largely unknown." A moving and poignant love letter from a daughter to a father, At Home with Muhammad Ali is the untold story of Ali's family legacy—a gift both eternal and priceless.
Praise For At Home with Muhammad Ali: A Memoir of Love, Loss, and Forgiveness…
"Muhammad Ali was one of my greatest inspirations. This outstanding, compelling work shows that family is a man's most important asset, while revealing the power of familial love—and a beautiful, special relationship between father and daughter."
— Steve Harvey

"Muhammad Ali was a gift to the whole world because he celebrated everyone's humanity. During my boxing career, I fought him like a devil. But to this day I love him as a brother. In At Home with Muhammad Ali, page after page I'm reminded of his greatness and his love for all."
— George Foreman

"How wonderful, after decades of thoughtful but at-a-distance portraits of Muhammad Ali, we have this exquisite and movingly intimate one. His daughter Hana has permitted us all to fill out—with love—our own sense of the real man behind all the mythology. This is a hugely important addition to our understanding of the Greatest of All Time."
— Ken Burns

"A famous man will be viewed one way by the public. Another by his wife. Another by his children. Hana brings together these vantage points—and allows everyone to see Muhammad Ali in a new light."
— Larry King

"Only Hana could have written this extraordinary memoir. She had a special bond with our father, unlike anyone else. People always think that I was daddy's girl because I followed him into the boxing ring, but she was actually the one! This book is one of a kind, full of wisdom and heart which comes to life on these captivating pages."
— Laila Ali

"Hana Ali adds a new leaf to the tree of remembrance for Muhammad Ali."
— Thomas Hauser, author of Muhammad Ali: His Life and Times

"This book is filled with golden nuggets about this great man that you could never find anywhere else because only Hana Ali is in the position to share them— and she does with all her heart. What an emotional undertaking, in which Hana rose to the challenge."
— Cal Fussman, author of After Jackie

"Hana has brought to life all of the love, joy, and complexities of our lives at our home on Fremont Place. Her moving words made me laugh and cry. Her father would be as proud of her as I am."
— Veronica Porche

"Hana Ali has authored a unique and precious view of her famous father, an intimate and revealing portrait that complements all we know of the "greatest." Flashbacks to her childhood with her father and a narrative of their later years are deftly interwoven. A delightful read that exceeds her promise to present a candid, untold family legacy.
— Herb Boyd, author of Black Detroit
Amistad, 9780062917393, 480pp.
Publication Date: May 7, 2019
About the Author
Hana Ali is the third youngest child of Muhammad Ali. She is the author of three books about her father's life and legacy and has been featured in several documentaries and television spotlights on him, most notably I am Ali and The Trials of Muhammad Ali. She currently lives in Los Angeles with her husband, Mixed Martial Artist, Kevin Casey.