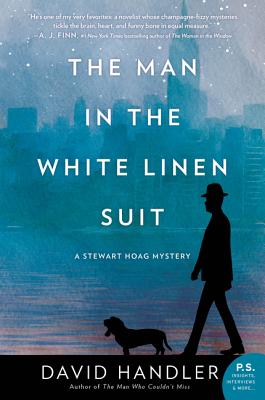 The Man in the White Linen Suit
A Stewart Hoag Mystery
Hardcover

* Individual store prices may vary.
Other Editions of This Title:
Digital Audiobook (8/12/2019)
Paperback (8/13/2019)
Compact Disc (8/13/2019)
Compact Disc (8/13/2019)
MP3 CD (8/13/2019)
Description
The next clever, witty, and touching installment in the Edgar award-winning Stewart Hoag mystery series finds the beloved ghostwriter-sleuth and his faithful neurotic basset hound, Lulu, back in 1990's New York City, investigating a bestselling author's stolen manuscript and three murders linked to the crime.

Washed-up celebrity ghostwriter Stewart "Hoagy" Hoag has finally rediscovered his voice and is making progress on what he hopes will be his long-awaited second novel. Burrowed up in his less-than-luxurious, sweltering fifth floor walk-up, he tries not to think of the disparities between himself and his ex-wife, celebrity actress Merilee Nash, who is sifting through film offers—and also her fickle feelings for Hoagy—from her elegant eight-room apartment looking over Central Park. When Merilee offers her home for Hoagy's use while she's shooting on location, hope blossoms that he might finally get some real work done… and solidify their rekindling romance.
Then Hoagy receives a call from his literary agent asking if he can meet with publishing's most ruthless and reviled editor, Sylvia James, for a drink at the Algonquin Hotel. After disclosing that aging literary genius Addison James—also Sylvia's father and main client—has not in fact written his last two bestselling historical sagas, Sylvia reveals her suspicions that Addison's assistant Tommy O'Brien—the true author—has run away with their most recent manuscript and is holding it for ransom. Tempted by Sylvia's offer to bid a hefty advance for his novel-in-progress, Hoagy agrees to help unearth Tommy's sudden disappearance. If only he'd known exactly what he was getting himself into, he might've saved himself from the ensuing grief that follows in his hot pursuit of Tommy. But then, that wouldn't be a normal day in the life of Hoagy.
With clattering claims of a mugging, a stolen manuscript, and three murders, now it's up to Hoagy and his short-legged sidekick Lulu to unravel this baffling, bizarre case.
Praise For The Man in the White Linen Suit: A Stewart Hoag Mystery…
"Hoagy is a thoroughly engaging amateur sleuth, as appealing to readers as he is enraging to the authorities, who can't abide his unconventional methods. This tenth installment in the series is pure pleasure."
— Booklist (starred review)
"One of my all-time favorite series…! David Handler is so good at writing one smart, funny page-turner after another that he makes it look easy." — Harlan Coben
"Hoagy and Lulu tickle your funny bone and touch your heart." — Carolyn Hart
"David Handler is the master of the sly, comedic mystery." — Adriana Trigiani
"Kept me turning the pages... The plot is influenced by a range of mystery masters, from Ross Macdonald to Agatha Christie.... The Girl with Kaleidoscope Eyes will help you remember the sun-crazed Hollywood excess of what now seems like an innocent time." — Seattle Times
"As usual, Hoagy's narration is the bright spot in a tangle of intrigue wilder than Noel Coward ever could have imagined." — Kirkus Reviews
"Fans of light period mysteries full of famous names will be enchanted." — Publishers Weekly
"Kaleidoscope Eyes is Handler at his best, drawing us close to his hero and the hero's beloved pooch, Lulu, while introducing us to some of scuzziest Hollywood characters this side of James Ellroy." — CTNews.com
William Morrow, 9780062930019, 272pp.
Publication Date: August 13, 2019
About the Author
David Handler has written eleven novels about the witty and dapper celebrity ghostwriter Stewart Hoag and his faithful, neurotic basset hound, Lulu, including the Edgar- and American Mystery Award-winning The Man Who Would Be F. Scott Fitzgerald. His other series include the Berger/Mitry franchise and two novels featuring private eye Benji Golden. David was a member of the original writing staff that created the Emmy Award-winning sitcom Kate and Allie, and has continued to write extensively for television and films on both coasts. He lives in a 200-year-old carriage house in Old Lyme, Connecticut.