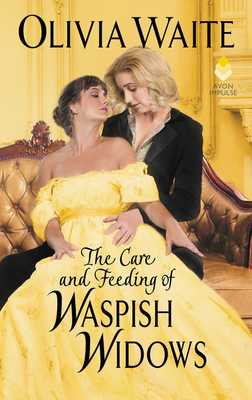 The Care and Feeding of Waspish Widows
Feminine Pursuits
Mass Market

* Individual store prices may vary.
Description
When Agatha Griffin finds a colony of bees in her warehouse, it's the not-so-perfect ending to a not-so-perfect week. Busy trying to keep her printing business afloat amidst rising taxes and the suppression of radical printers like her son, the last thing the widow wants is to be the victim of a thousand bees. But when a beautiful beekeeper arrives to take care of the pests, Agatha may be in danger of being stung by something far more dangerous…
Penelope Flood exists between two worlds in her small seaside town, the society of rich landowners and the tradesfolk.  Soon, tensions boil over when the formerly exiled Queen arrives on England's shores—and when Penelope's long-absent husband returns to Melliton, she once again finds herself torn, between her burgeoning love for Agatha and her loyalty to the man who once gave her refuge.
As Penelope finally discovers her true place, Agatha must learn to accept the changing world in front of her. But will these longing hearts settle for a safe but stale existence or will they learn to fight for the future they most desire?
Praise For The Care and Feeding of Waspish Widows: Feminine Pursuits…
"Waite delivers a luscious gem with The Lady's Guide to Celestial Mechanics…a bittersweet read that will make your heart ache, bursting with genuinely funny, remarkable surprises." — Entertainment Weekly
"Utterly charming and subtly subversive." — Kirkus Reviews (starred review)
"This superbly written debut by Waite, the first in her new Feminine Pursuits series, is simply stellar in every way…everything in this resplendent romance is done to perfection."
— Booklist (starred review)
"Waite delivers a sweet lesbian romance with a hint of spice, fitting into the decorum of the era." — Library Journal
Avon Impulse, 9780062931825, 416pp.
Publication Date: July 28, 2020
About the Author
Olivia Waite writes historical romance, fantasy, and science fiction. She is currently the romance fiction columnist for the New York Times Book Review. To learn more and sign up for her newsletter, please visit www.oliviawaite.com.