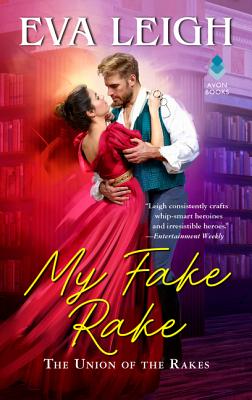 My Fake Rake
The Union of the Rakes
Mass Market

* Individual store prices may vary.
Other Editions of This Title:
Digital Audiobook (11/25/2019)
MP3 CD (11/26/2019)
Compact Disc (11/26/2019)
Library Binding, Large Print (8/19/2020)
Description
"[A] feast of female empowerment, positive friendships, feel-good moments, and social satire." — NPR
"A jolt of electricity, a blast of fresh air—everything delightful and exciting you could want it to be." — The New York Times Book Review

Meet the Union of the Rakes—a new Regency romance series inspired by the Breakfast Club and other classic 80s films! In the first book, a bluestocking enlists a faux suitor to help her land an ideal husband only to be blindsided by real desire…
Lady Grace Wyatt is content as a wallflower, focusing on scientific pursuits rather than the complications of society matches. But when a handsome, celebrated naturalist returns from abroad, Grace wishes, for once, to be noticed. Her solution: to "build" the perfect man, who will court her publicly and help her catch his eye. Grace's colleague, anthropologist Sebastian Holloway, is just the blank slate she requires.
To further his own research on English society, Sebastian agrees to let Grace transform him from a bespectacled, bookish academic into a dashing—albeit fake—rake. Between secret lessons on how to be a rogue and exaggerated public flirtations, Grace's feelings for Sebastian grow from friendship into undeniable, inconvenient, real attraction. If only she hadn't asked him to help her marry someone else...
Sebastian is in love with brilliant, beautiful Grace, but their bargain is complete, and she desires another. Yet when he's faced with losing her forever, Sebastian will do whatever it takes to tell her the truth, even if it means risking his own future—and his heart.
*One of Oprah Magazine's Best Historical Romances to Read*
Praise For My Fake Rake: The Union of the Rakes…
"there's just something about the way [Leigh] structures her plots that slips under my skin and gets my mental wheels turning every time..." — Seattle Review of Books
"Every now and then, you discover a new (or at least, new-to-you) author who leaves you a little sunstruck... I was dazzled." — Lisa Kleypas for Powell's "Lisa Kleypas Recommends" column- Forever Your Earl
"Leigh consistently crafts whip-smart heroines and irresistible heroes delivered in packages bursting with wicked wit, feminist leanings, and sex positivity... For any who question whether historical romance is outdated or can be feminist, look no further than Eva Leigh's work – while maintaining assiduous historical accuracy, she delivers intoxicating yarns that bulldoze tropes and flip gender expectations on their head." — Entertainment Weekly
"Is there anyone better at twisting the tropes of historical romance than Leigh? [...] it will all be very hot and smart and snarky and I can't wait." — BookPage.com (Most Anticipated Romances of Fall 2019)
"Grace and Seb are delightful together, and Seb is a breath of non-alpha-hero fresh air... satisfying for readers of Courtney Milan and Tessa Dare. A sweet faux suitor romance between two scientist friends who find a new passion in one another."  — Kirkus Reviews
"charming... The plot is as well developed as the lovers' growing feelings. Readers will delight in this heartfelt, swoon-worthy tale." 
— Publishers Weekly (starred review)
"In this first book of her new "Union of the Rakes" series, Leigh adopts the fake dating trope to the Regency Era in a wildly fun and entertaining way, introducing characters who are sure to delight fans of this beloved genre." — Library Journal
"This superbly entertaining, perfectly executed Regency-set love story is not only dazzlingly witty and intensely sexy; it is also a sweetly crafted love letter about the power of learning, literature, and lifelong friendships."  — Booklist (starred review)
"This book is totally charming." — Cat Sebastian, author of A Delicate Deception
"My Fake Rake is a feast of female empowerment, positive friendships, feel-good moments, and social satire. And as the first book in a series, it builds a delicious world you'll want to come back to — hopefully because the delightful supporting characters will get their own stories next." — NPR
"divinely charming... Grace and Sebastian are the two of the most glorious dummies ever to grace the pages of a romance novel... The makeover trope is one of the more tired and problematic of the rom-com genre, but Leigh ingeniously turns it on its head, swapping the genders and making Sebastian's transformation more about social commentary than anything else... our love for these two romantic dunces and their satirical, slow-burn, sexy ruse is nothing but genuine." — Entertainment Weekly 
"This book is so good! Dorks + rake makeover + kissing = DELICIOUSNESS. Run to read it!!"  — Joanna Shupe, author of The Prince of Broadway
"Eva Leigh puts inspiring, forthright female characters at the forefront of her delectable romances... with down-to-earth characters and an enthralling friends-to-lovers storyline, My Fake Rake is a hard one to put down." — BookPage.com
"A jolt of electricity, a blast of fresh air—everything delightful and exciting you could want it to be."  — New York Times Book Review
"I so adored the role reversal of My Fair Lady. I can't wait for more books in this series." — Jill Shalvis, New York Times bestselling author
Avon, 9780062932402, 384pp.
Publication Date: November 26, 2019
About the Author
Eva Leigh is a USA Today bestselling romance author who has always loved historical romance. She writes novels chock-full of determined women and men who are here for it. She enjoys baking, spending too much time on the Internet, and listening to music from the '80s. Eva and her husband live in Central California.
Eva also writes in multiple romance genres as Zoë Archer and Alexis Stanton.
Visit her on the web at http://evaleighauthor.com