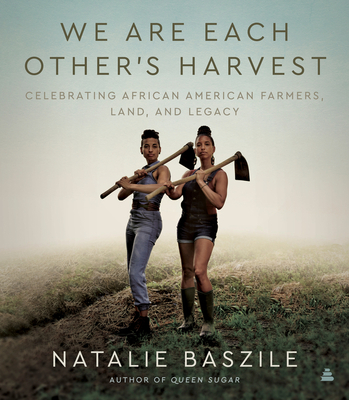 We Are Each Other's Harvest
Celebrating African American Farmers, Land, and Legacy
Hardcover

* Individual store prices may vary.
Description
A WALL STREET JOURNAL FAVORITE FOOD BOOK OF THE EAR
From the author of Queen Sugar—now a critically acclaimed series on OWN directed by Ava Duvernay—comes a beautiful exploration and celebration of black farming in America. 
In this impressive anthology, Natalie Baszile brings together essays, poems, photographs, quotes, conversations, and first-person stories to examine black people's connection to the American land from Emancipation to today. In the 1920s, there were over one million black farmers; today there are just 45,000. Baszile explores this crisis, through the farmers' personal experiences. In their own words, middle aged and elderly black farmers explain why they continue to farm despite systemic discrimination and land loss. The "Returning Generation"—young farmers, who are building upon the legacy of their ancestors, talk about the challenges they face as they seek to redress issues of food justice, food sovereignty, and reparations. 
These farmers are joined by other influential voices, including noted historians Analena Hope Hassberg and Pete Daniel, and award-winning author Clyde W. Ford, who considers the arrival of Africans to American shores; and James Beard Award-winning writers and Michael Twitty, reflects on black culinary tradition and its African roots. Poetry and inspirational quotes are woven into these diverse narratives, adding richness and texture, as well as stunning four-color photographs from photographers Alison Gootee and Malcom Williams, and Baszile's personal collection. 
As Baszile reveals, black farming informs crucial aspects of American culture—the family, the way our national identity is bound up with the land, the pull of memory, the healing power of food, and race relations. She reminds us that the land, well-earned and fiercely protected, transcends history and signifies a home that can be tended, tilled, and passed to succeeding generations with pride. We Are Each Other's Harvest elevates the voices and stories of black farmers and people of color, celebrating their perseverance and resilience, while spotlighting the challenges they continue to face. Luminous and eye-opening, this eclectic collection helps people and communities of color today reimagine what it means to be dedicated to the soil.
Praise For We Are Each Other's Harvest: Celebrating African American Farmers, Land, and Legacy…
"We Are Each Other's Harvest is a groundbreaking and amazing collection of voices that reveal Black people's devotion to agriculture. Expressing our contributions to the world from ground up, it is a tribute to our ancestors and a gift for us and the future. May these words free our soul indefinitely, while keeping our roots strong." — Ibram X. Kendi, author of Stamped from the Beginning and How to Be an Antiracist
"Every page of this poetic assemblage is watermarked with love—the same love for farmers and their painfully forged legacy that birthed the success of Queen Sugar.  The love in We Are Each Other's Harvest also incites a visceral remembering of the rich legacy from which we all come and celebrates the resilience that is our DNA."  — Tina Lifford, actress, and author of The Little Book of Big Lies
"Black, brown and tan hands in dark rich loamy soil or in sandy shoals have been a part of the agricultural life of this country since its inception. Yet, all too often, the stories of African American farmers have remained unharvested. In We Are Each Other's Harvest, Natalie Baszile reaps a bounty of tales and shares them along with photographs, history, poetry, and more. This is a must-have volume for anyone who revers that land and those who work it."  — Jessica B. Harris, Ph.D., Culinary Historian, Professor, and author of My Soul Looks Back
"Journeying from Alaska to Louisiana to Napa Valley, We Are Each Other's Harvest uplifts the voices of Black farmers, honoring their perseverance and resilience. This insightful, eye-opening collection helps to reimagine what it means to be dedicated to the land."  — Alice Waters, chef, author, food activist, owner of Chez Panisse and founder of The Edible Schoolyard Project
"With stunning color portraits and quotes from iconic writers, leaders, and others interspersed throughout, this well-researched collection is readable (while it requires sitting with some hard truths), informative, and inspiring. Black farming and farmers play a much more significant role in American culture than is typically represented, and this collection brings that information beautifully to the fore, as well as inviting readers to interrogate their own connections to the land and this history." — Booklist (starred review)
"Novelist Baszile (Queen Sugar) explores the legacy of "Black and brown farmers" in this winning anthology of essays, poems, photographs, and interviews… With its attractive presentation and incisive blend of academic, creative, and real-world perspectives, this inspirational survey is a fitting tribute to Black farmers throughout history."  — Publishers Weekly
"We Are Each Other's Harvest offers moving, edifying food for thought and will whet your appetite for action." — BookPage
"In her new anthology, Natalie Baszile examines the relationship between Black farming and American culture through essays, photographs, first-person accounts and more. Together, these pieces dissect the legacy of Black farmers in the U.S. and the impact of land loss and food injustice over generations. In illuminating how these farmers persevered in the face of such challenges, Baszile creates a moving collection about identity, food and community." — Time magazine
"Baszile's beautifully produced compendium of essays, poems, and photographs explores Black Americans' connection to the soil." — The Boston Globe
"[T]he celebration Natalie Baszile refers to in "We Are Each Other's Harvest: Celebrating African American Farmers Land, and Legacy" is leavened by hard truths and cruelties of efforts to run Black farmers off the land...Baszile has recruited some strong writers to tell their family farming stories of perseverance and a kinship with the land best understood by people who work the rhythms of soil, plants and weather."
— Associated Press
"Baszile's collection of essays, poems and family histories pay homage to the Black farmers who tilled North American earth, first under enslavement and then as free people. . . . Baszile brings a personal passion for her theme."
— Shelf Awareness
Amistad, 9780062932563, 368pp.
Publication Date: April 6, 2021
About the Author
Natalie Baszile is the author of the novel Queen Sugar, which was a San Francisco Chronicle Best Book of 2014, longlisted for the Crooks Corner Southern Book Prize, nominated for an NAACP Image Award, and adapted for television by writer/director Ava DuVernay and co-produced by Oprah Winfrey for OWN. Baszile holds a M.A. in Afro-American Studies from UCLA and is a graduate of Warren Wilson College's MFA Program for Writers. She lives in San Francisco.