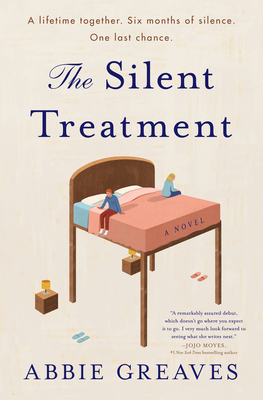 The Silent Treatment (Hardcover)
A Novel
William Morrow, 9780062933843, 304pp.
Publication Date: April 7, 2020
Other Editions of This Title:
Paperback, Large Print (4/7/2020)
* Individual store prices may vary.
Description
"A remarkably assured debut which doesn't go where you expect it to go. I very much look forward to seeing what she writes next." — Jojo Moyes, #1 New York Times bestselling author
"The premise alone had me, but The Silent Treatment itself is just heartrendingly lovely. It's beautiful, so moving and clever. I truly adored it."   — Josie Silver, #1 New York Times bestselling author of One Day in December
Resonant with the emotional power of the bestselling novels of David Nicholls and Jojo Moyes, a rich and poignant debut about lies, loss, and a transcendent love at the heart of a troubled marriage.

A lifetime together.
Six months of silence.
One last chance.
By all appearances, Frank and Maggie share a happy, loving marriage. But for the past six months, they have not spoken. Not a sentence, not a single word. Maggie isn't sure what, exactly, provoked Frank's silence, though she has a few ideas.
Day after day, they have eaten meals together and slept in the same bed in an increasingly uncomfortable silence that has become, for Maggie, deafening.
Then Frank finds Maggie collapsed in the kitchen, unconscious, an empty package of sleeping pills on the table. Rushed to the hospital, she is placed in a medically induced coma while the doctors assess the damage.
If she regains consciousness, Maggie may never be the same. Though he is overwhelmed at the thought of losing his wife, will Frank be able to find his voice once again—and explain his withdrawal—or is it too late?
About the Author
Abbie Greaves studied English Literature at Cambridge University. She worked in publishing for three years before leaving to focus on her writing. She now lives in Edinburgh, Scotland. The Silent Treatment is her first novel.
abbiegreaves.com
Twitter: @abbiegreaves1
Instagram: @abbiegreavesauthor
Praise For The Silent Treatment: A Novel…
"A remarkably assured debut which doesn't go where you expect it to go. I very much look forward to seeing what she writes next."
— Jojo Moyes, New York Times bestselling author

"The premise alone had me, but The Silent Treatment itself is just heartrendingly lovely. It's beautiful, so moving and clever. I truly adored it."
— Josie Silver, #1 New York Times bestselling author of One Day in December

"An original and moving debut from a talented new voice."  
— Santa Montefiore, Sunday Times bestselling author of The Secret Hours

"Not so much a case of 'he said/she said' as 'he didn't say/she didn't say,' this moving debut unpicks the secret selves of Maggie and Frank to reveal the tragic miscommunications of their broken family. It's a pleasure to read such a stylish and confident new voice—readers are going to love discovering Abbie Greaves."
— Louise Candlish, internationally bestselling author of Our House and Those People

"In her tremendously moving debut, a novel that pulses with emotional tension, Abbie Greaves masterfully unpicks a history of ordinary lives facing extraordinary challenges. I found it impossible to look away from the relationship at the heart of this novel."
— Gilly Macmillan, New York Times bestselling author of What She Knew

"The Silent Treatment is a gorgeous heart-breaker of a novel—an intimate, unpretentious, precisely drawn and surprisingly suspenseful look at a decades-long marriage: how it soars and plummets and, gem-like, alters its appearance under different lights. Abbie Greaves has a bright future and I can't wait to see what it brings."
— Meg Mitchell Moore, author of Two Truths and a Lie and The Islanders   

"Abbie Greaves held me spellbound with this intimate, emotional story of the brutal power of silence and ostracism. Yet this deep dive into a troubled marriage is ultimately uplifting as Frank and Maggie make their way through the challenges of isolation, mental health, ageing, and the yearning for connection. Keep the tissues handy for this lovely read."
— Susan Wiggs, #1  New York Times  bestselling author of  The Oysterville Sewing Circle

"In an urgent race against the clock, the layers of Frank and Maggie's decades-long love story are peeled back to reveal the heartrending secrets that lurk below. But will the truth save Maggie's life, let alone their marriage? Greaves' gripping and poignant debut had me hooked from beginning to end."
— Meg Donohue, USA Today Bestselling author of All the Summer Girls and You, Me and the Sea

"Greaves writes their distinct voices expressively and assuredly, making both characters come alive.... A sometimes-hopeful, often heartbreaking look at the difficult and beautiful moments of parenting and marriage."
— Kirkus Reviews