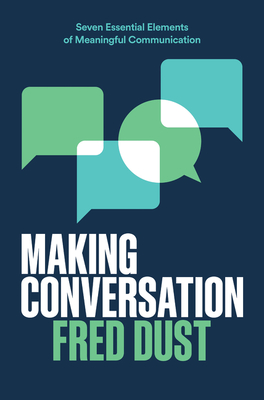 Making Conversation
Seven Essential Elements of Meaningful Communication
Hardcover

* Individual store prices may vary.
Other Editions of This Title:
Digital Audiobook (11/30/2020)
Compact Disc (12/1/2020)
MP3 CD (12/1/2020)
Description
A former Senior Partner and Global Managing Director at the legendary design firm IDEO shows how to design conversations and meetings that are creative and impactful.  
Conversations are one of the most fundamental means of communicating we have as humans. At their best, conversations are unconstrained, authentic and open—two or more people sharing thoughts and ideas in a way that bridges our individual experiences, achieves a common goal. At their worst, they foster misunderstanding, frustration and obscure our real intentions.

How often do you walk away from a conversation feeling really heard? That it moved the people in it forward in some important way? You're not alone. In his practice as a designer, Fred Dust began to approach conversations differently. After years of trying to broker communication between colleagues and clients, he came to believe there had to a way to design the art of conversation itself with intention and purpose, but still artful and playful. Making Conversation codifies what he learned and outlines the four elements essential to successful exchanges: Commitment, Creative Listening, Clarity, and Context. Taken together, these four elements form a set of resources anyone can use to be more deliberate and purposeful in making conversations work.
Praise For Making Conversation: Seven Essential Elements of Meaningful Communication…
"We all know that leading conversations between groups who don't see eye to eye is challenging. We've needed a road map for making these conversations productive and solutions-oriented, and now we have one in Making Conversation."

— Arianna Huffington, founder and CEO of Thrive Global

"Fred Dust has helped some of the world's most powerful people have more productive conversations, and his book offers actionable advice on how we can all stop talking past each other."
— Adam Grant, New York Times bestselling author of Give and Take and Originals, and host of the TED podcast WorkLife

"In a world where we've forgotten how to talk to one another, this book offers an essential blueprint for life-changing conversations. Dust's inspired stories and generous wisdom will help you transform ordinary interactions into moments of connection, creativity, and joy."
— Ingrid Fetell Lee, author of Joyful and founder of the Aesthetics of Joy


Making Conversation is essential reading for those looking to enrich their relationships and build community."
— Vivek Murthy, nineteenth surgeon general of the United States

"Smart, grounded in deep experience, and immediately useful for our moment, Dust's book insists on this: Have the conversations that count."
— Sherry Turkle, professor of the social studies of science and technology, MIT, and author of Reclaiming Conversation

"For decades I have watched Fred design with an eye for what is needed in the future. He has done it again with Making Conversation in helping us design our very hardest conversations—the ones we need to provoke real change."
— David Kelley, founder of IDEO and the Stanford d.school

"It is impossible for anyone to read this book without being moved to try to craft and embark upon those 'conversations of our lives'—the ones that we always mean to have, the ones we need to have, but somehow the ones we never get to. In a world where genuine communication seems more essential and yet more elusive than ever, Dust's book is the needed spark—personally, organizationally, professionally, politically, and spiritually."
— Mary C. Gentile PhD, author of Giving Voice to Values, and creator-director of Giving Voice to Values, University of Virginia Darden School of Business

"Improving the state of the world depends on conversations that bridge divides, create solutions, and drive action. The stakes are high for having the best conversations possible, but we leave conversation to instinct, not technique. The foundation has been working with the practices of Fred's book since the early days of 2020. Fred has continuously helped us craft more effective conversations with his easy-to-apply practices. This brilliant book is required reading for anyone who talks to anyone."
— Zia Khan, senior vice president for innovation at the Rockefeller Foundation

"I greatly appreciate Fred's keen intellect and, frankly, just the fun of working with him. His book on how to rethink the hardest conversations in the world personally captures what it is like to work alongside a person who I now consider a friend."
— Jonathan McBride, former director of the presidential personnel office under Barack Obama

"While I've been fortunate to see Fred's work on conversation and dialogue firsthand, I was moved to see how much of his practice connects back to things from his childhood: Storytelling from his grandparents. Listening from his mother. It's clear he's been doing this work his entire life."
— Jacqueline Novogratz, CEO of Acumen

"Making conversations work is at the heart of living well, personally and professionally. It's what connects us to ourselves and others at every level, what makes us strong through diverse ideas, and what builds solidarity and compassion in uncertain times. Fred Dust has produced the right book at the right time."
— The Right Reverend June Osborne, bishop of Llandaff
Harper Business, 9780062933904, 256pp.
Publication Date: December 1, 2020
About the Author
Fred Dust was a Senior Partner and Global Managing Director at international design firm IDEO. A leading voice and practitioner of human-centered design and networked innovation, he helps organizations in media, finance, retail, and health confront disruption stemming from shifts in consumer behavior, social trends, economic pressures, and new technology. Prior to IDEO, Dust worked as an architect and spent eight years working with independent artists and major art organizations. He chairs the board of Parsons and sits on the board of the New School, NPR, and the Sundance Institute. He lives in New York City.