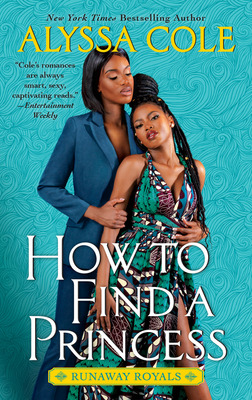 How to Find a Princess
Runaway Royals
Mass Market

* Individual store prices may vary.
Other Editions of This Title:
Compact Disc (5/25/2021)
MP3 CD (5/25/2021)
Description
New York Times and USA Today bestselling author Alyssa Cole's second Runaway Royals novel is a queer Anastasia retelling, featuring a long-lost princess who finds love with the female investigator tasked with tracking her down.


Makeda Hicks has lost her job and her girlfriend in one fell swoop. The last thing she's in the mood for is to rehash the story of her grandmother's infamous summer fling with a runaway prince from Ibarania, or the investigator from the World Federation of Monarchies tasked with searching for Ibarania's missing heir.
Yet when Beznaria Chetchevaliere crashes into her life, the sleek and sexy investigator exudes exactly the kind of chaos that organized and efficient Makeda finds irresistible, even if Bez is determined to drag her into a world of royal duty Makeda wants nothing to do with.
When a threat to her grandmother's livelihood pushes Makeda to agree to return to Ibarania, Bez takes her on a transatlantic adventure with a crew of lovable weirdos, a fake marriage, and one-bed hijinks on the high seas. When they finally make it to Ibarania, they realize there's more at stake than just cash and crown, and Makeda must learn what it means to fight for what she desires and not what she feels bound to by duty.
Praise For How to Find a Princess: Runaway Royals…
"Alyssa Cole is the newly coronated queen of contemporary royal romance! A Princess in Theory is delicious fun. It has everything anyone could ever want in a royal romance, including a smart, funny heroine; a sweetly sexy prince; swoon-worthy romance; and an epic happily-ever-after. Long live the queen!" — Meg Cabot, #1 New York Times bestselling author of The Princess Diaries
"The best new romance I've read in a while." — New York Times Book Review on A Princess in Theory
"This book was a lot of fun, sexy, with a compelling story. I really enjoyed the romance as it developed between Ledi and Thabioso, both interesting characters together and as individuals. Lots of erotic tension and a deeply satisfying ending. Definitely dive into this one." — Roxane Gay on A Princess in Theory
"In Cole's world, royalty and romance go hand in hand with compassion, open-heartedness, and intelligence, as well as a clear-eyed sense of real-world politics. A Princess in Theory is a fairy tale, yes, but one consistently grounded in reality, which makes the happily-ever-after all the more satisfying." — Entertainment Weekly
"Cole's humorous and delightful romance is perfect for those looking for a fun read with a memorable cast of characters and neurodivergent representation, whether the reader is new to Cole's work or an established fan." — Library Journal 
"Bitingly funny…Cole makes virtuoso use of the familiar rhythms of a romance arc. Joyful and absolutely perfect." — New York Times
"Alyssa Cole is best known for her swoon-worthy romances."  — PopSugar 
"If you like faux engagements, ultra steamy scenes, and an eventual happily-ever-after, this one's for you." — Oprahmag.com
"Neuro-divergent nerds…are a highlight of this treat of a story." — Washington Post (Best Romances of 2019)
"Cole includes just the right amount of sass, sex, and heart to satisfy romance readers." — Publishers Weekly
"Alyssa Cole has rightfully garnered acclaim from all corners for the impeccable construction and emotional complexity of her romance novels. But her new novel, A Duke by Default, underscored something about her writing that I think deserves to be celebrated just as much—how joyfully and unrepentantly nerdy her work is." — BookPage
"Cole explores sexual and gender identities, grief, self-respect, acceptance, and love in this faultless romance. She weaves family drama and emotional growth into a passion-filled story worthy of its irresistibly complicated (and diverse) characters. This affair of the heart is deeply satisfying." — Publishers Weekly (starred review)
"An impressive ending to a series featuring an international cast of complex, multicultural characters balancing their royal responsibilities with their modern lives and loves." — Booklist (starred review)
Avon, 9780062934000, 400pp.
Publication Date: May 25, 2021
About the Author
Alyssa Cole is an award-winning author of historical, contemporary, and sci-fi romance. Her contemporary rom-com A Princess in Theory was one of the New York Times' 100 Notable Books of 2018, and her books have received critical acclaim from Library Journal, BuzzFeed, Kirkus, Booklist, Jezebel, Vulture, Book Riot, Entertainment Weekly, and various other outlets. When she's not working, she can usually be found watching anime or wrangling her many pets.