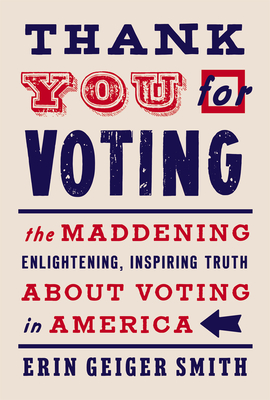 Thank You for Voting
The Maddening, Enlightening, Inspiring Truth About Voting in America
Hardcover

* Individual store prices may vary.
Other Editions of This Title:
Digital Audiobook (6/22/2020)
Paperback (6/22/2021)
Compact Disc (6/23/2020)
MP3 CD (6/23/2020)
Description
In this concise, lively look at the past, present, and future of voting, a journalist examines the long and continuing fight for voting equality, why so few Americans today vote, and innovative ways to educate and motivate them; included are checklists of what to do before election day to prepare to vote and encourage others.

Voting is a prized American right and a topic of debate from the earliest days of the country. Yet in the 2016 presidential election, about 40 percent of Americans—and half of the country's young adults—didn't vote. Why do so many Americans choose not to vote, and what can we do about it? 
The problem, Erin Geiger Smith contends, is a lack of understanding about our electoral system and a need to make voting more accessible. Thank You for Voting is her eye-opening look at the voting process, starting with the Framers' perspective, through the Equal Protection amendment and the Voting Rights Act, to the present and simple actions individuals can take to increase civic participation in local, state, and national elections.
Geiger Smith expands our knowledge about our democracy—including women's long fight to win the vote, attempts to suppress newly enfranchised voters' impact, state prohibitions against felons voting, charges of voter fraud and voter suppression, and other vital issues. In a conversational tone, she explains topics that can confuse even the most informed voters: polling, news literacy, gerrymandering and the Electoral College. She also explores how age, race, and socioeconomic factors influence turnout.
Ultimately, Thank You for Voting offers hope. Geiger Smith challenges corporations to promote voting, and offers examples of how companies like Patagonia and Walmart have taken up the task in a non-partisan way. And she reveals how get-out-the-vote movements—such as television star Yara Shahidi's voting organization, Michelle Obama's When We All Vote campaign, and on-the-ground young activists—innovatively use technology and grassroots techniques to energize first-time voters. 
Praise For Thank You for Voting: The Maddening, Enlightening, Inspiring Truth About Voting in America…
"Illuminating and accessible . . . . This is an excellent resource for first-time voters and activists hoping to motivate young people to get to the polls."
— Publishers Weekly

"Journalist Smith's debut serves as both a history of voting rights in the United States and an instructional tool for voters. Smith's resource will appeal to those looking for a short introduction to voting rights; readers will appreciate her hopeful message forecasting a nonpartisan future of increasing voter participation."

— Library Journal

"If you want to celebrate your essential right as a citizen and encourage others to do the same, Thank You for Voting provides an engaging and concise tutorial of what it means to cast your ballot—past, present, and future. Read this book! (And be sure to vote.)"
— Ann Patchett
Harper, 9780062934826, 256pp.
Publication Date: June 23, 2020
About the Author
Erin Geiger Smith is a journalist who has written for the Wall Street Journal and the New York Times among other leading publications, and has worked at Reuters covering legal news. She graduated from Columbia's Graduate School of Journalism, the University of Texas School of Law, and the University of Texas at Austin. She lives in New York City with her husband and son.