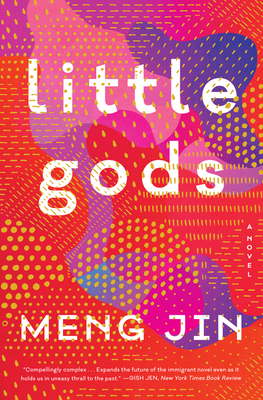 Little Gods
A Novel
Hardcover

* Individual store prices may vary.
Other Editions of This Title:
Digital Audiobook (1/13/2020)
Paperback (1/12/2021)
MP3 CD (1/14/2020)
Library Binding, Large Print (1/27/2021)
Compact Disc (1/14/2020)
Description
LONGLISTED FOR THE PEN/OPEN BOOK AWARD
"Compellingly complex…Expands the future of the immigrant novel even as it holds us in uneasy thrall to the past." – Gish Jen, New York Times Book Review

Combining the emotional resonance of Home Fire with the ambition and innovation of Asymmetry, a lyrical and thought-provoking debut novel that explores the complex web of grief, memory, time, physics, history, and selfhood in the immigrant experience, and the complicated bond between daughters and mothers.
On the night of June Fourth, a woman gives birth in a Beijing hospital alone. Thus begins the unraveling of Su Lan, a brilliant physicist who until this moment has successfully erased her past, fighting what she calls the mind's arrow of time.
When Su Lan dies unexpectedly seventeen years later, it is her daughter Liya who inherits the silences and contradictions of her life. Liya, who grew up in America, takes her mother's ashes to China—to her, an unknown country. In a territory inhabited by the ghosts of the living and the dead, Liya's memories are joined by those of two others: Zhu Wen, the woman last to know Su Lan before she left China, and Yongzong, the father Liya has never known. In this way a portrait of Su Lan emerges: an ambitious scientist, an ambivalent mother, and a woman whose relationship to her own past shapes and ultimately unmakes Liya's own sense of displacement.
A story of migrations literal and emotional, spanning time, space and class, Little Gods is a sharp yet expansive exploration of the aftermath of unfulfilled dreams, an immigrant story in negative that grapples with our tenuous connections to memory, history, and self.
Praise For Little Gods: A Novel…
"Meng Jin's beautiful debut novel is ambitious in the best ways: meticulously observed, daringly imagined, rich in character and history. Ranging across continents, cultures and generations, Jin poses profound questions: how might we know ourselves, or the people we love? And what truths, if any, travel with us?"
— Claire Messud
"Jin's richly textured, unsparing writing questions whether a self can exist unmarked by the past." — New Yorker
"If the mark of a good novel is its ability to delicately rewire the reader's brain, then Meng Jin has given us a very good novel....Little Gods is a page-turner—but all the while it winks, reminding us that possible explanations in our universe are as varied as the beings who populate it." — The Paris Review, Staff Pick
"Ambitious [and] formally complex...a powerful, poignant portrait of a woman crippled by her fear of looking back." — Washington Post
"Steeped in trauma, loss, and imperfect love, Little Gods is a novel about performing the self, filtered through academia, abandonment, and migration.... Smart and emotionally devastating." — NPR.org
"Reminiscent of Ferrante...are Jin's protagonist's larger-than-life talent, drive and perversity. In her intelligence, vulnerability, volatility, desperation, narcissism and self-destructiveness, Su Lan — despite her voicelessness — is as complex a protagonist as any I can recall....Little Gods expands the future of the immigrant novel." — New York Times Book Review
"Little Gods is built from familiar tropes: love amid violence, lost parents, secrets held by those closest to us. But Jin brings a fresh imagination to them, thoughtfully leveraging the language of physics without making the narrative cold or overladen. Her ultimate principle is simple and effective: How do we preserve love in the face of the forces that threaten it?" — USA Today
"An intelligent, somewhat restrained look at the effects that tectonic political shifts have on ordinary citizens, effects that reverberate across the decades, and for its young American protagonist, even across oceans." — San Francisco Chronicle

"Spectacular and emotionally polyphonic…That Jin has managed to craft such an intimate, emotionally complex story is an awesome achievement. That she managed to do it in her debut novel, doubly so."
— Omar El Akkad, BookPage (starred review)
"Brilliant....Elegantly written, emotionally compelling, and thought provoking on every page." — The Millions
"Jin treads purposefully over a vast landscape of difficult subjects – aging, class anxiety, political instability, intellectual insecurity, racism, migration – unflinchingly deconstructing and then moving beyond each. It is that willingness to follow such threads to their full conclusion...which gives "Little Gods" its greatest strength." — Christian Science Monitor
"Artfully composed and emotionally searing, Jin's debut about lost girls, bottomless ambition, and the myriad ways family members can hurt and betray one another is gripping from beginning to end. This is a beautiful, intensely moving debut." — Publishers Weekly (starred review)
"Skillfully revealed, exquisitely rendered." — Booklist (starred review)
"This stunning, lyrical debut marks Meng Jin as a literary force, and offers readers an opportunity to explore the intricate ways that grief, identity, sacrifice, and love all weave together to create a bond between mother and daughter." — Refinery 29
"Though it initially sounds like a quest narrative, Little Gods proves to be much more as it wrestles with grief, immigration and the durability of memory." — Time.com
"A brilliant debut—intellectually bold but with a startling emotional core, Meng Jin's Little Gods is a huge pleasure. Watch out: this writer's career has just begun. What delights above all is literary ambition: Meng Jin's gift merges science, politics and art: the kind of audacity our world needs now." — Gina Apostol
"Jin's debut is at heart a mystery, as a young Chinese American woman returns to China to try to understand her recently deceased mother's decisions and to find her biological father… Su Lan is a fascinating character of a type rarely seen in fiction, an ambitious woman whose intellect and drive allow her to envision changing the very nature of time." — Kirkus Reviews
"A powerful story about family, immigration and the things we inherit along the way. Meng Jin writes beautifully on the mysteries of the past, both politically and personally, both as a universal burden to be carried collectively and as a conveyance for our individual liberation...Stunning." — Saïd Sayrafiezadeh, author of Brief Encounters with the Enemy
"Enthralling." — Guardian
"A haunting debut about memory, history, and who we truly are."  — Popsugar
"Weaving the past and present, Little Gods is a haunting tale of love, ambition, and family." — Electric Literature
"Time sustains and ultimately devastates a brilliant physicist in Meng Jin's ambitious, stomach-twisting debut, Little Gods…Weaving intentionally (and effectively) through decades of China's past… Little Gods is both imaginative and deeply rooted in reality." — Shelf Awareness
Custom House, 9780062935953, 288pp.
Publication Date: January 14, 2020
About the Author
Meng Jin was born in Shanghai and lives in San Francisco. A Kundiman Fellow, she is a graduate of Harvard and Hunter College. Little Gods is her first novel.
or
Not Currently Available for Direct Purchase