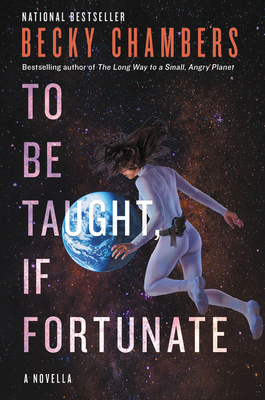 To Be Taught, If Fortunate
Paperback

* Individual store prices may vary.
Other Editions of This Title:
Digital Audiobook (9/2/2019)
Compact Disc (9/3/2019)
MP3 CD (9/3/2019)
Compact Disc (9/3/2019)
Description
National Bestseller!
A Hugo and Locus Award Nominee!
"Extraordinary . . . A future sci-fi masterwork in a new and welcome tradition." -- Joanne Harris, author if Chocolat
A stand-alone science fiction novella from the award-winning, bestselling, critically-acclaimed author of the Wayfarers series.
At the turn of the twenty-second century, scientists make a breakthrough in human spaceflight. Through a revolutionary method known as somaforming, astronauts can survive in hostile environments off Earth using synthetic biological supplementations. They can produce antifreeze in subzero temperatures, absorb radiation and convert it for food, and conveniently adjust to the pull of different gravitational forces. With the fragility of the body no longer a limiting factor, human beings are at last able to journey to neighboring exoplanets long known to harbor life.
A team of these explorers, Ariadne O'Neill and her three crewmates, are hard at work in a planetary system fifteen light-years from Sol, on a mission to ecologically survey four habitable worlds. But as Ariadne shifts through both form and time, the culture back on Earth has also been transformed. Faced with the possibility of returning to a planet that has forgotten those who have left, Ariadne begins to chronicle the story of the wonders and dangers of her mission, in the hope that someone back home might still be listening.
Praise For To Be Taught, If Fortunate…
"Extraordinary . . . A future sci-fi masterwork in a new and welcome tradition." — Joanne Harris, author of Chocolat
"With technical prowess and outstanding visceral imagery, Chambers [...] packs an immense amount of story into a novella worthy of full-length praise." — Publishers Weekly (starred review)
"An extraordinary picture of humanity among the stars." — Kirkus Reviews
"Becky Chambers takes space opera in a whole new and unexpected direction, her books bring me so much joy." — Ben Aaronovitch, author of Rivers of London
"Some of the most forward-thinking, inspiring science fiction out there . . . a joyful antidote to crushed spirits and a celebration of the power of curiosity, love, adventure and discovery."

— Claire North, author of The First Fifteen Lives of Harry August
"Rendered with startling clarity, Chambers' latest offering is a short but fierce ode to humanity and all our reaches and flaws. Unputdownable." — Natasha Ngan, author of Girls of Paper and Fire
"An exquisite expression of our moment in time. Here's why we need to keep going boldly into space - not to exploit, but to learn. Impressive and essential."   — Stephen Baxter, author of Promixa
"Epic in the scale of discoveries but with a miniaturist's eye for detail, and as revealing of the observers as the observed. In a word, brilliant." — Andrew Caldecott, author of Rotherweird
"To Be Taught, If Fortunate is a tight, frequently funny, character-driven novella." — Locus
"Becky Chambers is a master of delivering sadness and devastation right alongside a true and genuine love for humanity, and that is something that illuminates everything she's written." — Black Forest Basilisks
Harper Voyager, 9780062936011, 176pp.
Publication Date: September 3, 2019
About the Author
Becky Chambers is a science fiction author based in Northern California. She is best known for her Hugo Award-winning Wayfarers series, which currently includes The Long Way to a Small, Angry Planet, A Closed and Common Orbit, and Record of a Spaceborn Few. Her books have also been nominated for the Arthur C. Clarke Award, the Locus Award, and the Women's Prize for Fiction, among others. Her most recent work is To Be Taught, If Fortunate, a standalone novella.
Becky has a background in performing arts, and grew up in a family heavily involved in space science. She spends her free time playing video and tabletop games, keeping bees, and looking through her telescope. Having hopped around the world a bit, she's now back in her home state, where she lives with her wife. She hopes to see Earth from orbit one day.