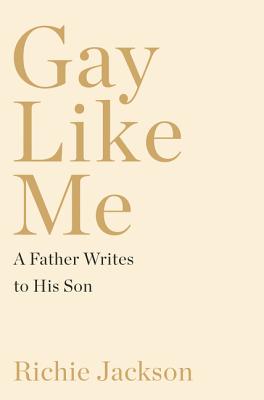 Gay Like Me
A Father Writes to His Son
Hardcover

* Individual store prices may vary.
Other Editions of This Title:
Digital Audiobook (1/27/2020)
Compact Disc (1/28/2020)
MP3 CD (1/28/2020)
Description
Chosen by Town & Country as one of the most anticipated books of the year | Named "An LGBTQ Book That'll Change the Literary Landscape in 2020" by O: The Oprah Magazine
In this poignant and urgent love letter to his son, award-winning Broadway, TV and film producer Richie Jackson reflects on his experiences as a gay man in America and the progress and setbacks of the LGBTQ community over the last 50 years.
"My son is kind, responsible, and hardworking. He is ready for college. He is not ready to be a gay man living in America."
When Jackson's son born through surrogacy came out to him at age 15, the successful producer, now in his 50s, was compelled to reflect on his experiences and share his wisdom on life for LGBTQ Americans over the past half-century.
Gay Like Me is a celebration of gay identity and parenting, and a powerful warning for his son, other gay men and the world. Jackson looks back at his own journey as a gay man coming of age through decades of political and cultural turmoil.
Jackson's son lives in a seemingly more liberated America, and Jackson beautifully lays out how far we've come since Stonewall -- the increased visibility of gay people in society, the legal right to marry, and the existence of a drug to prevent HIV. But bigotry is on the rise, ignited by a president who has declared war on the gay community and fanned the flames of homophobia. A newly constituted Supreme Court with a conservative tilt is poised to overturn equality laws and set the clock back decades. Being gay is a gift, Jackson writes, but with their gains in jeopardy, the gay community must not be complacent.
As Ta-Nehisi Coates awakened us to the continued pervasiveness of racism in America in Between the World and Me, Jackson's rallying cry in Gay Like Me is an eye-opening indictment to straight-lash in America. This book is an intimate, personal exploration of our uncertain times and most troubling questions and profound concerns about issues as fundamental as dignity, equality, and justice.
Gay Like Me is a blueprint for our time that bridges the knowledge gap of what it's like to be gay in America. This is a cultural manifesto that will stand the test of time. Angry, proud, fierce, tender, it is a powerful letter of love from a father to a son that holds lasting insight for us all.
Praise For Gay Like Me: A Father Writes to His Son…
"Richie Jackson beautifully captures the magic of love, life and what it means to be a parent in this beautiful must-read memoir. His powerful story reminds us all that being open to love and making it the central focus of our lives allows us to tap into our deepest inner wisdom."  — Arianna Huffington, founder and CEO of Thrive Global
"Gay Like Me is an invaluable chapbook for our times. Read it if you want to be reminded of what a long and valiant journey it's been for us queers and what hard-earned wisdom we now have to offer the young." — Armistead Maupin, bestselling author of Tales of the City and Logical Family
"A beautiful and important guide to understanding the queer journey. I wish I had this book to guide me when I was young, and to help my straight parents understand the complexity I was struggling with as a gay kid." — Jesse Tyler Ferguson, actor best known for portraying Mitchell Pritchett on the sitcom Modern Family

"This much needed history lesson and often poetic love letter is a call to arms that should be required reading for all LGBTQ youth and their families. Each page is filled with love, rage and a dose of reality that reinforces the resiliency of LGBTQ people and reminds us all that the fight for LGBTQ equality and acceptance is far from over."  — Sarah Kate Ellis, CEO & President of GLAAD
"If all fathers were as open, vulnerable, and wise as Richie Jackson, it would be a better world. The deep truth of his writing makes this a beautiful book." — Salman Rushdie, bestselling author of The Satanic Verses and The Golden House
"An invaluable book for all young LGBTQ people. Jackson wishes he had had a mentor when he was young, but now he has assumed that role for every reader of this heartfelt, wise, and compassionate book." — Booklist (starred review)
"Jackson's sincerity shines through, even when he takes a back seat in his own story to focus on the representative experiences of his generation. LGBTQ readers on both ends of the age spectrum will value this earnest attempt to build a bridge between generations." — Publishers Weekly
"Richie uses his experiences growing up gay to talk to his son about family and friendship, sex and relationships, anger and citizenship. And by doing this, Richie has penned a love letter to our generation of gay men who fought for respect, helped secure rights and are now fearful of what lies ahead for the LGBTQ generation rising behind us." — Jonathan Capehart, journalist at The Washington Post
"Jackson's first book, a letter to his gay son, is full of personal experience and sage advice...[It] is a love letter from one generation of gay men to another. Beautifully written with crystalline prose, most anyone could profit from reading this love letter from a parent to a child, whether they are gay or not."  — Library Journal
"An endearing and practical guide to navigating the beauty and dangers of queer life in Trump's America."  — O, the Oprah Magazine
"In this moving, thoughtful letter to his gay son, Jackson spells out big, often unanswerable questions about life and love that go beyond any political achievement or pop-culture representation and get to the heart of what it means to be a person."  — Town & Country
Harper, 9780062939777, 176pp.
Publication Date: January 28, 2020
About the Author
Richie Jackson is the author of Gay Like Me, published by HarperCollins. He writes the monthly column "In Gay We Trust" for The Advocate . He is an award-winning Broadway, television and film producer who most recently produced the Tony Award-nominated Harvey Fierstein's Torch Song on Broadway . He executive produced Showtime's Nurse Jackie (Emmy and Golden Globe nominee for "Best Comedy Series") for seven seasons and co-executive produced the film Shortbus , written and directed by John Cameron Mitchell.
As an alumnus of NYU Tisch School of the Arts, he endowed a fellowship program at his alma mater in 2015 to assist graduates in the transition from academia to a lifelong career in the arts called The Richie Jackson Artist Fellowship.
He and his husband, Jordan Roth, were honored with The Trevor Project's 2016 Trevor Hero Award. They live in New York City with their two sons.