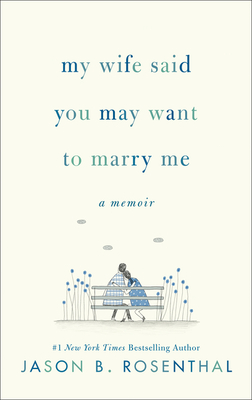 My Wife Said You May Want to Marry Me
A Memoir
Hardcover

* Individual store prices may vary.
Other Editions of This Title:
Digital Audiobook (4/20/2020)
Paperback (4/20/2021)
Paperback, Large Print (4/21/2020)
Compact Disc (4/21/2020)
MP3 CD (4/21/2020)
Compact Disc (4/21/2020)
Description
An inspiring memoir of life, love, loss, and new beginnings by the widower of bestselling children's author and filmmaker Amy Krouse Rosenthal, whose last of act of love before her death was setting the stage for her husband's life without her in the viral New York Times Modern Love column, "You May Want to Marry My Husband."
On March 3, 2017, Amy Krouse Rosenthal penned an op-ed piece for the New York Times' "Modern Love" column —"You May Want to Marry My Husband." It appeared ten days before her death from ovarian cancer. A heartbreaking, wry, brutally honest, and creative play on a personal ad—in which a dying wife encouraged her husband to go on and find happiness after her demise—the column quickly went viral, reaching more than five million people worldwide.
In My Wife Said You May Want to Marry Me, Jason describes what came next: his commitment to respecting Amy's wish, even as he struggled with her loss. Surveying his life before, with, and after Amy, Jason ruminates on love, the pain of watching a loved one suffer, and what it means to heal—how he and their three children, despite their profound sorrow, went on. Jason's emotional journey offers insights on dying and death and the excruciating pain of losing a soulmate, and illuminates the lessons he learned.
As he reflects on Amy's gift to him—a fresh start to fill his empty space with a new story—Jason describes how he continues to honor Amy's life and her last wish, and how he seeks to appreciate every day and live in the moment while trying to help others coping with loss. My Wife Said You May Want to Marry Me is the poignant, unreserved, and inspiring story of a great love, the aftermath of a marriage ended too soon, and how a surviving partner eventually found a new perspective on life's joys in the wake of tremendous loss.
Praise For My Wife Said You May Want to Marry Me: A Memoir…
"The book is a 228-page love declaration to Amy."
— Washington Post

"Jason B. Rosenthal's brilliant and achingly honest memoir captures the true boundlessness of love and the absolute heartbreak of loss. I smiled and cried the whole way through this extraordinary reading experience, convinced more than ever that, as Jason writes, 'people are good.'"
— John Green, #1 New York Times bestselling author of Looking for Alaska and The Fault in Our Stars

"I feel very lucky to have known Amy since high school and watched admiringly as she built a family and a body of work that will outlast us all. Her partner through it all, Jason B. Rosenthal, is a man of honor and great sensitivity, and their lives together tell us how to live and how to say goodbye. This book is everything Jason is—warm, approachable, inquisitive, and relentlessly honest."
— Dave Eggers, bestselling author of Heroes of the Frontier and The Captain and the Glory

"Jason's profoundly personal book is about loss and what comes after, but it is, at its core, also the story of two soul mates and a love that lives forever."
— Katie Couric, journalist, New York Times bestselling author, and cancer advocate

"Rosenthal's gut-wrenching, honest, and uplifting memoir offers reassurance and connection to readers experiencing their own losses." 
— Booklist

"An essay gone viral leads to this memoir about deep loss and navigating profound grief…filled with advice and support for anyone else going through similar circumstances."
— Kirkus Reviews

"It's about love, loss, and family — and it's guaranteed to make you cry." 
— Buzzfeed

"Rosenthal's grief journey is expressed with candor, humor, and gratitude…recommended for readers either experiencing grief or wanting to understand how to support someone experiencing loss." 
— Library Journal
Harper, 9780062940599, 240pp.
Publication Date: April 21, 2020
About the Author
Jason B. Rosenthal is the number one New York Times bestselling author of Dear Boy, cowritten with his daughter, Paris. He is the board chair of the Amy Krouse Rosenthal Foundation, which supports both childhood literacy and research in early detection of ovarian cancer. A lawyer, public speaker, and devoted father of three, he is passionate about helping others find ways to fill their blank spaces as he continues to fill his own. Jason resides in Chicago, a city he is proud to call home.