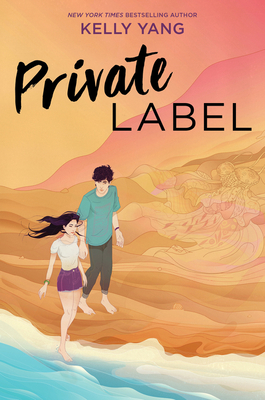 Private Label
Hardcover

* Individual store prices may vary.
Other Editions of This Title:
Digital Audiobook (5/30/2022)
Paperback (5/16/2023)
Compact Disc (5/31/2022)
MP3 CD (5/31/2022)
Description
The Devil Wears Prada meets Far from the Tree in #1 New York Times bestselling author Kelly Yang's powerful love story about two teens searching for their place in the world.
Serene dreams of making couture dresses even more stunning than her mom's, but for now she's an intern at her mom's fashion label. When her mom receives a sudden diagnosis of pancreatic cancer, all that changes. Serene has to take over her mother's business overnight while trying to figure out what happened with her dad in Beijing. He left before she was born, and Serene wants to find him, even if it means going against her mom's one request—never look back.
Lian Chen moved from China to Serene's mostly white Southern California beach town a year ago. He doesn't fit in at school, where kids mispronounce his name. His parents don't care about what he wants to do—comedy—and push him toward going to MIT engineering early. Lian thinks there's nothing to stick around for until one day he starts a Chinese Club after school . . . and Serene walks in.
Worlds apart in the high school hierarchy, Serene and Lian soon find refuge in each other, falling in love as they navigate life-changing storms.
* Junior Library Guild Selection * A Common Sense Selection *
Praise For Private Label…
"Yang excels at spinning stories with vibrant characters that open readers' hearts and invite them to question their own expectations and assumptions." — The Horn Book
"Yang is a phenomenal writer. [T]he exploration of identity is very well written and discussed. One can't help but root for the main characters as they explore the world around them, their emerging sense of self, and the feelings they have for each other." — School Library Journal
"Thoughtful, nuanced depictions of the teen's complicated relationships with their immigrant parents, which deftly incorporates overarching themes of prejudice, assimilation, and heritage-seeking . . . emotionally immersive . . . a compelling and genuine coming-of-age story." — Kirkus Reviews
"Yang's protagonists steadily find comfort in one another, working to take control of their lives while navigating stifling parental expectations, racial prejudice, and school bullying and workplace politics." — Publishers Weekly
"Adeptly balancing a coming-of-age story with a romance, this thoughtful book, laced with plenty of tension, is perfect for fans of Jenny Han and Jenn Bennett." — Booklist
Praise for Parachutes: "[Parachutes] is about the radical possibility of young women finding and detonating their voices. Yang takes a sledgehammer to rape culture itself, swinging with equal parts artistry and force. If this were a television series it would look fabulous and land deep." — New York Times Book Review
"A fierce entrance into YA, navigating a plethora of complex themes with great honesty... Claire and Dani's mettle and solidarity as they contend with the institutions and privilege that hide abuse is gripping and empowering. Yang offers a compelling exploration of the parachute experience and the intersection of ethnicity, class, and reputation, while underscoring striking cultural parallels between America and China. Strong characterization and thoughtful writing make for an unforgettable read." — ALA Booklist (starred review)
"Yang deftly weaves in parallels to recent real-life events... On top of these explorations of nationality and wealth is the realistically pervasive look at rape culture... In short alternating chapters narrated by Dani and Claire, Yang creates a delicate balance between these heavier issues and the lighter moments of high school... [A] powerful exploration of race, class, and power through multiple lenses... An engrossing read that will spark discussions on a wide range of issues." — School Library Journal (starred review)
"In her YA debut, Yang (Front Desk) draws from personal experience and the news to tell a contemporary story of class discrepancy, the pervasiveness of rape culture, and the Asian diaspora... a multifaceted read, by turns poignant, fun, and exultant in its celebration of the multitudinous experiences and strength inherent in diasporic identity." — Publishers Weekly (starred review)
"Yang has created two distinct and vibrant voices that shimmer with passion for both justice and independence... The convincing narrative, told in alternating first-person perspectives, confronts pervasive and xenophobic stereotypes, with secondary characters' complex identities adding depth and emotion to the story." — Horn Book Magazine
"Yang writes astutely about the destabilizing combination of family expectations, copious wealth, and absence of adult supervision. She's also sharply perceptive about the class and race complexities of a community that contains rich Asian visitors and American-born Asians, great wealth and straitened circumstances... A spirited slice of cultural life and story of girls facing cruel inequities, and Yang's compelling author's note about parachutes and her own experience of being sexually assaulted adds another poignant facet." — Bulletin of the Center for Children's Books
"Parachutes is a force. As fast-paced as it is powerful, its story of immigration, social class, and rape culture calls out the damaging consequences of privilege in ways that will make readers want to speak up and take action."  — Randy Ribay, National Book Award finalist and author of Patron Saints of Nothing
"Parachutes is not just a searing drama that explores the lives of Asians in America, it's a courageous, empowering story about how high women can soar when they lift each other up." — Stacey Lee, award-winning author of The Downstairs Girl
Awards and Praise for Front Desk: Asian / Pacific American Award for Children's Literature Parents' Choice Gold Medal Fiction Award Winner Named a Best Book of the Year by: NPR Kirkus Reviews Publishers Weekly Washington Post Amazon School Library Journal Bookpage New York Public Library Chicago Public Library Top Ten Debut Novels 2018 — ALA Booklist
* "Debut author Yang weaves in autobiographical content while creating a feisty and empowered heroine. The supporting characters are rich in voice and context ...achingly reveal life in America in the 1990s for persons of color and those living in poverty." — Kirkus Reviews (starred review)
* "Mia herself is an irresistible protagonist, and it is a pleasure to see both her writing and her power grow... Many young readers will see themselves in Mia and her friends.... A swiftly moving plot and a winsome protagonist." — School Library Journal (starred review)
* "It's the details that sing in this novel...This book will help foster empathy for the immigrant experience for young readers, while for immigrant children, it is a much-needed and validating mirror....Deserving of shelf space in every classroom and library." — Booklist (starred review)
"Reminiscent of the television series Fresh Off the Boat... Basing the story on her own childhood experiences, Yang writes Mia's dreams into reality without sacrificing or minimizing the heartbreaking realities of many immigrants' hardships... there is much satisfaction in this book's powerful and heart-wrenching close." — Bulletin of the Center for Children's Books (starred review)
"Front Desk is a story about the hardships of immigrant life, the perpetuation of injustice, and a sweet, kind, indomitable young girl who chooses to rise up and fight no matter how hard it gets. Kelly Yang's debut is a stunner." — Mike Jung, author of Unidentified Suburban Object
"In this noteworthy, immensely enjoyable novel, Kelly Yang (Front Desk) tackles some of the systemic inequalities that foster racism, misogyny and sexual assault. She convincingly brings to light ways in which victims are often judged more harshly than their aggressors, but also provides a template for change. Yang dives with aplomb into issues of opulence and poverty, power and impotence." — Shelf Awareness
Katherine Tegen Books, 9780062941107, 416pp.
Publication Date: May 31, 2022
About the Author
Kelly Yang is the New York Times bestselling author of Front Desk, Three Keys, and Room to Dream and is the winner of the Asian/Pacific American Award for Children's Literature. She went to college at age thirteen and is a graduate of the University of California, Berkeley and Harvard Law School. She is the founder of the Kelly Yang Project, a leading writing and debating program for children in Asia. She lived in Hong Kong for fifteen years, where she taught many parachutes and was a columnist for the South China Morning Post. Her writing has also been published in the New York Times, the Washington Post, and the Atlantic. Kelly currently lives in Los Angeles with her family. Please find her online at www.kellyyang.com. Parachutes is her YA debut.