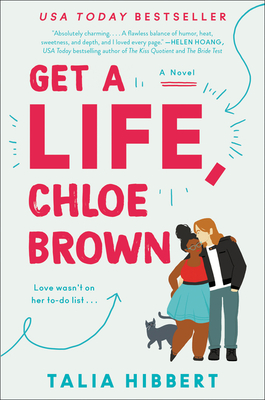 Get a Life, Chloe Brown
A Novel (The Brown Sisters #1)
Paperback

* Individual store prices may vary.
Other Editions of This Title:
Digital Audiobook (11/4/2019)
Mass Market (2/22/2022)
Library Binding, Large Print (4/8/2020)
MP3 CD (11/5/2019)
Compact Disc (11/5/2019)
Compact Disc (11/5/2019)
November 2019 Indie Next List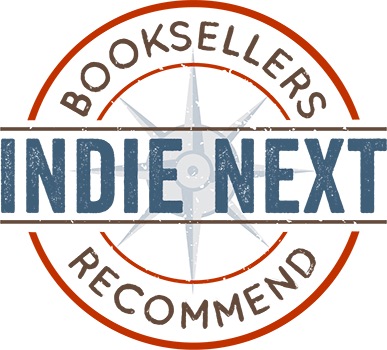 "
Get a Life, Chloe Brown
is such a wonderful, inclusive, body-positive, fun, moving, and steamy book, the kind of novel I want to shove into every person's hand who says they don't read romance. Chloe Brown is a plus-size black British woman with chronic illness who is confident, sharp, sarcastic, brilliant, and adorable as hell—and, to my great relief, totally comfortable and happy with her looks and her size. After being temporarily knocked down by her illness, Chloe decides to reclaim her life, so she makes a to-do list: ride a motorcycle, have meaningless sex, go camping, etc. It was such an absolute treat to read a novel about a plus-size woman with a disability having amazing, mind-blowing sex and loving her life. I truly cannot say enough wonderful things about this book, so instead I will just force everyone I know to read it."
— Elissa Sweet, Bank Square Books, Mystic, CT
View the List
Description
"Absolutely charming... a flawless balance of humor, heat, sweetness, and depth, and I loved every page." – Helen Hoang, USA Today bestselling author of The Bride Test
USA TODAY BESTSELLER

A witty, hilarious romantic comedy about a woman who's tired of being "boring" and recruits her mysterious, sexy neighbor to help her experience new things—perfect for fans of Sally Thorne, Jasmine Guillory, and Helen Hoang!
Chloe Brown is a chronically ill computer geek with a goal, a plan, and a list. After almost—but not quite—dying, she's come up with seven directives to help her "Get a Life", and she's already completed the first: finally moving out of her glamorous family's mansion. The next items?
Enjoy a drunken night out.
Ride a motorcycle.
Go camping.
Have meaningless but thoroughly enjoyable sex.
Travel the world with nothing but hand luggage.
And... do something bad.
But it's not easy being bad, even when you've written step-by-step guidelines on how to do it correctly. What Chloe needs is a teacher, and she knows just the man for the job.
Redford 'Red' Morgan is a handyman with tattoos, a motorcycle, and more sex appeal than ten-thousand Hollywood heartthrobs. He's also an artist who paints at night and hides his work in the light of day, which Chloe knows because she spies on him occasionally. Just the teeniest, tiniest bit.
But when she enlists Red in her mission to rebel, she learns things about him that no spy session could teach her. Like why he clearly resents Chloe's wealthy background. And why he never shows his art to anyone. And what really lies beneath his rough exterior…
"This is an extraordinary book, full of love, generosity, kindness and sharp humor." — The New York Times Book Review
*Featured on the TODAY Show! Named a Best Romance of 2019 by Entertainment Weekly, Publishers Weekly, Kirkus, Apple, and Amazon, and Best of November from Essence, Woman's Day, Marie Claire, Buzzfeed, Popsugar, Bustle, Bookish, Bookpage, Entertainment Weekly, and Washington Post*

Praise For Get a Life, Chloe Brown: A Novel (The Brown Sisters #1)…
"I love getting lost in a story that I cannot put down—and even better if it involves a lot of laughter and swooning. Talia Hibbert always delivers and her books are the perfect material for a beach trip or a pick-me-up. She's unputdownable, every time." — Taylor Jenkins Reid
"A fizzy, intoxicating sense of humor that bubbles off the page. Her characters are vital in both their pain and their pleasure, their vibrancy an infusion of life and laughter that is an infectious delight... Hibbert's novel is a life-affirming, soul-searching, beautiful gem of a book that should be required reading for anyone in search of their own happily-ever-after. It's a resounding, triumphant testament to the power of healing, the beauty of love, and the essential nature of compassion. May we all get a life, and a love, like Chloe Brown." — Entertainment Weekly
"Get a Life, Chloe Brown is a tour-de-force romance that tackles tough problems like insecurity and chronic pain while still delivering a laugh-out-loud love story full of poignant revelations about human nature... But what gives this story its depth is Hibbert's voice — you live each character's pain, joy, laughter, love, longing. And when Red Morgan and Chloe Brown get into your head — good grief — there's nothing like it." — NPR.org
"A thrilling, life-altering adventure that will keep readers riveted... Hibbert's rom-com stands out for its high stakes, distinctive heroine, and scorching hot romance. Their off-the-charts chemistry elevates this from cute romance to un-put-downable page-turner." — Publishers Weekly (starred review)
"[An] incredibly funny, romantic, and uplifting book. Red is as charming, sexy, and vulnerable as can be, but Chloe steals the show with her sarcasm, wit, and eccentric coping mechanisms. Even better, Chloe is surrounded by a family of remarkable, glamorous women, including two sisters who will be featured in later installments... A revelation. Hilarious, heartfelt, and hot. Hibbert is a major talent." — Kirkus Reviews (starred review)
"Will readers giggle at the cuteness of the banter and weep at the emotional truths that are thrown down as Chloe realizes it's not her list that matters, and Red realizes Chloe is helping him get a life, too? Absolutely. Is this book what the word "charming" was invented for? Probably. This interracial romance with a disabled heroine is an #OwnVoices treat that will satisfy readers who love a cinnamon-roll hero and love scenes that scorch the dang pages. " — Booklist (starred review)
"This stunning romance tackles important topics, such as living with disability and surviving emotional abuse, without ever getting bogged down in despair. Hibbert's prose sparkles, and the heat is high..." — Library Journal (starred review)
"Absolutely charming. GET A LIFE, CHLOE BROWN is a flawless balance of humor, heat, sweetness, and depth, and I loved every page." — Helen Hoang, USA Today bestselling author of The Kiss Quotient and The Bride Test
"Talia Hibbert is a rockstar! Her writing is smart, funny, and sexy, but most importantly, she'll make you fall in love with her sweetly imperfect characters, who are so real you'll wish you could give them all a hug."  — Meg Cabot, #1 New York Times bestselling author of the Little Bridge Island and Princess Diaries series  
"GET A LIFE, CHLOE BROWN was one of my most anticipated books of 2019, and it delivered! Beautiful writing, laugh out loud funny, a truly unique and memorable hero and heroine and a romance that is raw, real and passionate. This goes on my permanent keeper shelf!" — Naima Simone, USA Today bestselling author
"Get a Life, Chloe Brown by Talia Hibbert was clever, sweet, sexy, and brilliant. It made me cry but in the best ways. Seeing a heroine with a similar disease to my own fall in love and be happy was everything." — Carrie Ann Ryan, New York Times bestselling author
"With wit, biting humour and moments of extreme poignancy, Talia Hibbert brings to life a heroine whose courage and tenacity leaps off the page... Get A Life, Chloe Brown is funny, sexy, and intensely romantic, highly recommended for any contemporary romance reader, but especially for the many of us who, like Chloe, navigate life through the lens and under the weight of an invisible illness." — Lucy Parker, author of The Austen Playbook
"I just finished GET A LIFE, CHLOE BROWN by Talia Hibbert. My heart is full, and my pants are full of pants feeling for one Triumph-riding, painter, ginger named Red. So so so so good." — Andie J. Christopher, USA Today bestselling author of Not the Girl You Marry
"sharp and sexy... [a] fun ride." — Essence
"refreshingly real... sparks fly." — Washington Post
"If you liked Jasmine Guillroy's The Proposal, you'll love Talia Hibbert's Get A Life, Chloe Brown." — Marie Claire
"If you love rom-coms, this incredibly charming novel  will sweep you off your feet."  — Popsugar
"Charming... Will sparks fly? You bet." — Entertainment Weekly
"We guarantee at the end of Talia Hibbert's latest, you'll be swooning over the love story and inspired by Chloe to write your very own Get a Life list." — Bookish
"Unbelievably sexy, incredibly honest. I loved this heroine so, so much. She is real, different, and wonderful." — Jill Shalvis, New York Times bestselling author
"I just finished and loved GET A LIFE, CHLOE BROWN... witty banter abounds and the ending was so emotional I almost cried! I can't wait to read everything else Talia Hibbert writes." — Kerry Winfrey, author of Waiting for Tom Hanks
"[An] awesome book, so full of heart and warmth and feels!" — Charlotte Stein, author of Never Sweeter
"A pure exuberant delight. I loved this book... It's also hilarious—Chloe in particular has a gloriously sardonic perception of the world—and it bounces along, and it will just make you feel better. Exactly what a romance should be." — KJ Charles, author of Proper English
"Don't miss this sweet contemporary romance..."
— Hello Giggles (8 Best New Books to Read in November)
"poised to be a hit."
— Refinery 29
"Hibbert joins important voices in contemporary romance (Helen Hoang comes to mind) who write steamy page-turners where the characters look nothing like they did a generation ago — and that's a wonderful thing. Go ahead and push pause on your own life to get to know Chloe Brown." — Washington Post
"Get a Life, Chloe Brown is a rom-com with depth, one that explores living with illness, the benefits of therapy, and how two people can better communicate when they slough off their own rough exteriors." — Shondaland
"a warm, laugh-filled, life-affirming tribute to the hard work and rewards of healing, honoring the courage it requires to love oneself." — Entertainment Weekly
"we are in for a real treat...you'll get lost in the hilarious yarn" — Essence
"Hibbert shows how standard romance tropes—misunderstandings, meddling sisters, a steamy camping trip—can be elevated to sublime pleasure in the hands of a brilliant writer. Everything about Chloe and Red's story feels honest, specific and real. And magical, even when real-life concerns like chronic illness can never fade away. This is an extraordinary book, full of love, generosity, kindness and sharp humor." — New York Times Book Review
"I loved this story! Chloe is a kick-butt female character who speaks her mind and doesn't rely on anyone – even though she suffers from a chronic illness. Her strength and humor shine throughout the novel, making her extremely likable. Her chemistry with Red, her apartment superintendent, is off the charts – this enemies-to-lovers romance is full of steam... what starts as a silly adventure turns into a very sweet, tender love story. I devoured this one in just one day – would definitely recommend." — SheReads.com (Best Romance Novels of 2019)
"A fun and life-affirming romp, this book will make you want to get out there and experience the most of your days, regardless of your circumstances."  — Mindbodygreen.com ( 5 Books You Won't Be Able To Put Down This November)
"Get a Life, Chloe Brown saw my expectations' proffered hand and kissed it gently, and then proceeded to charm their pants off. …  Looking for a book to hand to a newish romance reader? Pick this one. As hilarious as it is heartbreaking, Get a Life, Chloe Brown is a fantastic way to show new readers all that contemporaries can be."
— Smart Bitches, Trashy Books
Avon, 9780062941206, 384pp.
Publication Date: November 5, 2019
About the Author
Talia Hibbert is a New York Times, USA Today, and Wall Street Journal bestselling Black British author who lives in a bedroom full of books. Supposedly, there is a world beyond that room, but she has yet to drum up enough interest to investigate. She writes sexy, diverse romance because she believes that people of marginalised identities need honest and positive representation. Her interests include beauty, junk food, and unnecessary sarcasm.