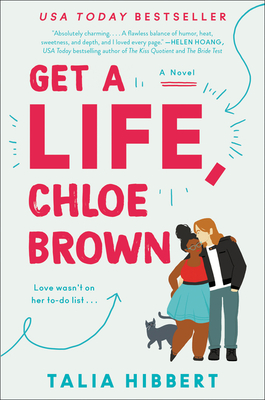 Get a Life, Chloe Brown (Paperback)
A Novel (The Brown Sisters #1)
Avon, 9780062941206, 384pp.
Publication Date: November 5, 2019
Other Editions of This Title:
Compact Disc (11/5/2019)
MP3 CD (11/5/2019)
Compact Disc (11/5/2019)
* Individual store prices may vary.
Description
"Absolutely charming... a flawless balance of humor, heat, sweetness, and depth, and I loved every page." – Helen Hoang, USA Today bestselling author of The Bride Test
Talia Hibbert, one of contemporary romance's brightest new stars, delivers a witty, hilarious romantic comedy about a woman who's tired of being "boring" and recruits her mysterious, sexy neighbor to help her experience new things—perfect for fans of Sally Thorne, Jasmine Guillory, and Helen Hoang!
Chloe Brown is a chronically ill computer geek with a goal, a plan, and a list. After almost—but not quite—dying, she's come up with seven directives to help her "Get a Life", and she's already completed the first: finally moving out of her glamorous family's mansion. The next items?
Enjoy a drunken night out.
Ride a motorcycle.
Go camping.
Have meaningless but thoroughly enjoyable sex.
Travel the world with nothing but hand luggage.
And... do something bad.
But it's not easy being bad, even when you've written step-by-step guidelines on how to do it correctly. What Chloe needs is a teacher, and she knows just the man for the job.
Redford 'Red' Morgan is a handyman with tattoos, a motorcycle, and more sex appeal than ten-thousand Hollywood heartthrobs. He's also an artist who paints at night and hides his work in the light of day, which Chloe knows because she spies on him occasionally. Just the teeniest, tiniest bit.
But when she enlists Red in her mission to rebel, she learns things about him that no spy session could teach her. Like why he clearly resents Chloe's wealthy background. And why he never shows his art to anyone. And what really lies beneath his rough exterior…
About the Author
Talia Hibbert is a Black British author who lives in a bedroom full of books. Supposedly, there is a world beyond that room, but she has yet to drum up enough interest to investigate. She writes sexy, diverse romance because she believes that people of marginalised identities need honest and positive representation. Her interests include beauty, junk food, and unnecessary sarcasm.
Praise For Get a Life, Chloe Brown: A Novel (The Brown Sisters #1)…
"Absolutely charming. GET A LIFE, CHLOE BROWN is a flawless balance of humor, heat, sweetness, and depth, and I loved every page."
— Helen Hoang, USA Today bestselling author of The Kiss Quotient and The Bride Test

"A thrilling, life-altering adventure that will keep readers riveted... Best of all, the romance is sizzling hot. This contemporary is a page-turning winner."
— Publishers Weekly (starred review)

"[An] incredibly funny, romantic, and uplifting book. Red is as charming, sexy, and vulnerable as can be, but Chloe steals the show with her sarcasm, wit, and eccentric coping mechanisms. Even better, Chloe is surrounded by a family of remarkable, glamorous women, including two sisters who will be featured in later installments... A revelation. Hilarious, heartfelt, and hot. Hibbert is a major talent."
— Kirkus Reviews (starred review)

"GET A LIFE, CHLOE BROWN was one of my most anticipated books of 2019, and it delivered! Beautiful writing, laugh out loud funny, a truly unique and memorable hero and heroine and a romance that is raw, real and passionate. This goes on my permanent keeper shelf!"
— Naima Simone, USA Today bestselling author

"Get a Life, Chloe Brown by Talia Hibbert was clever, sweet, sexy, and brilliant. It made me cry but in the best ways. Seeing a heroine with a similar disease to my own fall in love and be happy was everything."
— Carrie Ann Ryan, New York Times bestselling author

"With wit, biting humour and moments of extreme poignancy, Talia Hibbert brings to life a heroine whose courage and tenacity leaps off the page... Get A Life, Chloe Brown is funny, sexy, and intensely romantic, highly recommended for any contemporary romance reader, but especially for the many of us who, like Chloe, navigate life through the lens and under the weight of an invisible illness."
— Lucy Parker, author of The Austen Playbook

"I just finished GET A LIFE, CHLOE BROWN by Talia Hibbert. My heart is full, and my pants are full of pants feeling for one Triumph-riding, painter, ginger named Red. So so so so good."
— Andie J. Christopher, USA Today bestselling author of Not the Girl You Marry

"A pure exuberant delight. I loved this book... It's also hilarious—Chloe in particular has a gloriously sardonic perception of the world—and it bounces along, and it will just make you feel better. Exactly what a romance should be."
— KJ Charles, author of Proper English

"[An] awesome book, so full of heart and warmth and feels!"
— Charlotte Stein, author of Never Sweeter

"I just finished and loved GET A LIFE, CHLOE BROWN... witty banter abounds and the ending was so emotional I almost cried! I can't wait to read everything else Talia Hibbert writes."
— Kerry Winfrey, author of Waiting for Tom Hanks

"If you liked Jasmine Guillroy's The Proposal, you'll love Talia Hibbert's Get A Life, Chloe Brown."
— Marie Claire (16 Best Fall Book Releases)

"We guarantee at the end of Talia Hibbert's latest, you'll be swooning over the love story and inspired by Chloe to write your very own Get a Life list."
— Bookish

MARIE CLAIRE, 16 Best Fall Book Release PUBLISHERS WEEKLY, Most Anticipated Books of Fall 2019 WOMAN'S DAY, 25 Books Coming Out This Fall BUSTLE, 21 New Rom-Coms Out In Fall 2019 BOOKPAGE, Fall 2019 Preview: Most Anticipated Romance BOOKISH, Fall in Love: Autumn 2019's Most Swoonworthy Romances
— ...