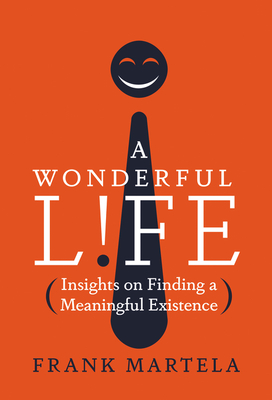 A Wonderful Life
Insights on Finding a Meaningful Existence
Hardcover

* Individual store prices may vary.
Other Editions of This Title:
Digital Audiobook (3/23/2020)
MP3 CD (3/24/2020)
Compact Disc (3/24/2020)
Description
In a series of essays that explore the notion of what brings significance to our existences, clarifying why we have this longing beyond the present moment and an insatiable dissatisfaction with where we are, scholar Frank Martela tackles the subject of finding meaning in life.
With beautiful decorative elements and an engaging design, the book approaches its subject in a readily digestible form. It grapples with some of life's most pressing questions, like "Is happiness a worthy goal?" and "What is the foundation for meaning in a secular society?" and "Is life an existential void?" yet Martela answers these questions and more in a relaxed, conversational tone and with a wry sense of humor, placing some of life's greatest philosophical concerns and quandaries into a modern-day context.
Martela quickly and concisely gets to the heart of the matter: your place in the world and how to find meaning in life as countless thinkers and philosophers have done before, yet the emphasis here is on what we do with the life we have and how we can make it more meaningful. Part prescriptive and part armchair philosophy book, A Wonderful Life is accessible to everyone, from the well-read scholar to the apprentice as well as anyone curious about how to extract the greatest meaning and sense of purpose from their existence.
Praise For A Wonderful Life: Insights on Finding a Meaningful Existence…
"A brilliant and charming book that tackles the grandest questions of life in plain terms, with humor and insight…full of anecdotes, history, thoughtfulness, perspective, and entertaining discourse.  If you have any curiosity about the meaning of life—and who doesn't?—this book is a refreshing and important resource." — Roy F. Baumeister, author of New York Times bestseller Willpower, The Power of Bad, and Meanings of Life
"The search for life's meaning is perhaps the most important quest we can undertake. And for any quest, it's essential to have a guide. Philosophically probing yet eminently readable, A Wonderful Life  is a book you can refer to again and again on your journey toward purpose." — Daniel H. Pink,  New York Times  bestselling author of  When, Drive, To Sell Is Human, and A Whole Mind
"We are happiest not when we have more things or accolades but when we have more meaning, research shows. A Wonderful Life is a witty and inspirational guidebook to helping you live a life of meaning. By expertly drawing on psychology, philosophy and literature, his book will entertain you as much as it enriches you." — Emma Seppala, author of The Happiness Track, Science Director, Stanford Center For Compassion And Altruism Research And Education. Co-Director Wellness, Yale Center for Emotional Intelligence
"This book is not only a delight to read, but it is a tour-de-force of research. Martela brings together some of the most fascinating ideas from history, philosophy, and psychology to address the most urgent question of all: What makes life meaningful? Too many people today doubt that their lives matter. In this uplifting and thoughtful work, Martela offers practical tips for we can each find more meaning in our lives." — Emily Esfahani Smith, author of The Power of Meaning: Finding Fulfillment in a World Obsessed With Happiness
Harper Design, 9780062942777, 200pp.
Publication Date: March 24, 2020
About the Author
Frank Martela, PhD, is a philosopher and researcher of psychology specializing in the question of meaning in life. His articles have appeared in Scientific American Mind and Salon and his work has been featured on Quartz and on the BBC. His research has been published extensively in numerous academic journals such as Journal of Personality, Journal of Positive Psychology, Journal of Happiness Studies, Metaphilosophy, Southern Journal of Philosophy, Motivation & Emotion, and Organization Studies. He has spoken to more than one hundred audiences worldwide, including invited lectures in universities on four continents, including Stanford University and Harvard University. He's been interviewed by the New York Times, Fitness, Vice News, and Monocle Observer among others. He is based at Aalto University in Helsinki. frankmartela.com; Twitter: @f_Martela
or
Not Currently Available for Direct Purchase