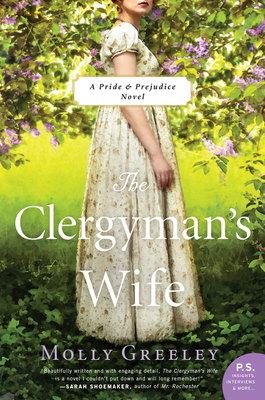 The Clergyman's Wife
A Pride & Prejudice Novel
Paperback

* Individual store prices may vary.
Other Editions of This Title:
Digital Audiobook (12/2/2019)
MP3 CD (12/3/2019)
Paperback, Large Print (12/3/2019)
Compact Disc (12/3/2019)
Description
For everyone who loved Pride and Prejudice—and legions of historical fiction lovers—an inspired debut novel set in Austen's world.

Charlotte Collins, nee Lucas, is the respectable wife of Hunsford's vicar, and sees to her duties by rote: keeping house, caring for their adorable daughter, visiting parishioners, and patiently tolerating the lectures of her awkward husband and his condescending patroness, Lady Catherine de Bourgh. Intelligent, pragmatic, and anxious to escape the shame of spinsterhood, Charlotte chose this life, an inevitable one so socially acceptable that its quietness threatens to overwhelm her. Then she makes the acquaintance of Mr. Travis, a local farmer and tenant of Lady Catherine..
In Mr. Travis' company, Charlotte feels appreciated, heard, and seen. For the first time in her life, Charlotte begins to understand emotional intimacy and its effect on the heart—and how breakable that heart can be. With her sensible nature confronted, and her own future about to take a turn, Charlotte must now question the role of love and passion in a woman's life, and whether they truly matter for a clergyman's wife.
Praise For The Clergyman's Wife: A Pride & Prejudice Novel…
"Greeley's attention to historical detail and her astute characterization as she adeptly uncovers nuances of character in both Charlotte and her husband . . . feel fresh while also ringing true to [Jane] Austen's writing. . . Fans of other Austen spinoffs . . . will devour this thoughtful, moving, readable debut." — Booklist
"The Clergyman's Wife is a poignant, pensive, and brilliant exploration of women's lot in early nineteenth-century England and how one woman rose to make a silk purse out of a sow's ear." — Laurel Ann Nattress, editor of s>Jane Austen Made Me Do It
"The Clergyman's Wife is a compelling, beautifully rendered view into the soul of Pride and Prejudice's Charlotte Collins, and into the bittersweet realities of the life of compromise she chose when she married for security rather than love. Molly Greeley manages to tell Charlotte's story in a refreshingly contemporary style while at the same time keeping the reader's feet firmly planted in a time gone by." — Shannon Winslow, author of The Darcys of Pemberley

"Greeley debuts with a delightful yet poignant historical inspired by Jane Austen's classic Pride and Prejudice, from the pragmatic point of view of Charlotte Collins, a friend of Elizabeth Bennet's who married one of Elizabeth's cast-off suitorsWith tight prose and expert characterization, Greeley easily draws readers into the world she's created while largely staying true to Pride and Prejudice's original plot. Ideal for fans of Austen's work, Greeley's strong debut also stands on its own." — Publishers Weekly
"There's a hint of DH Lawrence in this nuanced, cleverly-plotted Pride and Prejudice spin-off. Greeley builds Charlotte's world artfully…You needn't be an Austen fan to relish Greeley's spirited first novel." — BBC
William Morrow Paperbacks, 9780062942913, 304pp.
Publication Date: December 3, 2019
About the Author
Molly Greeley earned her bachelor's degree in English, with a creative writing emphasis, from Michigan State University, where she was the recipient of the Louis B. Sudler Prize in the Arts for Creative Writing. She lives with her husband and three children in Traverse City, Michigan.
1. Where do you stand on Charlotte's much-discussed decision to make "a very eligible match," as her mother puts it? Is she exercising agency and practicality, or making a terrible mistake by giving in to social pressure and fear of spinsterhood? What other paths might she have chosen?
2. "I found his manner at once endeared him to me and irritated me thoroughly," Charlotte admits about Mr. Collins. Did you, the reader, find him endearing or irritating? Both? Something else?
3. In the extremely rigid class system of eighteenth-century England, the Lucas family became upwardly mobile with mixed results: "I came to see my father's knighthood as less boon than burden; though it elevated the circles in which we moved—thereby elevating my own and my siblings' chances at rising still farther—these chances often felt insubstantial . . . paired as they were with a lack of money." Would the Lucases have been better off staying in the merchant class, living more prosperously thanks to their father's successful shop? If he had not been knighted, what would that have meant for Charlotte's marriage prospects in Meryton?
4. When Charlotte admits she cannot think of any men besides Mr. Bennet who read novels for pleasure, Mr. Travis replies, "But certainly there are many men who do read novels. Indeed, a great many novels are written by men; it seems reasonable to assume that other men read them." What did you make of this? What do you think Charlotte's creator, Jane Austen, would have said about that?
5. "It is hard to think well of men when they so obviously do not think well of you," Charlotte reflects, when she first met Mr. Collins. Do any of the men in this novel seem to think well of women? Does her husband ultimately come to think well of her? What qualities of hers does he value? Which does Mr. Travis value?
6. When Maria, the younger and prettier of the Lucas daughters, chose to marry for love rather than upward mobility, Lady Lucas tells Charlotte that Maria "will never live up to our hopes for her now, and that's a fact." Did Maria make the right decision? Why does Maria defy her family's aspirations and happily choose to stay in the merchant class? How will her marriage be different from her parents' or her sister's?
7. The heartbreaking story of Charlotte's first child, Lucas, was all too common for women in the eighteenth century. How does that experience haunt her? How does Charlotte's experience of motherhood compare with the grim story of the widowed Mrs. Fitzgibbon and her six lost

children; or Lady Catherine de Bourgh, who obsessively hovers over her only living child?
8. Charlotte tells Mr. Travis, "Not everyone has the luxury of waiting until love comes along." Do you think their friendship made her reevaluate her choices? Would she truly have married a farmer rather than make "a very eligible match" with someone of greater means and status? Should Charlotte have waited longer? Would you have?
9. Will Charlotte, with her plans to economize and carefully steward the estate at Longbourn, be a better manager than the late Mr. Bennet? How do her history and personality make her better suited to the job, even though she is a woman and far less educated than its previous master?
10. At the end of the novel, Charlotte says of her daughter, Louisa, "I will tell her, someday, about how I was brave; and when she is old enough, I will tell her that she needn't sell herself as cheaply as I did. That she must recognize her own worth, whatever others say." Do you think Charlotte regrets her decision to marry Mr. Collins?
11. What do you think the future holds for Charlotte and her family? What will her life be like at Longbourn? Where do you see the characters in this novel in ten years? In twenty years?
or
Not Currently Available for Direct Purchase