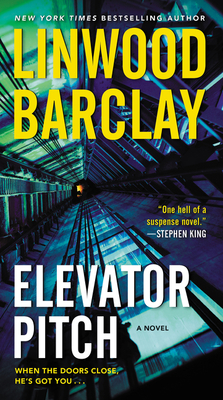 Elevator Pitch
A Novel
Mass Market

* Individual store prices may vary.
Other Editions of This Title:
Digital Audiobook (9/16/2019)
Digital Audiobook (9/16/2019)
Paperback, Large Print (9/17/2019)
Paperback (5/4/2021)
Compact Disc (9/17/2019)
MP3 CD (9/17/2019)
Hardcover (9/17/2019)
Compact Disc (9/17/2019)
Description
"As fast as a falling elevator…a shameless good time."
   —Joe Hill, #1 New York Times Bestselling Author

It all begins on a Monday, when four people board an elevator in a Manhattan office tower. Each presses a button for their floor, but the elevator proceeds, nonstop, to the top. Once there, the doors don't open. Instead, the elevator begins to descend floor by floor. Then it plummets. Right to the bottom of the shaft.
It appears to be a random accident. But on Tuesday, it happens again, in a different Manhattan skyscraper. And then Wednesday brings yet another tragic high-rise catastrophe. In only three days, one of the most vertical cities in the world is plunged into chaos. Clearly, this is a cold, calculated bid to terrorize the city.
Fearing for their lives, thousands of people who work in high-rises across the city refuse to leave their homes. Commerce has slowed to a trickle. The mayor, already embroiled in a growing scandal, is desperate for answers. Who is behind this? Are these deadly acts of sabotage connected to a fingerless body found on the High Line? Two seasoned New York detectives and a straight-shooting journalist must race against time to uncover the truth before the city's newest, and tallest, residential tower has its ribbon-cutting on Thursday.
"A white-knuckled ride…with twists on every level…. I gulped it down."
   —Gilly Macmillan, New York Times Bestselling Author
Praise For Elevator Pitch: A Novel…
"Read Elevator Pitch as soon as possible. It's one hell of a suspense novel." — Stephen King
"This novel moves as fast as a falling elevator and hits with just as much force. Linwood Barclay is a stone cold pro and Elevator Pitch is a shameless good time." — Joe Hill, #1 New York Times bestselling author of The Fireman and Strange Weather
"Barclay [is] always good for a touch of cardiac arrest. . . . Chilling . . . wildly inventive and really scary." — New York Times Book Review
"Mr. Barclay's books are distinguished by wit and startling twists. In Elevator Pitch, he surpasses himself with a premise suited for the big screen, a plot filled with stunning surprises—and an ending that leaves the reader greatly satisfied." — Wall Street Journal
"A vivid story with a compelling cast of characters mixed with a truly terrifying scenario. . . . Barclay has crafted a great thriller with a surprising ending and readers will sweat a little the next time they get on an elevator." — Associated Press
"Barclay's latest combines an engrossing, fast-moving, well-twisted modern-day plot with believable characters. Fans of psychological thrillers and the author's previous books will love this." — Library Journal (starred review)
"Elevator Pitch is a white-knuckled ride of a book with twists on every level and an unforgettable cast of characters brought to life with Linwood Barclay's signature flair and acuity. I gulped it down." — Gilly Macmillan, New York Times bestselling author of What She Knew and The Nanny
"An all stops-out thriller that will keep readers' pulses pounding, particularly those of the acrophobes among us." — Booklist
"Gripping. . . . Readers who live on high floors will glance nervously toward the nearest stairs as they tear through this exciting thriller." — Publishers Weekly
William Morrow, 9780062946683, 512pp.
Publication Date: April 28, 2020
About the Author
Linwood Barclay is the New York Times bestselling author of twenty previous novels, and two thrillers for children. His books have been translated into more than two dozen languages. He wrote the screenplay adaptation for his novel Never Saw it Coming and his book The Accident has been made into a TV series in France. His novel No Time for Goodbye was a global bestseller. A native of Connecticut, he now lives in Toronto with his wife, Neetha.