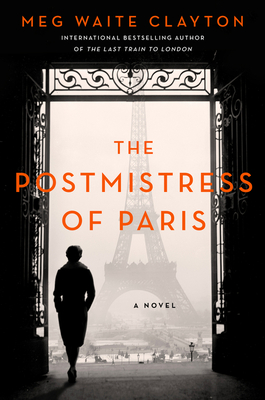 The Postmistress of Paris
A Novel
Hardcover

* Individual store prices may vary.
Other Editions of This Title:
Paperback, Large Print (11/30/2021)
Compact Disc (11/30/2021)
MP3 CD (11/30/2021)
Description
The New York Times bestselling author of The Last Train to London revisits the dark early days of the German occupation in France in this haunting novel—a love story and a tale of high-stakes danger and incomparable courage—about a young American heiress who helps artists hunted by the Nazis escape from war-torn Europe.

Wealthy, beautiful Naneé was born with a spirit of adventure that transcends her Midwestern roots. For her, learning to fly is freedom. When German tanks roll across the border and into Paris, this woman with an adorable dog and a generous heart joins the resistance. Known as the Postmistress because she delivers information to those in hiding, Naneé uses her charms and skill to house the hunted and deliver them to safety.
 Inspired by the real life Chicago heiress Mary Jayne Gold, who worked with American journalist Varian Fry to smuggle artists and intellectuals out of France, Meg Waite Clayton has fashioned a  sweeping tale of romance and danger, set in a world aflame with personal and political passion. The Postmistress of Paris is the haunting story of an indomitable woman whose strength, bravery, and love is a beacon of hope in a time of terror.
Praise For The Postmistress of Paris: A Novel…
"I loved The Postmistress of Paris, a novel of so many layers - a suspense story, a love story, and a story about the purpose of art. Meg Waite Clayton is a brilliant and deft writer, and I rooted for her strong, witty and brave heroine on her pulse-pounding mission to save Jewish painters, intellectuals, and a motherless child from Vichy France."
— Lisa Scottoline, New York Times bestselling author of Eternal

"Widely esteemed for her previous World War II novels, Meg Waite Clayton triumphantly returns with The Postmistress of Paris, a story of one woman's heroic quest to help the forgotten in Occupied France. Clayton's immaculately researched and beautifully written tale of passage and courage and heart is her best work yet."
— Pam Jenoff, New York Times Bestselling Author of The Woman With The Blue Star

"The work of an unsung heroine rises from the pages of The Postmistress of Paris. Meg Waite Clayton draws a vivid contrast between the beauty of art and the brutality of war, the power of humanity and the human cost of cruelty, greed, and prejudice. With a heart-stopping flight across war-torn Europe, this is a story readers of historical fiction and strong female characters will devour."
— Lisa Wingate, # 1 New York Times Bestselling Author of Before We Were Yours


"Clayton's lyrical, thought-provoking prose breathes life into her characters. This sterling portrait of a complex woman stands head and shoulders above most contemporary WWII fiction."
— Publishers Weekly (starred review)
Harper, 9780062946980, 416pp.
Publication Date: November 30, 2021
About the Author
Meg Waite Clayton is a New York Times bestselling author of six novels, most recently Beautiful Exiles. Her previous novels include the Langum Prize--honored The Race for Paris; The Language of Light, a finalist for the Bellwether Prize for Socially Engaged Fiction (now the PEN/Bellwether); and The Wednesday Sisters, one of Entertainment Weekly's 25 Essential Best Friend Novels of all time. She has also written for the Los Angeles Times, the New York Times, the Washington Post, Forbes, and public radio, often on the subject of the particular challenges women face.