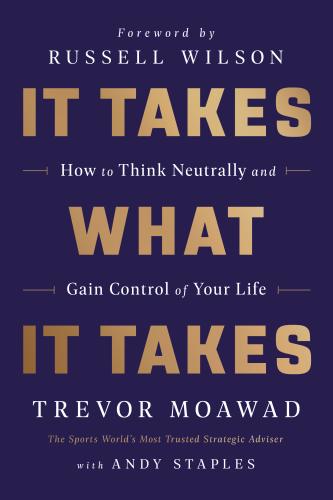 It Takes What It Takes
How to Think Neutrally and Gain Control of Your Life
Hardcover

* Individual store prices may vary.
Other Editions of This Title:
Digital Audiobook (2/3/2020)
Paperback (1/19/2021)
Compact Disc (2/4/2020)
MP3 CD (2/4/2020)
Compact Disc (2/4/2020)
Description
Foreword by Seattle Seahawks quarterback Russell Wilson
From a top mental conditioning coach—"the world's best brain trainer" (Sports Illustrated)—who has transformed the lives and careers of elite athletes, business leaders, and military personnel, battle-tested strategies that will give you tools to manage and overcome negativity and achieve any goal.

He knows how to win.
More, he knows the many ways-subtle, brutal, often self-inflicted-we lose.
As the most trusted mental coach in the world of sports, Trevor Moawad has worked with many of the most dominant athletes and the savviest coaches. From Nick Saban and Kirby Smart to Russell Wilson, they all look to Moawad for help finding or keeping or regaining their com­petitive edge. (As do countless business leaders and members of special forces.)
Now, at last, Moawad shares his unique philosophy with the general public. He lays out lessons he's derived from his greatest career successes as well as personal setbacks, the game-changing wisdom he's earned as the go-to whisperer for elite performers on fields of play and among men and women headed to the battlefield.
Moawad's motivational approach is elegant but refreshingly simple: He replaces hardwired negativity, the kind of defeatist mindset that's nearly everybody's default, with what he calls "neutral thinking." His own special innovation, it's a nonjudg­mental, nonreactive way of coolly assessing problems and analyzing crises, a mode of attack that offers luminous clarity and su­preme calm in the critical moments before taking decisive action.
Not only can neutral thinking raise your performance level-it can transform your overall life. And it all starts, Moawad says, with letting go. Past failures, past losses-let them go. "The past isn't predic­tive. If you can absorb and embrace that belief, everything changes. You'll instantly feel more calm. And the athlete-or employee or parent or spouse-who's more calm is also more aware, and more times than not ... will win."
Praise For It Takes What It Takes: How to Think Neutrally and Gain Control of Your Life…
" In this book, you'll learn how to use the same concepts I employ on the field in your life."
— Russell Wilson, Seattle Seahawks quarterback and Super Bowl champion

" Everyone must check out my dear friend, legend, and mental coach Trevor Moawad's new book It Takes What It Takes. The Daily Vitamin you need."
— Ciara

"To be a champion on and off the field, it takes not only being in peak physical condition but being in top mental condition as well. I have had the good fortune to work with Trevor for a number of years and he is very trustworthy and one of the top individuals in this space. This book will give you a front-row seat to some of the powerful concepts our coaches and players have had unique access to."
— Jimbo Fisher, head football coach, Texas A&M University

"I have had the pleasure of working with Trevor for the past eighteen years, and if gold medals were awarded for commitment, honesty, and integrity, Trevor would certainly be a triple gold medalist. His tireless dedication to the athletes he works with is without equal. I have learned from Trevor and I depend on him for valuable advice in my own work."
— Michael Johnson, four-time Olympic gold medalist and president of Michael Johnson Performance

"The field of sport psychology and its discipline of mental conditioning has grown dramatically within the past fifteen years, and Trevor Moawad has been at the center of its impact. I have been a colleague of his for eighteen years, and Trevor has not only navigated this field with some of the best college football programs, elite athletes, military, and top corporations, but he has dominated it. This book is a must read for players, coaches, CEOs, and everyone else wanting to improve their mindset!"
— Chad Bohling, New York Yankees director of mental conditioning and Dallas Cowboys mental conditioning consultant

"Trevor Moawad has a unique understanding of the truth about human behavior, and this book provides the tools needed to acquire the outcomes that we desire. He has the gift of making incredibly complicated realities simple so that as a head coach in an NCAA Power 5 Conference, I can take decisive action today that will help me get what I want. There are no shortcuts...This book gives you a front seat into what he has done for me, Nick Saban, Jimbo Fisher, Kirby Smart, and countless others for the last eighteen years."
— Mel Tucker, head football coach, University of Colorado

"I train my body relentlessly in order to be prepared for competition. Working with Trevor on having a neutral mind has given me the same tools mentally and allowed me to build an invincible mind."
— Marcus Stroman, pitcher, New York Mets

"The mind is so incredibly powerful, and Trevor does a great job of teaching how we can apply his lessons about neutral thinking to improve our performance in our everyday lives. It's not only critical to understand what you need to do to achieve your personal and professional goals but also what behaviors you need to eliminate. Regardless of your vocation, Trevor can help you change the way you think, talk, and live."
— Lawrence Frank, president of basketball operations, LA Clippers

"Trevor has had the unique ability to establish relevance with some of the most powerful sport leaders, athletes, and programs in the world. He not only built these relationships, but has sustained them, and continually found ways to add value."
— George Pyne, founder and CEO of Bruin Sports Capital

"Trevor is at the top of his game when it comes to mental conditioning. His advice is invaluable on and off the field, in the classroom as well as in the boardroom. This book is a must read for anyone looking to step up their game and realize their true potential."
— Christopher Brearton, chief operating officer of MGM Studios and board member of USA Swimming
HarperOne, 9780062947123, 272pp.
Publication Date: February 4, 2020
About the Author
Trevor Moawad, the President of Moawad Consulting Group and the CEO and co-founder of Limitless Minds, is a mental conditioning coach to elite performers. He has worked closely with prestigious NCAA football programs and coaches and been part of eight national championship games. Additionally, Moawad has supported the U.S. Special Operations community, Major League Baseball, the NBA, UFC, and many other elite professionals. He has been featured in both sports and mainstream media, including Sports Illustrated, USA Today, ESPN, Fox Sports, and NPR. He lives in Scottsdale, Arizona.
Andy Staples has covered college football for Sports Illustrated since 2008. He also hosts Playbook weekdays on SiriusXM Channel 84.