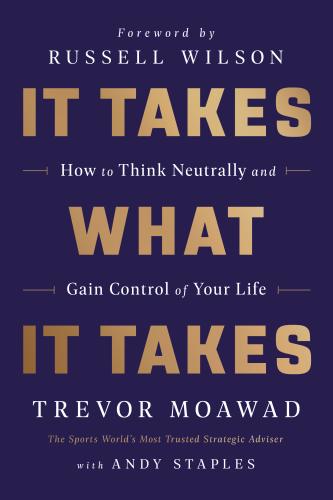 It Takes What It Takes (Hardcover)
How to Think Neutrally and Gain Control of Your Life
HarperOne, 9780062947123, 352pp.
Publication Date: February 4, 2020
Other Editions of This Title:
MP3 CD (2/4/2020)
Compact Disc (2/4/2020)
Compact Disc (2/4/2020)
* Individual store prices may vary.
Description
Foreword by Seattle Seahawks quarterback Russell Wilson
From a top mental conditioning coach—"the world's best brain trainer" (Sports Illustrated)—who has transformed the lives and careers of elite athletes, business leaders, and military personnel, battle-tested strategies that will give you tools to manage and overcome negativity and achieve any goal.

Trevor Moawad is a mental conditioning coach who has helped professionals from all walks of life, from Ft. Bragg to Harvard Business School, the NFL to Fortune 500 companies. Moawad's mission is clear: motivate the motivated.
Now, for the first time ever, Moawad shares the formula he has exclusively used to help these elites with everyone. It Takes What It Takes shows you how to deal with even the most challenging circumstances—and thrive. Moawad reveals how top performers hone their competitive edge by effectively managing both negativity and failure as well as positivity and success: Neutral thinking is the key.
Neutral thinking is a high-performance strategy that emphasizes judgment-free thinking, especially in pressure situations. It acknowledges that the past happened. However, the past isn't predictive. If you can absorb and embrace that belief, everything can change.
Down-shifting your brain into neutral takes practice. But once you get the hang of it, you can go to the truth on a dime. You can deal with the facts at hand. You'll feel calmer, more aware of the situation as it unfolds, moment to moment. And the athlete—or employee, or spouse, or parent—who's calmer and more aware succeeds.
About the Author
Trevor Moawad, the President of Moawad Consulting Group and the CEO and co-founder of Limitless Minds, is a mental conditioning coach to elite performers. He has worked closely with prestigious NCAA football programs and coaches and been part of eight national championship games. Additionally, Moawad has supported the U.S. Special Operations community, Major League Baseball, the NBA, UFC, and many other elite professionals. He has been featured in both sports and mainstream media, including Sports Illustrated, USA Today, ESPN, Fox Sports, and NPR. He lives in Scottsdale, Arizona.
Andy Staples has covered college football for Sports Illustrated since 2008. He also hosts Playbook weekdays on SiriusXM Channel 84.