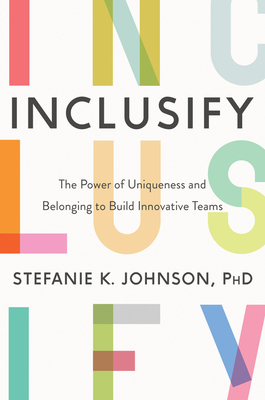 Inclusify
The Power of Uniqueness and Belonging to Build Innovative Teams
Hardcover

* Individual store prices may vary.
Other Editions of This Title:
MP3 CD (6/2/2020)
Compact Disc (6/2/2020)
Description
Wall Street Journal Bestseller
In this groundbreaking guide, a management expert outlines the transformative leadership skill of tomorrow—one that can make it possible to build truly diverse and inclusive teams which value employees' need to belong while being themselves.  

Humans have two basic desires: to stand out and to fit in. Companies respond by creating groups that tend to the extreme—where everyone fits in and no one stands out, or where everyone stands out and no one fits in. How do we find that happy medium where workers can demonstrate their individuality while also feeling they belong?
The answer, according to Stefanie Johnson, is to Inclusify. In this essential handbook, she explains what it means to Inclusify and how it can be used to strengthen any business. Inclusifying—unlike "diversifying" or "including"— implies a continuous, sustained effort towards helping diverse teams feel engaged, empowered, accepted, and valued. It's no use having diversity if everyone feels like an outsider, she contends.
In her research, Johnson found common problems leaders exhibit which frustrate their attempts to create diverse and cohesive teams. Leaders that underestimated the importance of group coherence and dynamics often have employees who do not feel like they belong; leaders that ignore the benefits of listening to different perspectives leave some people feeling like they cannot be their authentic selves.
By contrast, leaders who Inclusify can forge strong relationships with their teams, inspire greater productivity from all of their workers, and create a more positive environment for everyone. Having a true range of different voices is good for the bottom line—it allows for the development of the best, most innovative, and creative solutions that are essential to success. 
Inclusify reveals the unexpected ways that well-intentioned leaders undermine their teams, explains how to recognize the myths and misperceptions that drive these behaviors, and provides practical strategies to become an Inclusifyer. By learning why uniqueness and belonging are so imperative, leaders can better understand what makes their employees tick and find ways to encourage them to be themselves while ensuring they feel like they are fully part of the group. The result is a fully engaged team filled with diverse perspectives—the key to creating innovative and imaginative ideas that drive value.
Praise For Inclusify: The Power of Uniqueness and Belonging to Build Innovative Teams…
"Many leaders are talking about building more diverse, inclusive workplaces, but few are making real progress. Stefanie K. Johnson is here to do something about that. In addition to her work as a leading researcher, Johnson has extensive experience consulting and advising; her book is full of rigorous evidence and practical ideas for making sure that people who stand out are able to fit in as well." — Adam Grant, New York Times bestselling author of Originals and Give and Take and host of the chart-topping TED podcast WorkLife
"Inclusify is a practical, action-oriented guide to being a better leader for all of your stakeholders. This book will be a game changer for creating more innovative, engaged, and productive teams. Through her academic research and interviews with top CEOs, Stefanie Johnson has compiled remarkable data and insights that have the power to change the world." — Dr. Marshall Goldsmith, #1 executive coach in the world
"In Inclusify, Stefanie K. Johnson takes the conversation beyond diversity, moving us closer to real inclusion and equality. Her positive spin on what we can achieve by working together will change the workplace." — Billie Jean King, founder, Billie Jean King Leadership Initiative
"Stefanie K. Johnson's book provides a new lens through which to examine diversity and inclusion that is both practical and insightful. Inclusify provides so much intriguing data to feed your mind but also shares great stories that engage your heart." — Verna Myers, VP of Inclusion Strategy, Netflix
Harper Business, 9780062947277, 288pp.
Publication Date: June 2, 2020
About the Author
Stefanie Johnson is an Associate Professor of Management at the Leeds School of Business, University of Colorado Boulder. Johnson has received several million dollars in federal and other grant funding to study leadership and create leadership development programs. Her work has been featured in The Economist, Newsweek, Time, and CNN. Stefanie lives in the Boulder Bubble in Colorado with her family.