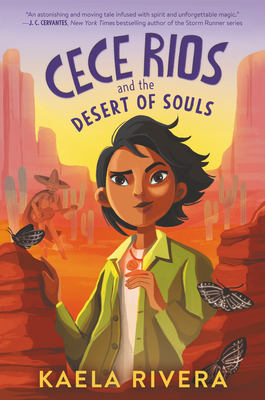 Cece Rios and the Desert of Souls
Hardcover

* Individual store prices may vary.
Description
When a powerful desert spirit kidnaps her sister, Cece Rios must learn forbidden magic to get her back, in this own voices middle grade fantasy perfect for fans of The Storm Runner and Aru Shah and the End of Time. 
Living in the remote town of Tierra del Sol is dangerous, especially in the criatura months, when powerful spirits roam the desert and threaten humankind. But Cecelia Rios has always believed there was more to the criaturas, much to her family's disapproval. After all, only brujas—humans who capture and control criaturas—consort with the spirits, and brujeria is a terrible crime.
When her older sister, Juana, is kidnapped by El Sombrerón, a powerful dark criatura, Cece is determined to bring Juana back. To get into Devil's Alley, though, she'll have to become a bruja herself—while hiding her quest from her parents, her town, and the other brujas. Thankfully, the legendary criatura Coyote has a soft spot for humans and agrees to help her on her journey.
With him at her side, Cece sets out to reunite her family—and maybe even change what it means to be a bruja along the way.
Praise For Cece Rios and the Desert of Souls…
"An astonishing and moving tale infused with spirit and unforgettable magic."

—   ­J.C. Cervantes, New York Times Bestselling Author of The Storm Runner series 

"Flush with incredible worldbuilding, mucho español throughout, and an unforgettable cast, this book reminds us that our greatest strengths can sometimes be found in the unlikeliest of places."
— Pablo Cartaya, award-winning author of The Epic Fail of Arturo Zamora   

"Pokemon meets Coco in a spirited and moving adventure, at once familiar and tantalizingly strange, peopled by beautifully crafted and vivid characters."
— David Bowles, award-winning author of They Call Me Güero

"A new Narnia full of desert heat and danger, Cece Rios and the Desert of Souls mixes familiar myth, inventive magic, and vivid characters to capture readers." 
— Anna Meriano, author of the Love Sugar Magic series

"A beautifully written fantasy story with tons of heart!"
— Ryan Calejo, author of the Charlie Hernández series
HarperCollins, 9780062947550, 352pp.
Publication Date: April 13, 2021
About the Author
Kaela Rivera was raised to believe in will-o'-the-wisps and el chupacabra, but even scary stories couldn't stop her from reading in the isolated treetops, caves, and creeks of Tennessee's Appalachian forests.
She still believes in the folktales of her Mexican-American and British parents, but now she writes about them from the adventure-filled mountains of the Wild West. When she's not crafting stories, she's using her English degree from BYU-I as an editor for a marketing company (or secretly doodling her characters in the margins of her notebook).
Her biggest hope is to highlight and explore the beauty of cultural differences—and how sharing those differences can bring us all closer.